The Queen Mary's Dark Harbor: Evil Lurks Within & Special Promo Code!
By Erin
*I will be attending The Queen Mary's Dark Harbor Media Preview night. All thoughts and opinions remain my own.*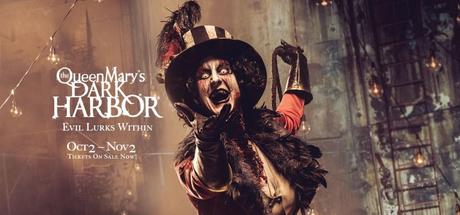 The Queen Mary's Dark Harbor will once again embark on a bone-chilling journey with its haunted history to frighten those who dare to enter from October 2 through November 2.
This year, Dark Harbor brings new attractions that include two brand new horrifying mazes, "Soulmate" and "B340."  Also be sure to check out the terrifying Voodoo Village. Beloved characters such as The Ringmaster and all the grotesque spirits of the Queen will make a chilling return for 20 nights of delightful terror amidst freaks, food, and live entertainment.
BUT WAIT! It gets even better! I have a great deal on tickets going on until September 30th with the promo code below (its in green), Dark Harbor is one of my favorite Halloween events, and I am super excited to be able to offer this steal to my readers so that you all may enjoy the haunts of the season.

Get your Tickets HERE!! Be sure to use promo code: BLGR0006 to get your tickets discounted to the low price of $14. *(pricing expires 9/30) and is good for purchase of tickets on these dates only: Oct. 2, 3, 9 & 10* Which are the first two Thursday's and Friday's that Dark Harbor is open for the Halloween Season!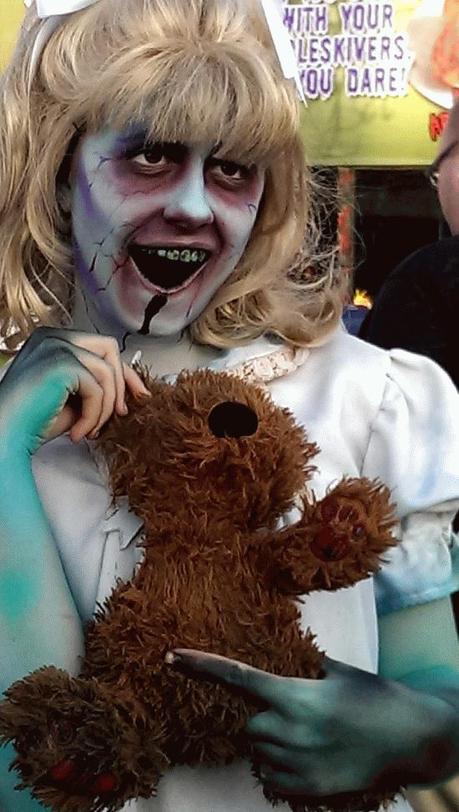 Scary Mary agrees this is a great deal! She awaits you at Dark Harbor!
What's NEW IN 2014?
This year Dark Harbor unveils two brand new fantastic mazes -Soulmate and B340 –  if you are REALLY brave, then there is also the Exclusive Encounter unlike any other haunted experience onboard the famous ship. The Voodoo Priestess, makes her debut as the latest spirit to join us at Dark Harbor. There are even new rides! One is called-Sinister Swings. These death-defying mazes will take you through never before visited areas of the ship.
SOULMATE
This new maze called "Soulmate" will bring to life the haunted spirit of the frightful Graceful Gale. Unravel Gale's story and her true spirit will be revealed. You will realize that Gale may not quite be the graceful lady she appears to be, but more monstrous than you could ever imagine.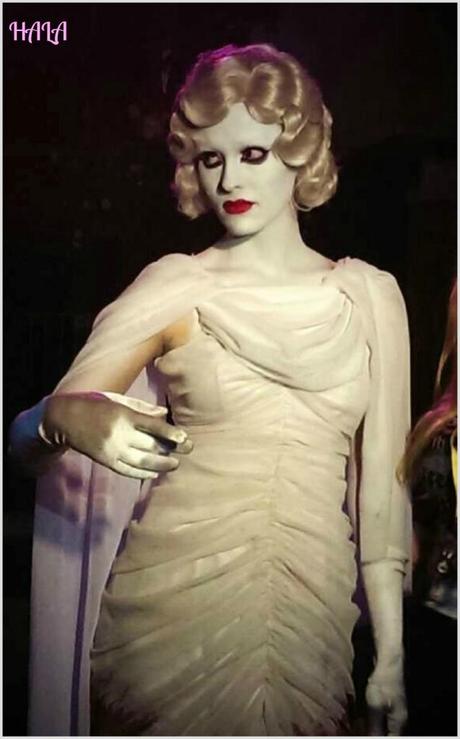 Graceful Gale out and about at Dark Harbor.
B340
We go back into time. The year is 1948 and we're on an Atlantic voyage. Third-class Queen Mary passenger Samuel is locked away in room B340 after an extremely violent outburst. Confined to isolation, Samuel is later found in his room, violently ripped apart. Murdered? Or self-induced suicide? No one really knows. B340  will take you through Samuel the Savage's schizophrenic journey of isolated decent into insanity. Travel through his warped mind literally and figuratively. After visitors navigate a mirage of virtual B340s, you will ultimately reach the final resting place of Samuel. He is on the loose, he's dangerous and completely out of his mind.
VOODOO VILLAGE
The new Voodoo Village is filled with dark magic gypsies that will taunt you in a setting wrought with shrunken heads and voodoo dolls. Emerging from the swamps of Voodoo Village is the horrific and powerful Voodoo Priestess. This creature – and her band of gypsies and witch doctors – lurk in the swamps. Dark Voodoo Magic is her deadliest weapon, beware of her powers as she controls all mortal and spirit souls.
Make sure you meet the newest spirit – The Voodoo Priestess here! Doesn't she look pretty creepy? Yikes! Watch out! She may be coming for you next!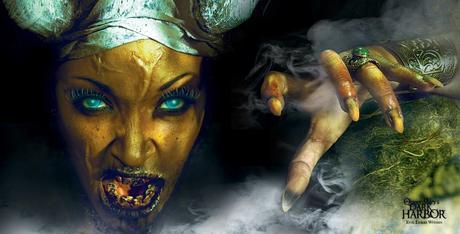 EXCLUSIVE ENCOUNTER
This is only for the bravest of souls!  Also new for Dark Harbor in 2014 will be the Exclusive Encounter. This new, exclusive experiment in horror puts guests in an intimate and frightening setting that will leave a lasting impression jarring extreme terror. A very limited number of thrill seekers will find themselves on a terrifying top secret paranormal journey. Are you game enough for it?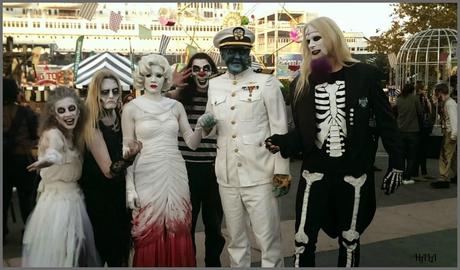 Graceful Gale, The Captain and the rest of the monster crew.
MONSTER MIDWAY
The totally new Monster Midway will be where guests, zombies, food, and entertainment collide. The Midway acts as the centerpiece of Dark Harbor and welcomes back the Freakshow, exposing even more freaks than ever before including the harrowing Beast.  If you hare feeling adventurous, try riding the Mechanical Monster and check out the newest Dark Harbor ride – the Sinister Swings. I am looking forward to seeing this Mechanical Monster and going for a ride.
What Else?
I will leave you with a few highlights from last years Dark Harbor. Food, fun and entertainment galore. The Queen Mary's Dark Harbor is not to be missed!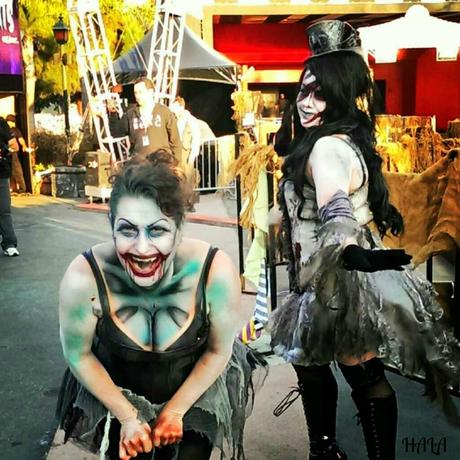 Just a few monsters out in the Midway

What is she laughing at….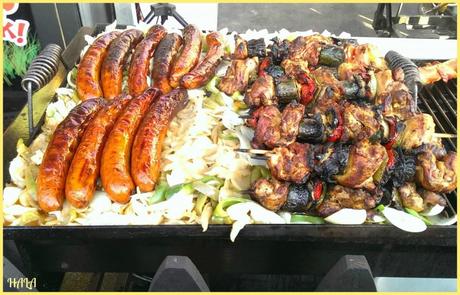 You will want to fill up on some of the delicious grub offered at Dark Harbor before trying to survive those mazes! All of that running away from ghosts, monsters and goblins will leave you famished!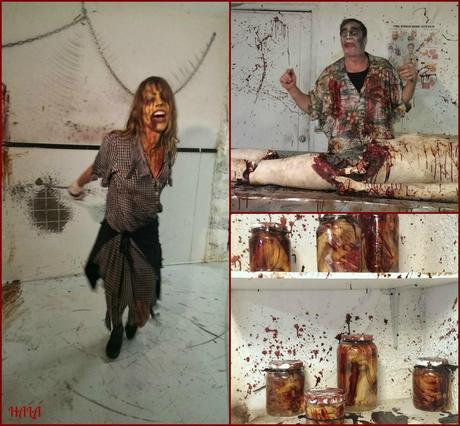 One of the many Mazes at Dark Harbor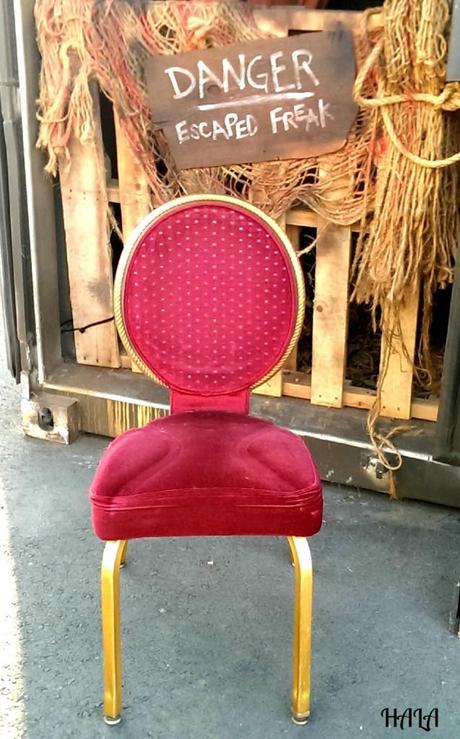 Uh-Oh! One of  the freaks has escaped!!! Was it YOU?

Be sure to get your Tickets HERE!! Use promo code: BLGR0006 to get your tickets discounted to the low price of $14. *(pricing expires 9/30) and is good for purchase of tickets on these dates only: Oct. 2, 3, 9 & 10* Which are the first two Thursday's and Friday's that Dark Harbor is open for the Halloween Season!
Did you get your tickets for Dark Harbor yet? What night are you going? Hope to see you there!!