The Nature's Co. offers exciting deals & gifting options on the occasion of Raksha Bandhan.
From pillow fights to cuddles, tears to laughter, no matter how many ups and downs you have had with your sibling, you can feel a love that endures. Cherishing this strong connection of care and endearment, Raksha Bandhan has always been the perfect reason to celebrate this everlasting brother-sister bond. A festival being symbolic of the unwavering love and joy of one of the most deepest of relationships, Rakhi is observed by all, sharing gifts to be treasured which speaks from the heart of the imperishable love that a brother shares with a sister. 
The Nature's Co. adds more mirth to this auspicious time by bringing the festive and traditional must-haves for the occasion. To celebrate the spirit of Raksha Bandhan, The Nature's Co. offers its shoppers the most excellent deals on their entire range of marvelous bath, body & skin care products packed in the most splendid way, along with customisation and some delightful add-ons to make the lovely sisters feel exactly how they should, special! Live till August 10th, grab the best out of the offering that includes gift baskets, trays, boxes and bags full of natural and vegan beauty and wellness products keeping with the festive themes.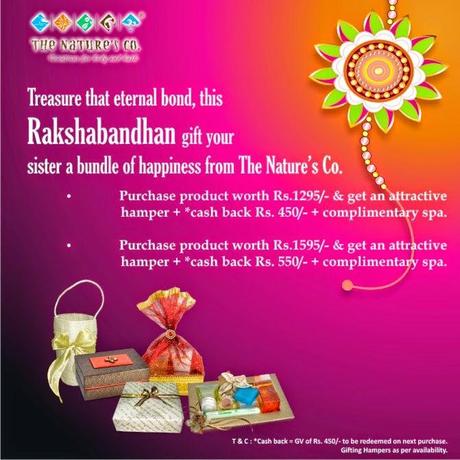 Truly, special treatment for the most special and treasured bond shared! :)