Three Separations by Israel Shur is an 84-chapter long book. But you will find its story quite close to your heart. Because the story is so close to real-life. It is the story of Udi who finds himself in the center of a triangle with three corners of it representing his wife, his new love Rona, and his mother. The three women are pulling strings from three corners thus creating a lot of confusion in his life. He gets into a state of dilemma. In fact, he is not in a position to think which string should he respond to. Udi's relationship with his wife is not on the sweeter side. While Udi finds his wife yelling from time to time, he himself is uncomfortable in making love with her. In fact, his wife blames him for being inconsiderate to her. That is their current state of the relationship.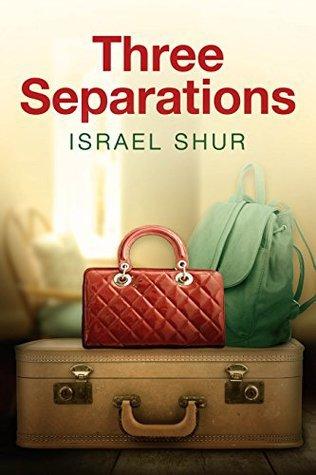 Though Udi finds his wife sexy in the bed he knows she would never pay any heed to his advances in this direction. He misses any sweet words from her. In fact, it is all complaints and instructions for him from her. Three Separations by Israel Shur starts with quite an intense mode between the two. The differences between the two are on a widening spree. In fact, the author is able to reflect it quite interestingly and crisply with an instance of coffee and toast. That, in fact, is crisp enough to reflect the actual state of confliction between the two. In fact, what I feel is Udi has become too edgy in that regard while his wife is behaving normally. Probably he is the one trying to find faults in whatever she does. Maybe he is losing confidence in himself and institution of marriage.
Three Separations by Israel Shur Is An Engrossing Story
Probably the intense relationship of Udi with his wife, Varda makes him meet his psychologist Assaf. In fact, that is a point of relief for him. Udi couldn't complete his civil engineering because of his lack of interest in various subjects like Physics, Mathematics, and Statistics. Losing his confidence at a faster pace that was impacting his health, he had no other option then leave studies. On Varda's advise he came to discuss the matter with his parents. His mother was more worried about his health and hence was in his favor. But his father was in favor of staying till the college tells him to leave. In fact, that was a transitional moment in his life. Because after that there was no look back for him. He became one of the most brilliant students in his engineering college.
After doing the job for a while it was the moment to launch his own company. And soon his company was excelling far better than his boss's company. And then comes Rona in his life. She is a lawyer and dealing with Gideon's business clients. Gideon is Udi's decade-old friend. The story of Three Separations has a lot more in store for its readers. It is an interesting story, in fact, with a number of revelations coming its way.