If you are looking for a special dress to wear this
Christmas
or indeed at any time during your pregnancy look no further than Tiffany Rose. Their range of dresses, made in the UK, are guaranteed to make you sparkle and feel amazing.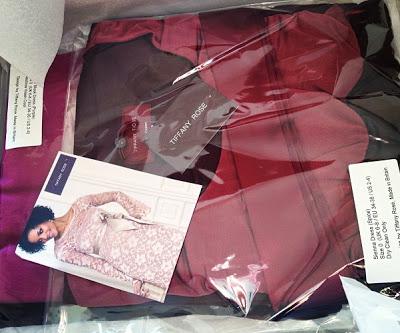 My very special delivery from Tiffany Rose
The day my dresses arrived for review I had been feeling a bit frumpy in my standard baggy maternity top and leggings but the minute I tried on the first dress, the
Colour Block in Purple
, it was like the Cinderella effect - I felt pretty and elegant, showing off my bump with pride rather than swamping it.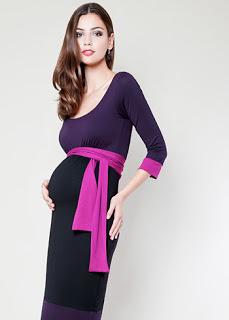 The beautiful Colour Block (purple) dress
I was also sent the beautiful
Sienna dress in Spice
which is perfect for this time of year when you want to dress up in something special for Christmas and the New Year. I just love the rich color of the Sienna and it's sheer elegant sleeves which gather just below the elbow.  Both dresses are so soft and comfortable to wear with the signature Tiffany Rose sash that works perfectly to highlight and enhance your pregnant shape.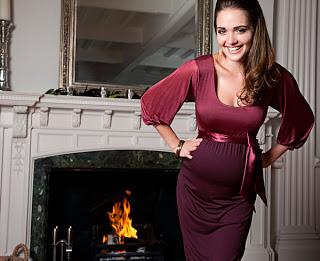 The Sienna (Spice) dress - perfect for special occasions
There are a variety of styles to choose from with dresses suitable for special occasions such as weddings, including a beautiful bridal range available, parties and everyday wear. The material in these dresses is so soft and comfortable to wear you will not only look your absolute best but feel ultra comfortable which as we all know is so very important when you are pregnant. You can also select from a range of tops and purchase the sashes separately which instantly transform tops and dresses, giving you shape and style.
Tiffany Rose dresses are available to order online from the Tiffany Rose website and believe me once you start browsing you will find it impossible to pick just one dress. Once you have chosen your dress (or dresses), select your pre-pregnancy size to ensure a perfect fit, sizes start at 6-8 and go up to 18-20. I am quite slight with a rapidly growing bump due to being pregnant with twins so often maternity clothes tends to just look baggy and frumpy on me and I end up looking like I am wearing a size or three too big rather than pregnant but this is definitely not the case with Tiffany Rose dresses as the material is soft and stretchy it accommodates your growing bump to make it fit perfectly throughout your pregnancy.
Tiffany Rose dresses have been worn by many celebs including Holly Willoughby, Myleene Klass, Tess Daly and Emma Bunton to name but a few. I know when I had a look on the website I instantly recognised them from Holly Willoughby on This Morning and Dancing on Ice and Kate Silverton on BBC News.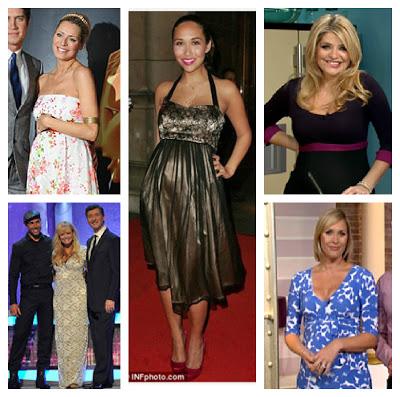 Celebs in Tiffany Rose (Top left: Tess Daly, Bottom left: Emma Bunton, Middle: Myleene Klass, Top Right: Holly Willoughby, Bottom right: Jenni Falconer)
If you are pregnant I wholeheartedly recommend you treat yourself and your bump to one of these beautiful dresses or you could always pop one on your Santa List and keep your fingers crossed it turns up under the Christmas tree. There are two shipping options Standard which is 3-5 days and Express next day so you still plenty of time to order it in time for Christmas. I shall be wearing my beautiful dresses lots this Christmas so watch out for pictures and updates over the festive period.
*Disclaimer: I received two beautiful Tiffany Rose dresses for review but this has in no way biased my opinion. All views and opinions expressed are entirely my own.