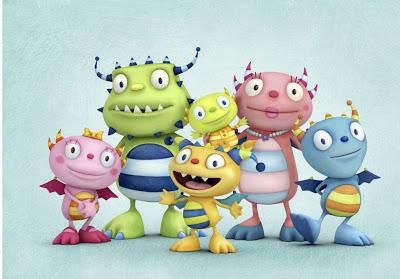 The Hugglemonster Family
There's exciting news for
Disney Junior
fans as today, the 25th January at 5.50pm the first two episodes of a fantastic new preschool show called Henry Hugglemonster premieres. We were lucky enough to get a top secret preview DVD of Henry Hugglemonster earlier this week and if Ben's reaction is anything to go by, I can guarantee it is going to be a roaring success with lots of young viewers. One word of warning though the music is seriously catchy so you will end up singing the theme tune over and over again - I know Ben and I have been doing just that ever since watching it.
The family series follows the adventures of fun-loving, five-year-old Henry Hugglemonster, the middle child in a happy, madcap close-knit monster family – the Hugglemonsters. Each story will transport preschoolers into the world of Henry Hugglemonster as he guides the young audience through the ups and downs of being part of a loving, bustling monster family.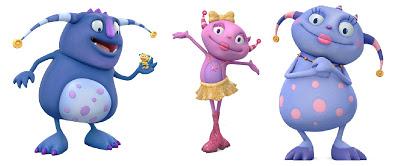 Some of the characters: Eduardo Enormomonster, Isabella Roarsome and Ernestine Enormomonster
The 48 x 11 minute series (and two 30-minute seasonal specials) is developed from a series of books created by Ireland's Children's Laureate Niamh Sharkey called I'm a Happy Hugglewug and published by Walker Books. The illustration style of the books is retained in the series' animation.
The big news is that well known Spice Girl Geri Halliwell joins Brian Blessed and Brenda Blethyn, OBE, as the star voice cast in Henry Hugglemonster. The British pop singer, designer and author is to voice Isabella Roarsome, a spirited and popular monster popstar who will be seen by viewers both sides of the Atlantic in the new animation for Disney Junior. Henry Hugglemonster is the latest series to be developed by Disney's London production hub and produced by twice Oscar-nominated animation studio, Brown Bag Films in Dublin. The Irish production house is also behind Disney Junior's recent hit, Doc McStuffins.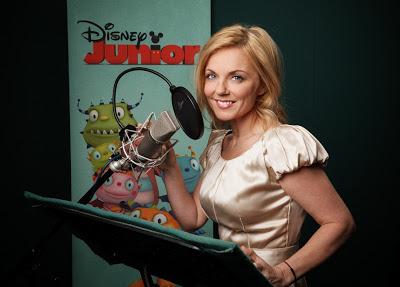 Geri Halliwell, the voice of Isabella Roarsome
Geri Halliwell whose character Isabella Roarsome is never seen without her gold tutu and matching bling in the show's fictional town, Roarsville, commented: "Being involved in Henry Hugglemonster has been such a joy. The show has a truly positive message, teaching kids to be themselves and reminding them of the importance of family values. What's more, it's been so lovely to share this experience with my own daughter, who helped me learn the songs for my role as Isabella!"
If you would like a sneak peek at Henry Hugglemonster just click below:
Hope you all have a Happy Hugglemonster Day and don't forget to tune into Disney Junior at 5.50 today. The two episodes airing this Friday are The Huggleflower and Monster Lullaby. The full series which includes all 52 episodes kicks off next Friday, February 8th on Disney Junior.
*Disclaimer: I received preview episodes of Henry Hugglemonster which have been a massive hit with my son. All opinions and views expressed here are my own.