You find a retail gallery on yourright soon after the entry inside. The display of these items for sale goes along the right side wall till the end. In fact, in a very neat way. In addition, the categorization of items is nicely done. That is the unique concept of Too Indian Restaurant in Rajouri Garden. It is, I think, a unique concept launched for the fist time in a solo restaurant. So far we have seen this kind of concept but in a different manner. Like, in malls we have multiple retail outlets and a food court or standalone restaurants. But with the launch of this concept, Varun Puri brings a new concept in standalone restaurants. The two different things within the same premise. On the left of the entry, just after the bar area is the DJ area where DJ manages music on his sound mixer quite professionally.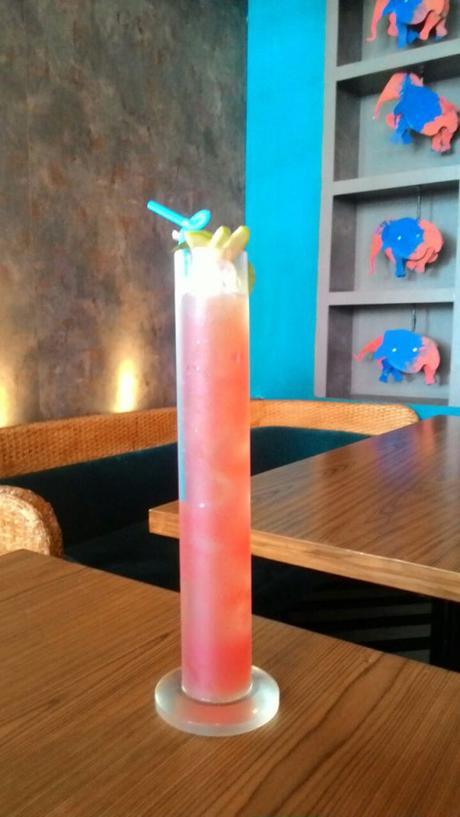 Chef Aman Puri steals all the credits for curating outstanding food and its presentation. It denotes innovation in presentation and a good amount of experimentation in food. It is modern food with a different aesthetics that brings back childhood memories. In fact, even the nomenclature of the dishes is quite interesting. That is the beauty of Too Indian, It is all in all a restaurant with various themes together. If you notice, the shape of the restaurant resembles the alphabet C. The vertical line of C is about the retail wall on the right after entry. The first horizontal line consists of Bar, DJ, and three tables with long sofas on one side and chairs opposite to them. These three tables are usually hookah free. So if you are with family and want avoid smell of hookahs, grab this area.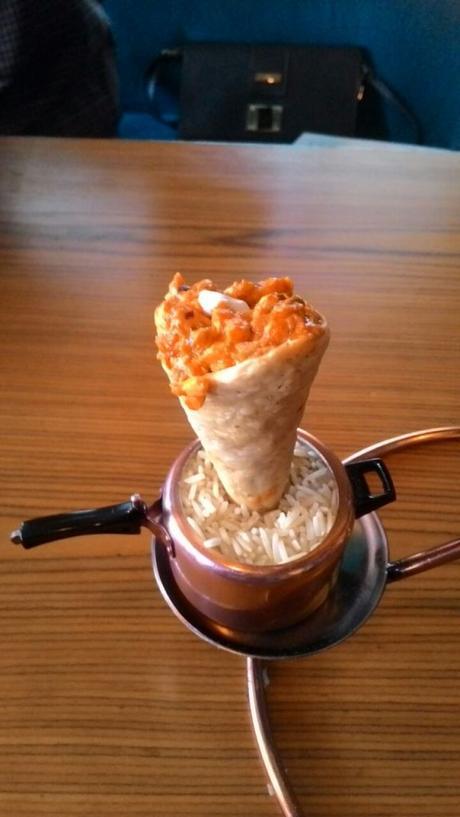 Too Indian Is A Unique Experience
Just in front of bar are few round tall tables. So if you don't want to sit, stand here to enjoy your drink and some snacks. As you go along the retail wall it has another leg of the C with Rajnikant on the wall. Overall ambience signifies modern, youth, and casual. The food reminds you more of youth and home. Too Indian is almost full most of the time. Your food journey here begins with Mango Sorbet. In shakes, Nutella shake and Honey Bunny Delight Shake are a must try. Top Trending Quinoa Salad is a signature dish in salads that you should not miss. Now look at the names of appetizers. Is This Dahi Bhalla? has an altogether different presentation that you will fall in love with. Painter's Canvas is another savory. This is a fish dish.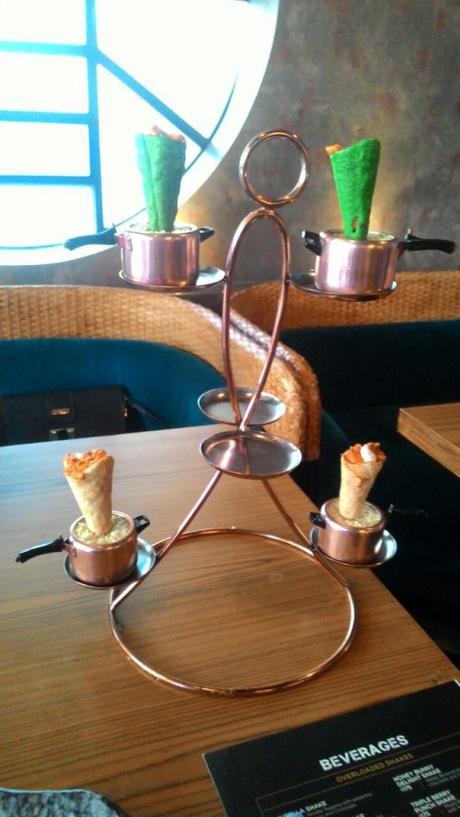 if you look at each appetizer, you wil notice a unique and different presentation appealing to be a signature dish of Too Indian. And, in fact, it is. Like Indo-Persian Kebab come in a thick book. That is quite interesting. You are already so close to your childhood, study days, and home. Here is Something To Taco About is another surprise factor. In the main course, we had Dal Khao Suey (a fusion of Indian and Burmese cuisines), Home Style Chicken, Paneer Makhanwala, and Quinoa Kathal Biryani. Khameeri Roti and Chur Chur Naan are two of the best breads to try. In fact, Chur Chur Naan is addictive. Nothing too  extraordinary about Khameeri Roti, though. Paneer Makhanwala at Too Indian has a unique touch that you will not find anywhere else.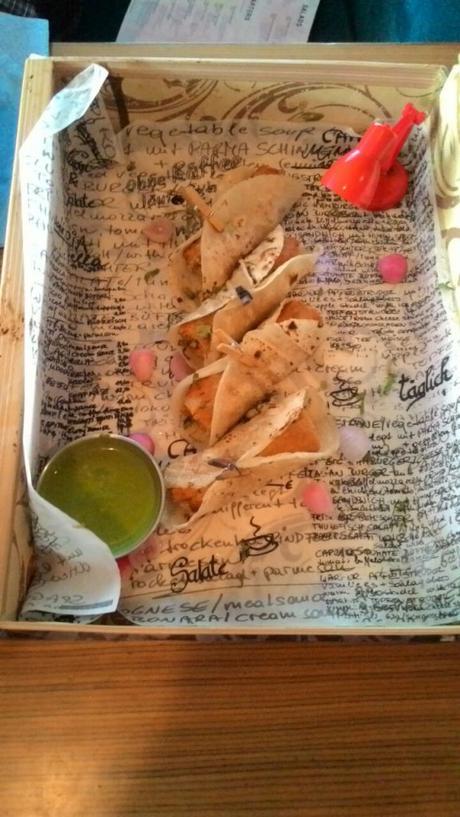 Too Indian Is About Food and Retail Under One Roof
Home Style Chicken is a tasty dish. Quinoa Kathal Biryani is again a signature dish at Too Indian. It is definitely very uiqnue and comes in healthy food category. But you must be prepared to play with the Kathal chunks. In desserts, Daulat Ki Chaat and Milk Cake Pie are the best ones to opt for. Overall, Too Indian offers a unique and tasty experience.