As promised.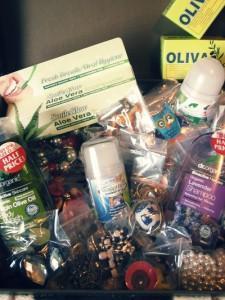 Click to enlarge
Welcome to my 'toxic-free' haul – part one.
I'm quickly learning that the whole paraben/chemical topic is very, very tedious and never-ending. Instead of making you scroll down for probably 10 hours just to get the jist of what's bad – I'm going to (roughly) break the posts down to: toiletries, make-up and oils.. *update* I'll also blog about plastics and nutrition (I'll probably add more categories later).
Please note, I have bought every product I am reviewing here and I will give my honest opinion. There will be many more toxic nasties out that I have not got round to writing about/ still naive to. What can I say, I'm learning on the job! These posts are not coming from someone who has been 'toxic-free' for years. Everyday I am learning more and more about this subject area. But don't fear, as soon as I learn about the next 'parabitch' I'll be sure to let you know about it too!
Also worth pointing out, to stop this post from becoming too repetitive, I am listing the chemicals in the first products I noticed them in. When you start memorising the chemicals, you will most likely, and unfortunately, see them crop up again and again in a variety of products.
First up: bath and shampoo products.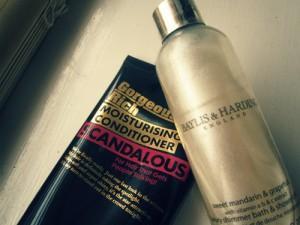 .T
The offenders: Toxic bath and shampoo products.
Common chemicals to avoid: parabens: ethyl-, butyl-, or propyl-, etc. Sodium lauyrl sulphate (SLS) can mix with other toxic chemicals which can turn SLS into a human carcinogen. Not sure what a carcinogen is? It is as bad as it sounds so I'll let you read between the lines.. Sodium Lauyrl sulphate is not to be confused with Sodium Laureth Sulphate (SLES). The jury's out with this one, all we know is that anything that contains SLES has the potential to be a human carcinogen. Up to this point it sounds exactly the same as SLS, doesn't it? Controversially, sodium laureth sulphate may or may not be 'contaminated with measurable amounts of ethylene oxide and 1,4-dioxane'. Handy, that. Basically, ethylene oxide = human carcinogen. We are all playing with fire when we use anything that contains SLES because we don't know if it has been mixed with ethylene oxide. Since the big-buck companies can't even be bothered to tell us if the SLES in their product is safe..ish, then why should we give them our money? Not only are the big brands kind of, most likely killing us, we are actually paying them for this 'privilege', madness! It probably goes without saying but any chemical linked to being a carcinogen is seriously-serious. Yet so many of us are totally oblivious to it. Tell your mother, your brother, your father and your sister! Tell everyone!
I hope you are thoroughly enjoying this non-alarming, easy-going read. Sarcasm? me?!  If you haven't already, I suggest turning the kettle on and starting off with something strong. How does coffee sound? I'm not done with yet.
Look out for colourants derived from coal tars inclusive of ,'CL-', look for 'CL' followed by five digits. (I actually first spotted this in hand wash and have since seen it listed on nail varnish). I don't think I need to tell you what these can potentially contribute to.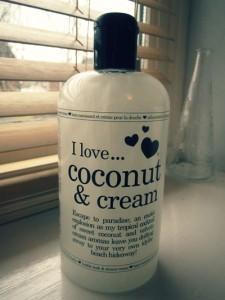 .T
Are paraben free brands your friend? This nice looking bottle of "Coconut & Cream" claims it is paraben free (and smells amazinggggg). But don't be swept in by the really, really nice scent (like me) because it still contains SLS!! *bin*. Note to self – paraben free doesn't mean 100% toxic free, duh. It's okay, it's not like I bought three and now they are going to be wasted, oh sh… -.-
Safe alternatives: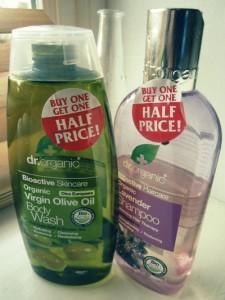 .T
Holland and Barrett body & hair wash. There are many different varieties of this, but my personal favorite is olive oil. It smells surprisingly pleasant, isn't overpowering and lathers up well.  The lavender shampoo on the other hand has a very strong scent of, you guessed it, lavender! The bathroom smells of lavender hours after I wash my hair, but unfortunately, it doesn't even leave a trace of scent in my hair . Grah!
I do like the Dr. Organic range at Holland and Barrett, and as you can see, it works out better value when it's on offer. The Dr.Organic range clearly states what chemicals it is free from, admittingly, at the time of purchase, I was only acutely aware of parabens and the other chemicals meant zilch to me. I've learnt not to solely rely on the product to dictate what is what. Skim the ingredients list and double-check (from memory) if there are any other questionable chemicals. But, so far so good with this range. It's also nice being able to walk into a shop and smell each product for yourself instead of just buying everything online and hoping for the best. If I ordered these online I would have chosen the coconut gel instead, but (my opinion) it didn't even smell that nice. I also quickly learnt that I do not like the smell of manuka honey, but my twin on the other hand loves it.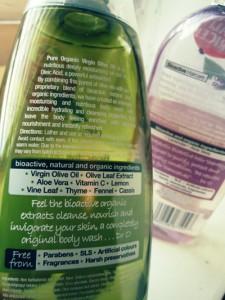 T.T

 I'm really happy with the olive oil bath and hair gel.
Although I'm deducting a point for the lavender shampoo.
I actually really like this shampoo; it lathers up (albeit after I've applied loads) and cleans hair just as well as other toxic shampoos. So the lack of chemicals do not alter the cleaning abilities of this formula. But I was really disappointed with the strong scent not lingering in my hair.
The offenders: Common Deodorants in any form. sticks, roll-ons, aerosols, etc.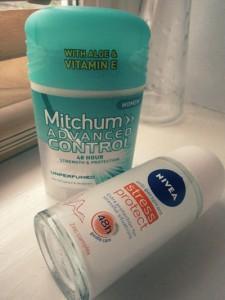 .T
Key chemicals to avoid at all costs: Aluminum. Scroll down to my earlier post about aluminum.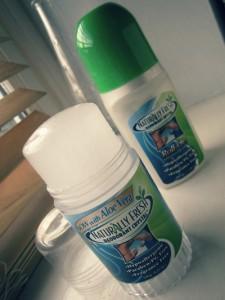 .T
After learning about the toxic chemicals in deodorant I knew I needed to find a replacement for the family. It can be overwhelming trying to go toxic free.  The amount of products being chucked quickly adds up. Typically, the 'more natural' products are more expensive and/or sold in smaller containers. Well, after researching different brands I finally settled on Naturally Fresh. In the nicest way, it does what it says on the tin with no added frills. The rest of the family opted for the roll-ons for convenience. I was tempted in by the crystal stick because I read that it lasts for ages. My thought process went like this: don't need to buy another one for a long time = save money = a no brainer!
I've probably used the crystal stick for a couple of months now and on close inspection it is starting to look lopsided. It is just a clear ammonium salt, soild crystal stick with no scent. You briefly run the stick under the tap and apply it to the whole armpit area for coverage. Obviously it's winter so I don't need much and for the time being can't comment its durability in a hotter climate.
*Update* I just realised I have the travel/trail size which is half the size of the normal stick yet it is enough for me.  You'd definitely get your moneys worth with this, but for some people this will be too boring/ not strong enough. Natural deodorants do not contain antiperspirants which blocks sweat glands.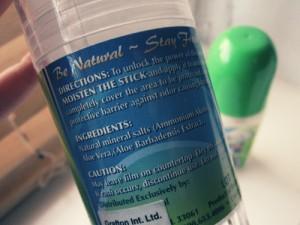 .T

Dr. Organic again. I promise you I am not being paid to advertise them. I found it really handy replacing the most used products in one single swoop. Once again, it's nice being able to kind of 'try before you buy' and at least smell the products before buying.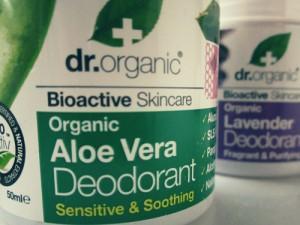 .T
I bought the aloe vera deodorant because I wanted something to soothe my sensitive skin. If this wasn't the case I probably would have also bought myself the lavender deodorant because it has the strongest fragrance. Compared to the Naturally Fresh deodorants, these are quite fun and feel more luxurious. I like to push the boat out and use this on special days like birthdays, Christmas, etc., ha.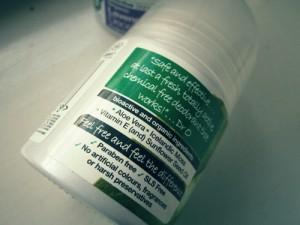 .T
You can tell from this the photo that the deodorants are all ickel and cute-sized really small, so I am under no illusions which brand works out more cost effective.

Would get a higher mark if the standard sizes were larger.
The offender: Hand-wash, soaps and anti-bacterial hand gel.
Word of warning, think you are being savvy by liberally applying anti-bacterial hand gel? I thought the same until I was abruptly woken up from a nice dream where (all) brands actually care about the health of their consumers! Anyway, anti-bacterial sanitisers may kill up to 99.9% of germs but why are we not being warned that the same anti-bacterial sanitisers are 99.9% likely to contain very toxic ingredients that completely overpower any redeeming qualities.
At best, you are probably force-feeding your body triclosan. This chemical is bad for the environment as it doesn't break down. Kind of like a alleged ingredient in Diet Coke, apparently our bodies can't break it down so it just sort of builds up. Nice. Ha, this is one thing I haven't gone out of my way to research, but when you are told stories like this as a child it just kind of sticks with you really.. Oh, triclosan is also an skin and eye irritant, this is not surprising when you read '[triclosan] travels through skin and can disrupt hormones'. Yikes. Although, I haven't read anything that categorically states it is a human carcinogen, phew. It may not be as potent as other chemicals but I would still actively try and avoid it.
Cheapest solution? Replace all of these with natural hand-soap for the family. Their health will thank you.
Faith In Nature offer a range of natural hand-soaps. I decided to go for the most boring natural flavour; unfragranced seaweed. If you are feeling more adventurous, from memory, they also offer hand soaps in chocolate, lavender, tea tree, etc.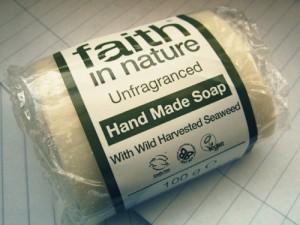 .T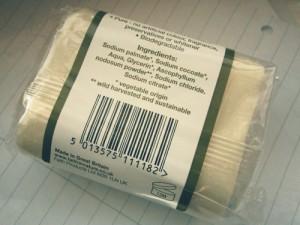 .T
They also clearly state their ingredients on their packaging and on their website which made it so much easier comparing the ingredients online. I've noticed, since switching from my beloved liquid hand wash to hand soap, my hands feel almost conditioned and I rarely find myself reaching for the hand moisturiser.

Another hand-soap alternative, the packaging claims it is vegan, made of natural ingredients and animal cruelty-free. So far so good.  I feel like there isn't much to comment on with regards to hand-soaps. Although, the Oliva soap smell more funky. I got these when H & B had their buy one get one half price offer, which has since ended. They still work out cheaper then the other hand-soap and you get an extra 25g. Wahoo!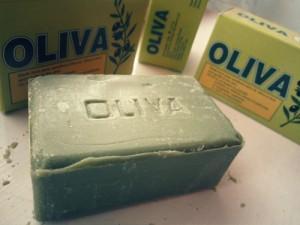 This soap initially feels very drying, however, just like the other brand, my hands feel conditioned throughout the day. I was prone to cracked and weeping skin on my hands from the cold weather (ouch). Since switching to these two soaps, I have not had any problems with my hands. I wish someone would have told me this sooner, I honestly would have switched years ago.

The offenders: Toothpastes laced with SLS.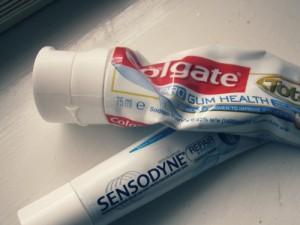 .T
..But I've already written about SLS? I know I earlier stated I would not duplicate writing about chemicals. But I think this is worth mentioning because this is un-doing the hard work of being SLS free. Check your toothpastes, amongst other chemicals, sodium lauryl sulphate is a common offender. I scoured the ingredients of every toothpaste Home Bargains stocked; all brands and their own varieties contained sodium lauryl sulphate!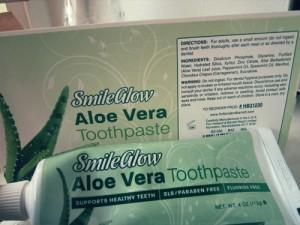 .T
I bought two Smile Glow toothpastes because they state they are SLS, paraben free and fluoride free. Although I wasn't looking for fluoride free. I still need to do my research on fluoride. Other reviews state this keeps their teeth white, even though this isn't categorically a whitening toothpaste, although I can't comment on that yet.
In honesty, I haven't got round to using this toothpaste. Yes I am still cleaning my teeth! I'm just using up the rest of my Corsodyl toothpaste which by pure coincidence is SLS free. I think.. I hope.
The rest of my family are pleased with the Smile Glow toothpaste and I quote "I don't mind it – seems to do the job and tastes fine". Wow, words spoken by a true saleswoman. If that doesn't make you want to impulsively type your credit card digits into Paypal then I don't know what will haha.
This blog post took me hours, yes, hours, to research and in reality I've only just scratched the surface of this subject area. Anything that sounds half-brainy has been cited from http://www.davidsuzuki.org/issues/health/science/toxics/dirty-dozen-cosmetic-chemicals/.
All of the above products are available online, on their own namesake websites and/or Amazon/Ebay.
In a warped and sort of depressing way, I've found this interesting to research.
I wish I was doing my dissertation on this instead!
Our eyes have been opened.
Stay tuned for my next post on natural make-up essentials! There may be a little wait on this because I should probably, actually, wear the make-up first, before I review it. le sigh.