As I am writing this, the sky is so gloomy outside, it looks like it just watched a really sad soap opera. I'm pretty sure it's going to rain this afternoon. There's just nothing that makes me miss summer more than a cold weather and heavy rain. And I think I had the longest ever string of get-aways for this year's summer. One of the firsts was during March, when my sister and I decided to explore parts of Cebu that we haven't explored yet. It was actually a three-day trip. Our first day was spent within the city and I may, or may not blog about as it's all city-ish stuff. The second day was a visit to Cebu's most popular falls, Kawasan Falls at Barangay Matutinao, Badian.
At this point, I should probably go on with the how-to-get-here details and lay down the facts. I will. In a moment. Gotta show you pictures first, boring stuff later.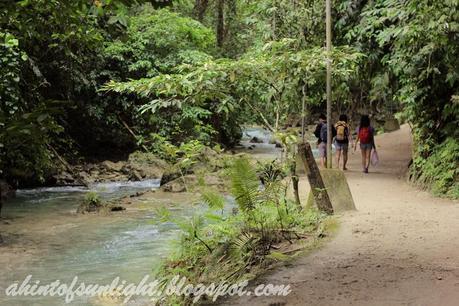 Kawasan falls is comprised of three falls. Before reaching the first one, we had to take a 15-20 minute hike. This I don't mind as we had to follow this river here. The river itself is a beautiful sight already.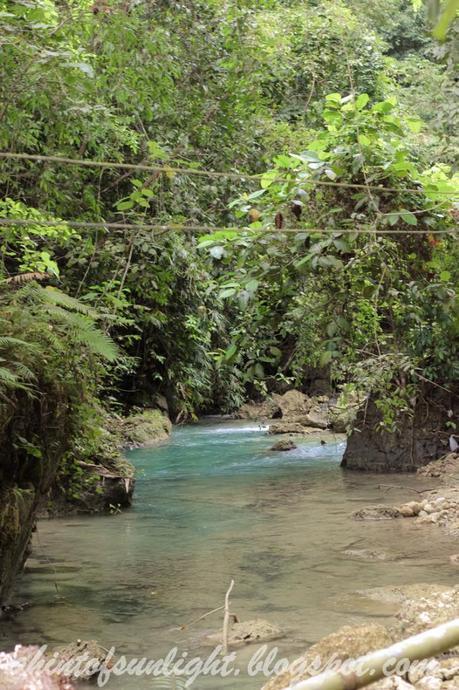 Water is still bluish despite that fact that this was taken on a cloudy day.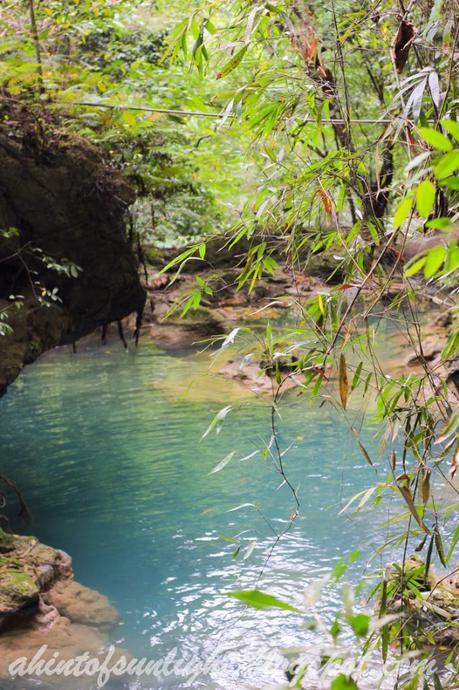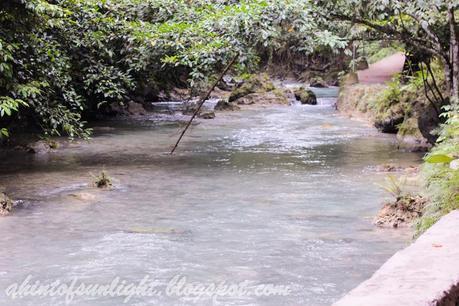 The river and the falls are all part of the Matutinao River System. Also known as one of the cleanest body of inland water in the Philippines.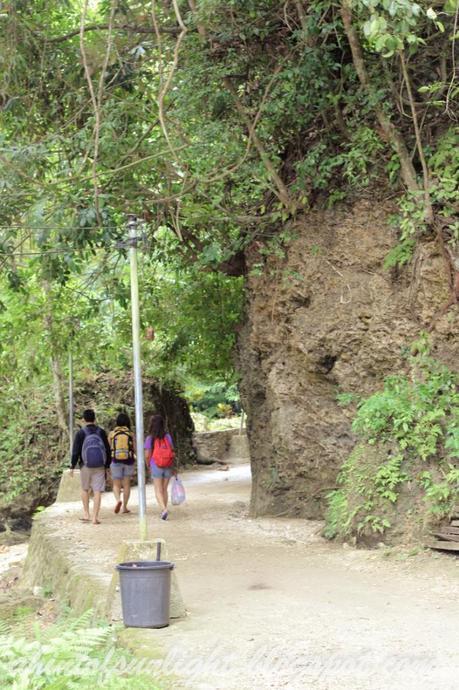 Sign of civilization! A trashcan.The local government is doing its best to preserve the place, so littering is not allowed.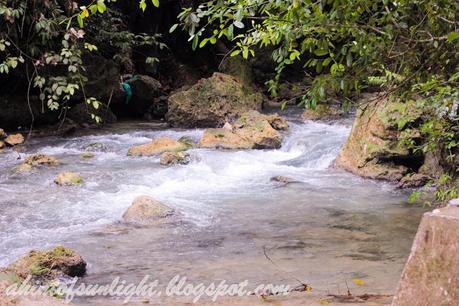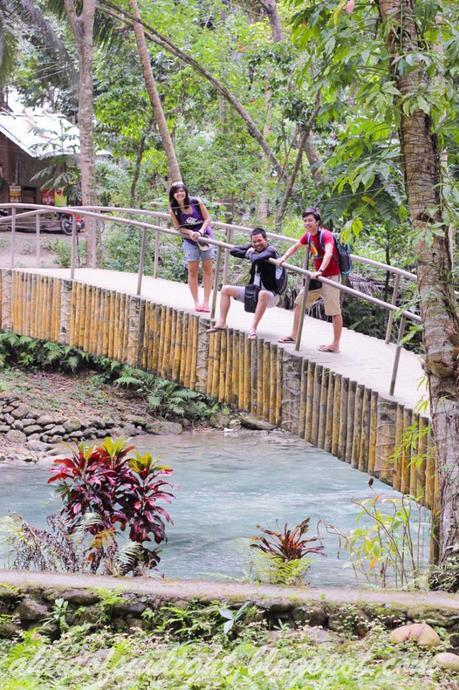 A bridge on one of the little communities we passed by.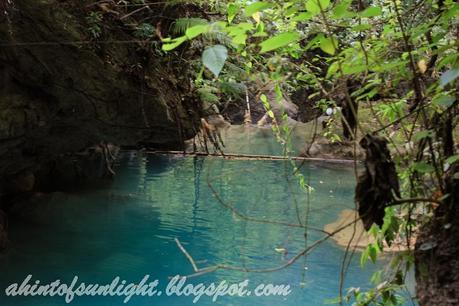 Don't you just want to take a dip right here?
But patience pays. After a few more meters, we finally reached our destination.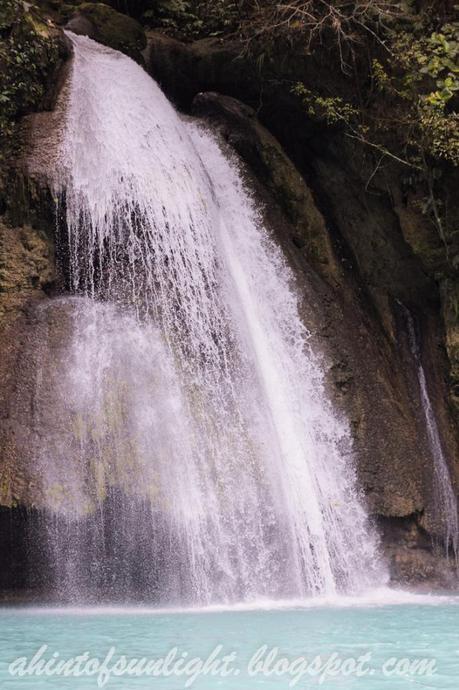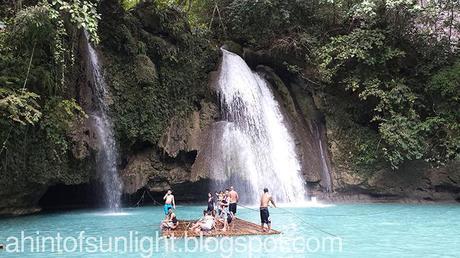 Kawasan Falls at Badian, Cebu
The long walk left us hot and sweaty and the cool blue water was just calling for us to take a plunge.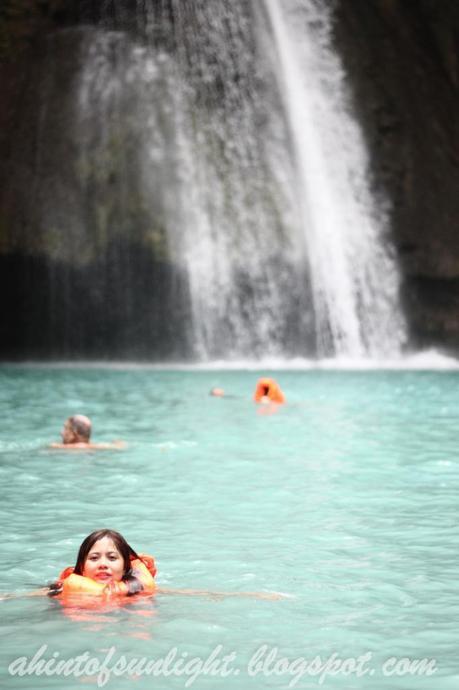 I was happy to oblige. (though I kinda look like I'm struggling to breathe here)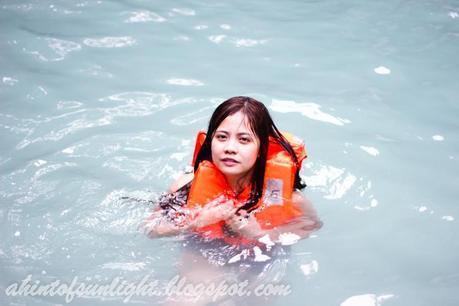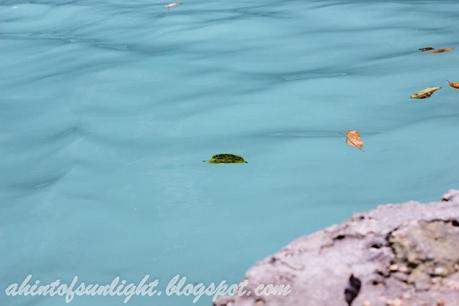 The water's really deep so if you can't swim, it is highly advised to rent life vests. I actually know how to swim, but I didn't take a chance here because of the cold water, and the current.


One of my travel buddies is a good swimmer so he didn't need a life vest.
There's actually a raft for rent that you can use if you want to get near the falls.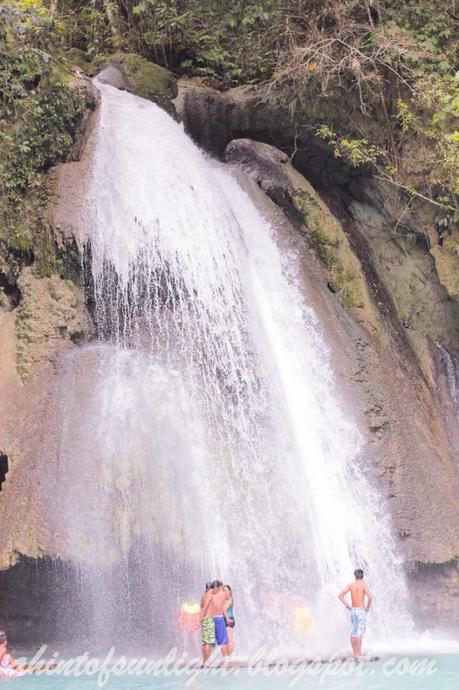 But really... you can also just swim.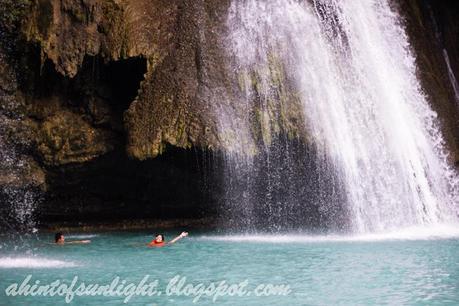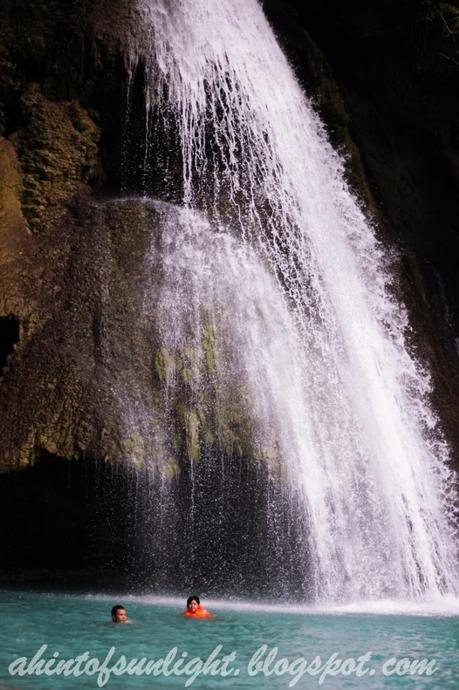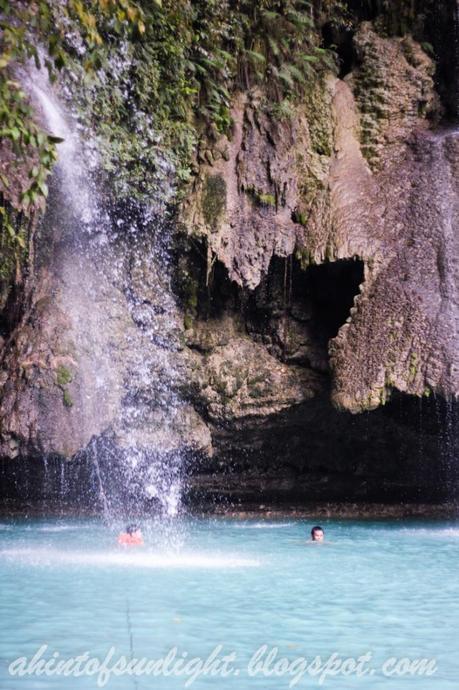 Admittedly, we had too much fun swimming around the first falls, we almost forgot there's still a second and third falls.
So after eating lunch (there are canteens around the area and price is pretty decent), we took another hike for the second falls.
This time the pathway is more steep as we were heading up. The view's better though.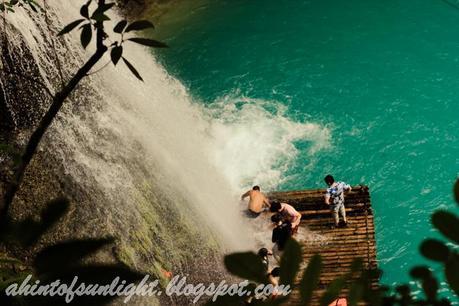 Here we're looking down the first falls. Lol at the person who still has his pants and shoes on. Not to mention the Hawaiian top.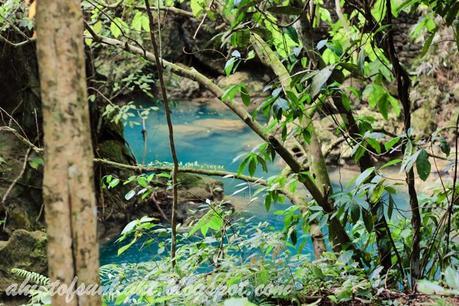 Water at the river's really blue here.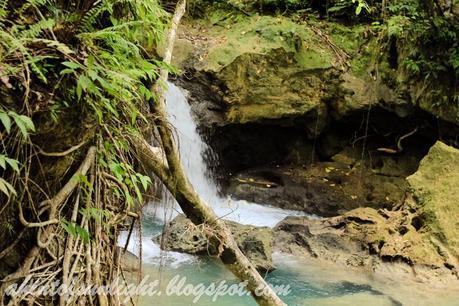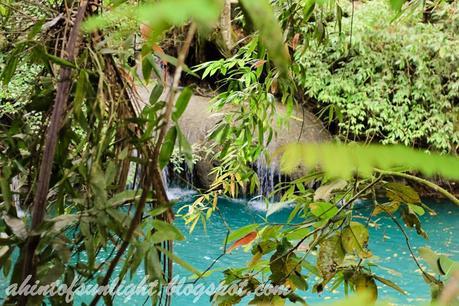 mini falls. mini lake.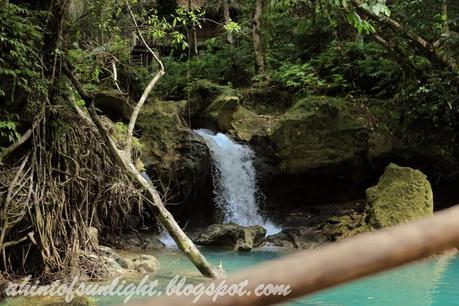 another mini falls with its own little pool.
And finally, the second falls!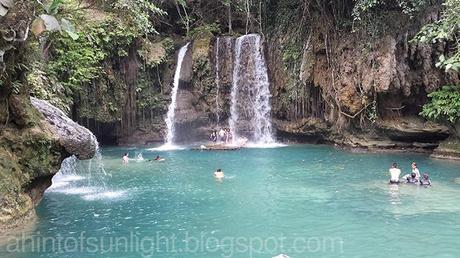 Kawasan Falls at Badian, Cebu
I can imagine, in the good old days when Man wasn't under the influence of capitalism yet, this place would have looked like paradise. It's still beautiful now, definitely still worth the visit. Unfortunately, the part I did not include in this picture is already populated by man-made structures, lodges and cottages. A good part of the natural pool's shore is already cemented and at some angles, it look all too artificial.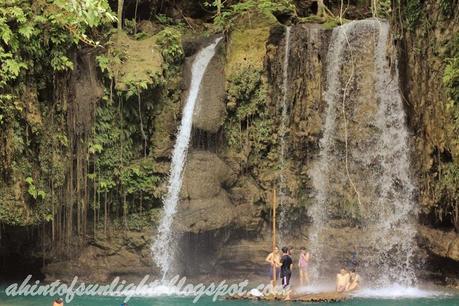 We no longer took at swim here. I'm quite confused actually where the third falls is. Actually, I think I got the whole counting wrong. So what I've been referring to as the first falls earlier is actually the third. Anyhoo, it takes a lot of hiking to get there and we didn't had the luxury of time anymore.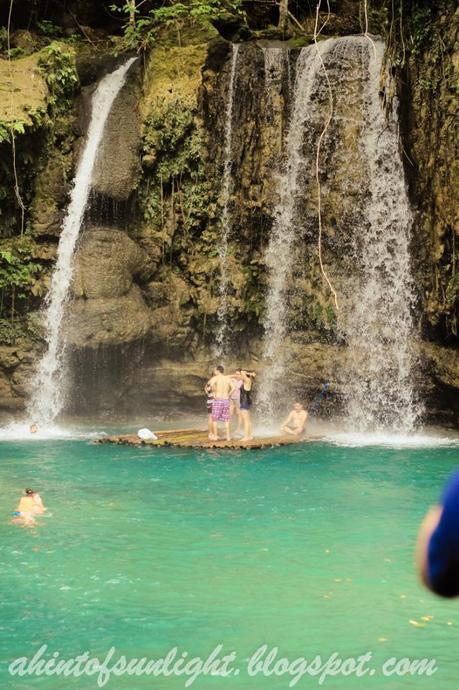 Now for the boring part, the how-to-get-there details.
Start: Cebu South Bus TerminalRide: Bus to Badian. It is best to ask around.Fare: Around 130, depends on the type of bus.Length of Trip: Around 2-4 hoursStop at: Matutinao Badian Church
Tip:1) Bring a map.2) Inform the bus' conductor that you are stopping at Matutinao Church and that your destination is Kawasan falls. They are usually really friendly and accomodating to tourists.3) Upon arrival at the Matutinao Church, there will be "tour guides" waiting for tourists that are arriving by bus. For a fee, they will show you the way to the falls. Truth is, you don't really need a guide because all you gotta to do is follow the river. If unsure, just ask around. But then again, if you want to help these locals, then let them accommodate you. I don't know how much their fee is exactly.
This is the three-day trip so my next travel log post is about our third day.Thanks for reading my blog!
How was your summer?
Some miscellaneous pictures:


long-exposure. Fail.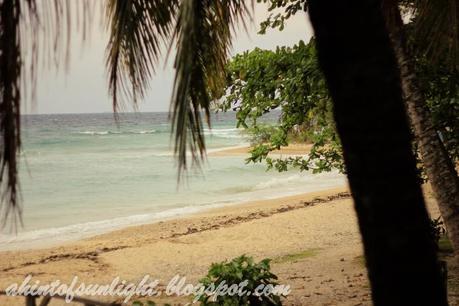 Badian is also known for their white sand beaches. This beach was one of those along the highway.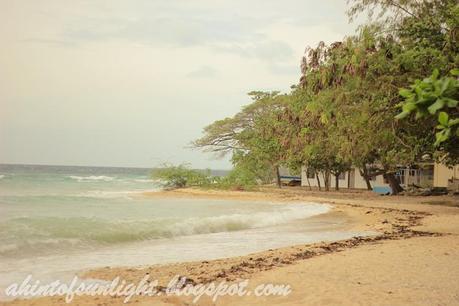 took these pictures while waiting for our ride to..... Oslob!