Yesterday we went to see the new DreamWorks Trolls movie, it's a fun, feel good movie that had us all smiling throughout. This was the perfect time to give Zoey the fantastic Troll items I had received for review, a pink Trolls Poppy Wig and a Hug Time Bracelet which are just two of the Trolls range by Just play based on the hairy characters.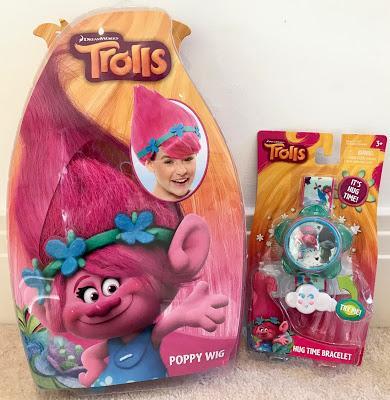 Trolls Hug Time Bracelet
Trolls are loveable, happy little beings who have "hug time" every hour to make them feel happy. They all wear a bracelet which alerts them when it is time for hugs. The Trolls Hug Time Bracelet is a replica of the one from the movie and features fun lights and sounds that are activated, along with the "It's Hug Time" phrase at the press of a button. As a result there were lots of hugs in our family yesterday once the kids got their hands on it.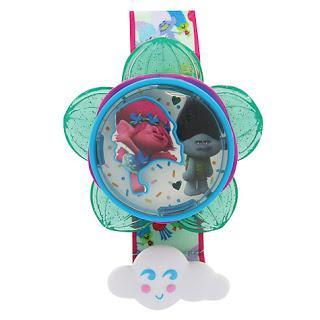 Trolls Poppy Wig
Poppy is the main character in the movie and is pink and girly so instantly appealed to Zoey who loves pink and has already said on many occassions before that she wants pink hair, I think she is just as obsessed with hair as the Trolls! I had to laugh when she put the Poppy wig on, she totally rocked it and insisted I play the Trolls soundtrack so she could dance like Poppy. Her twin Zachary felt a bit left out, I wonder if I could get hold of a Branch wig for him?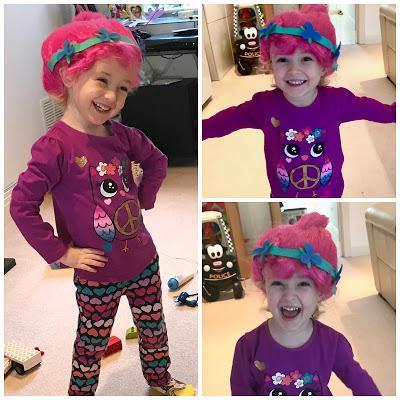 Our Verdict
Both the Poppy wig and Hug Time bracelet are fantastic items for Trolls fans to enjoy. They bring some infectious Troll happiness into your home, I mean who doesn't love hugs and how awesome is it that with the Poppy wig you too can have your very own amazing and iconic Troll hair.
The Poppy wig is really good quality and easy to wear and believe me,  Zoey definitely has been putting it to the test. It looks fantastic and Zoey loved the fact it transformed her into Princess Poppy. As for the Hug Time Bracelet, I think every family should have at least one to help take a leaf out of the Trolls ways and share the love.
Where to buy
The Trolls range of hair play and dress up toys by Just Play is available to buy from toy retailers including Argos. I can definitely recommend both the Hug Time Bracelet and Poppy Wig but do make sure you check out all the other fantastic Trolls items too, I have a feeling they will be very popular with kids this Christmas.
*
Disclaimer: I received the Trolls Poppy Wig and Hug Time Bracelet in exchange for a review. All views and opinions are my own.