Not all of us have the opportunity to do this kind of things so it is my privilege to do this kind of guide. Let me share with you how we renewed our US visa via Dropbox. Yes, it is possible. No show up, no appointment needed, just follow the guide and make sure you prepare everything in time then you'll be receiving your renewed US visa delivered right at your house in no time.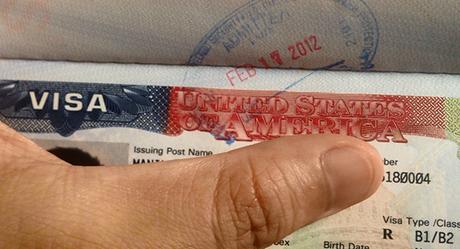 US Visa
Let me just remind you that this procedure or process is for
renewal
, not for the first time applications. So, let's start by knowing the
important requirements
if you are eligible for the process. Again they are requirements, miss one of them and you'll need to personally appear and schedule again for the renewal.
REQUIREMENTS FOR 
ELIGIBILITY
1. You have your type B1/B2 visa you want to renew2. Your visa was issued after July 1, 20073. Your prior visa was valid for AT LEAST 5 years4. Your prior type B1/B2 visa is still valid or expired within the last 12 months5. You are a citizen of the Philippines6. Your prior visa does not say "
Clearance received
" or "
Travel with Employer
"7. No changes needed on your
name
,
date of birth
and
gender
on your prior type B1/B2 visa8. Your most recent visa was issued on or after your 14th birthday9. The last time you applied for a type B1/B2 visa was approved
If you are eligible,
congrats!
You may read on. If not, then this process won't apply to you.
Note: if given links do not work, use the basic URL since updates may happen
COST OF RENEWAL
Reference: 
http://www.ustraveldocs.com/ph/ph-niv-visafeeinfo.asp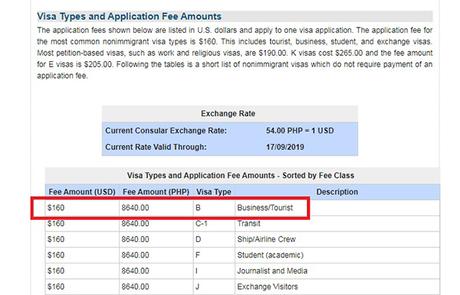 US Visa renewal fee
US visa renewal fee:
$160
/
P8,640
each
[When we did it]
This fee already includes everything. You don't need to pay anything anymore but this. It includes the services of our local courier (their partner) which is currently
2GO
. Not to burden you or anything but I would like to remind you that there is still no guarantee of a successful application here upon paying this. If you know how having a US visa works then you do know that there is no sure way of having it 100% unless you already have it in your hand personally.
Note 1: You can pay cash or online payment at BPI/BancNet branches onlyNote 2: This excludes the cost of having your photos taken, renting a computer, and printing services
DOCUMENTS NEEDED
1.
Valid passport
2.
Old passport with previous type B1/B2 visa (if applies)
3.
2x 2x2 colored, white background, unretouched pictures on glossy paper. - taken within the last 6 mos., in neutral facial expression, with both eyebrows and ears exposed- you also need to have the DIGITAL or SOFT COPY FILE of that picture on filling out your electronic DS-160 form
4.
DS-160 confirmation page PRINTED
5.
Interview waiver confirmation letter PRINTED
These are all the documents you needed for the process. I recommend having your photos taken in advance and getting those printouts as I assume you have your US visa with you. You should have the last two requirements after following this guide. 
STEP 1 
Have your picture taken as required on the "
documents needed
" above (No.3). Make sure the size is correct and proportionate with all the things that must be seen in it like until where should the photo be cropped.
MUST BE IN NEUTRAL EXPRESSION
(PICTURE FOR GRAPHIC PRESENTATION ONLY OF SOFT AND HARD COPIES ONLY)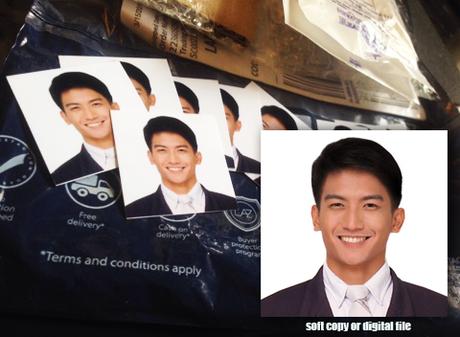 Same image used on my online printing service post
The problem you may encounter
: The site where you will upload the digital file is strict with its photo requirements. Since picture taking is still evolving, a slight difference in the angle and proportion can make your application fail. Your application will not be completed without this. And I have encountered where the photo I uploaded (my brother's) had an error. It was correct in size but I had to adjust the photo myself using some photo editor to crop it since I noticed that too much of his shoulders compared to our photos (which was accepted) was seen.
So in here, you must have at least 2 hard copies of your picture AND its digital file.
STEP 2
Filling out your electronic DS-160 form at 
https://ceac.state.gov/genniv/
(Select country > Enter code > Start an application)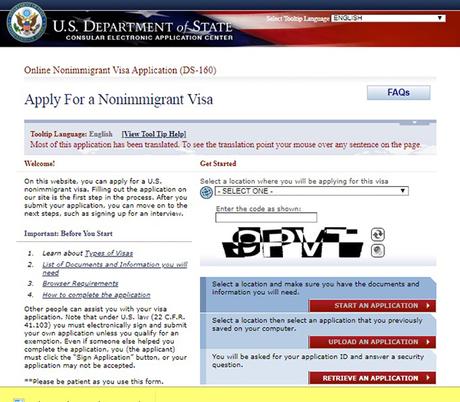 DS-160 electronic form
When doing this, be sure to have your passport, visa, personal details, family details, previous and future trips outside the country ready. You will be answering multi-pages of electronic forms here that would require such details. Make sure to take note of your
APPLICATION ID
number upon starting the application. You will be needing that no. to complete the next step.
Record as well your answer to the security question
that will prompt from the beginning as it will be included as your log-in details with your birth date and application ID when your session goes out. I am sure it will since some of the pages require much information so do it, pen them.
You may continue filling out the e-forms again some other time by clicking the "
Retrieve an application
" if it applies to you. But I highly suggest you finish everything once started to avoid errors or any loss of information.
Before finishing this step, this is where you'll upload your picture.
Print it
and it should look something like this: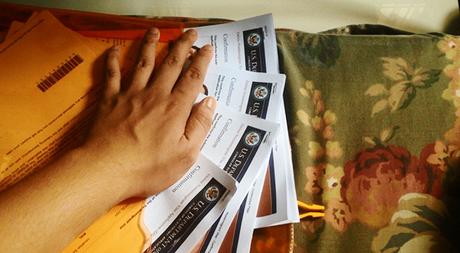 DS-160 confirmation page printed
STEP 3
Paying the renewal fee 
https://www.ustraveldocs.com/ph/ph-niv-paymentinfo.asp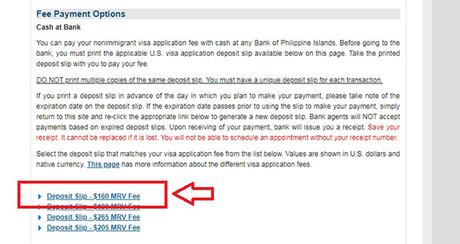 Payment link - US visa renewal
Click the
$160 MRV deposit slip
as that matches the fee for renewing the type B1/B2 visa. And it should bring you to this similar screen.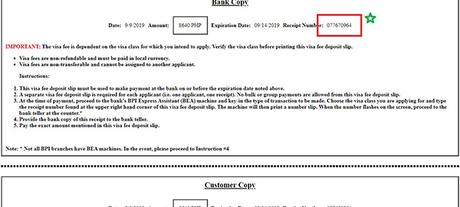 Receipt number generated
Every click generates a unique
receipt number
so just pay for them accordingly. You need that number for the next step so keep your copies with you (both this system generated receipt number and your actual bank deposit slip/receipt from the bank) just like this.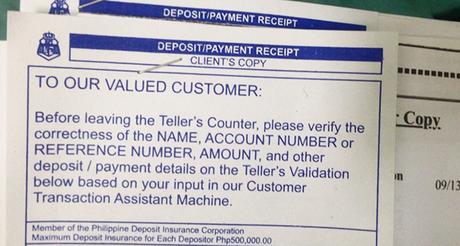 Keep your bank deposit slip and receipt number(s)
Important note: The payment processing may take some time. They say it can go as fast as 4 hrs. fast to as slow as 24 hrs. slow. It needs some banking day for them to process it. I suggest doing the next step after a day.


STEP 4
Getting the interview waiver letter confirmation
https://cgifederal.secure.force.com/
(Click the New user in red font and it should start your final step)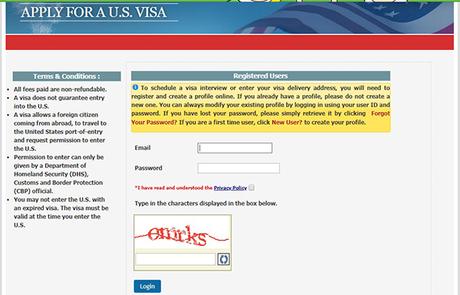 CGI federal home screen
This will be the last step you will be doing online so you need the previous references you generated. Please do note that you will be
creating an account per person
here so make sure to
record the details of the account you are going to make
.
Just continue to fill-out the e-forms which will require you to input again your personal details, passport and visa numbers plus the
DS-160 application ID
(step 2).
In the last part, it should require you to input your
receipt number
(step 3)
. As our personal experience, since we planned on doing it all on the same day, we encountered some error on this part which says they cannot recognize the receipt number or it does not exist. That is because their identification of payments takes time to process.. We tried inputting it again the following day after and it went through. Print it and it should look something like this.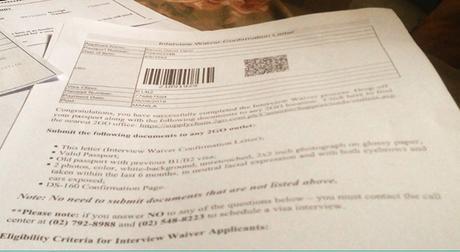 Interview waiver confirmation letter
Now that you have everything you needed - the 4 to 5 documents, whichever applies (You can re-check above). Place them in a single container or organize them in a way you are comfortable.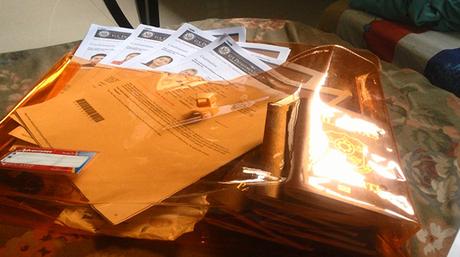 Documents complete - ready for sending
Once you are all set, go the nearest 2GO branch near you and tell them you are to send this for US Visa renewal. They should accept everything and remember, you don't need to pay anything anymore.
After a few days, you should receive your renewed US Visa already on the address you inputted on the CGI federal site, delivered.
Reminder: Everything must go smoothly as one wrong information can ruin the whole process. The renewal fee is not that inexpensive. So might  as well go slow if needed as long as you make sure every detail you are inputting is correct.
Need a review? Here is the video version of the post. I hope this helps!