I would give full credits to Vapour Bar Exchange in Global Foyer Mall, Golf Course Road, Gurgaon for many reasons. Firstly, its ambience is perfect. I will call it a royal place to experience a fabulous dine-in experience. Secondly, it's grand branding right at the entrance of the mall. A huge signboard welcomes you with a lot of confidence. Thirdly, it is on the ground floor, and that too right in front. So no extra walk or escalators to cover to reach the place. You just need to get down right in front of the mall, walk a few steps, and you are inside a huge restaurant. Right at the entrance of the Vapour Bar Exchange, there is a huge metal bull sculpture to welcome you. The seating is for about 180 persons. And it is so perfect that you have a choice of long chairs, sofas, and normal chairs.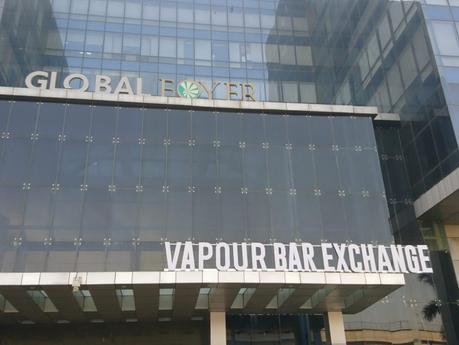 Everything looks so perfect and comfortable inside the Vapour Bar Exchange. There is a huge bar counter on the right side. Almost end to end starting after leaving some space after the entry door. Within, there are two separate seating upstairs. Both are at two different ends and have separate stairs. The one straight after the bar counter is also a smoking zone. So if you want to smoke, drink, and enjoy food, that is the right place for you. As a matter of fact, there are no hookahs at this place. But liquor is in plenty and almost all good brands are available. The liquor prices vary as per demand. This concept of variable pricing of liquor is similar to Cafe Dalal Street in Connaught Place. So prefer to order as lesser times as possible. This way you can avoid paying a high price for the same in the next round.
Vapour Bar Exchange
For instance, if your group wants to sit for long and enjoy drinks, it is better to order a bottle instead of smaller quantities of liquor. The bar is operational but the microbrewery will start operations in a few days. Now about the food at Vapour Bar Exchange. There is a decent and innovative variety among continental, street food, North Indian, and Chinese cuisines. There are many dishes that you should not miss at any cost. In starters and appetizers, you must give a try to Palak Patta Chat, Bhalla Papri Chat, and Tempura Vegetables. Especially, the last one is second to none. Want to try something deliciously innovative? Go for Ragda Pigme Kulchas in Small Eats. Another quite innovative design, healthy, and the mouth-watering dish is Spinach and Corn Pides in Italian food.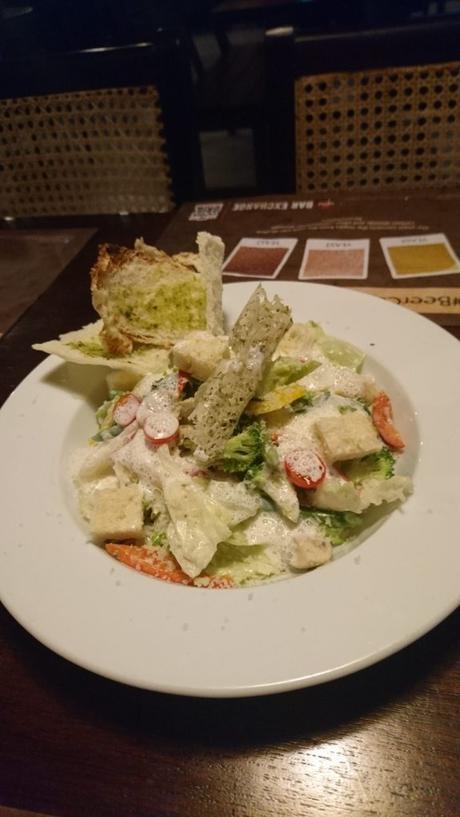 Salads is another specialty at Vapour Bar Exchange. Like my favorite Caesar Salad with Parmesan Air. And how about the very best Cauliflower Bolognaise With Spaghetti? You will fall in love with the crispy Cauliflower. Veg Macarena is fabulous and sumptuous in the main course. It is a creation in itself. And if you are a cheese lover, you must try it. Two more main course items worth mentioning are Dal Makhani with ChurChur Naan and Hyderabadi Paneer Masala Tawa. And in desserts a must try dish is Garlic Kheer (Cryogenic cooking). Chef Upender is quite delightful and confident when he talks with a glitter in his eyes. Garlic Kheer is a famous Awadhi dish. But I rarely found it at restaurants claiming to be specialists in Awadhi cuisine. By the way, do you love to play Sudoku? How about playing it while sipping sensational mocktails at Vapour Bar Exchange?