Hi guys! How have you been lately? I realized I haven't blogged for almost a week now. busy busy busy. But I'm back with another review! I got Watsons Green Tea Anti Acne Gel last month as a part of my late September haul. I was looking for a good anti-acne product as I get zits every now and then. After that horrible incident with an obscure product that I used, I decided to go for something mild this time.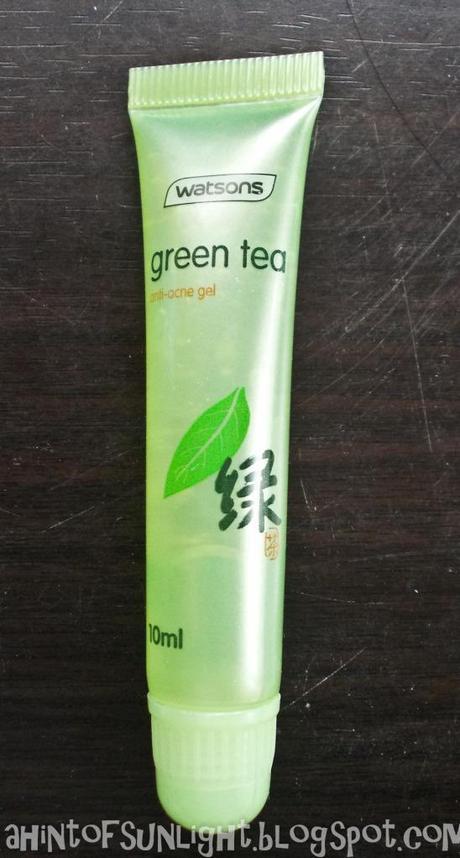 Watsons Green Tea Anti Acne Gel
I was going to buy one from Celeteque when I saw this one. It only costs P79 ($1.9036) and it's claims to have green tea. I love the smell of green tea so I picked it up.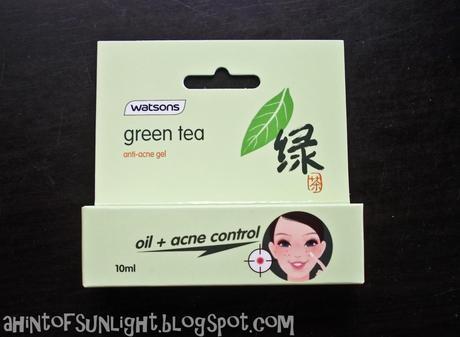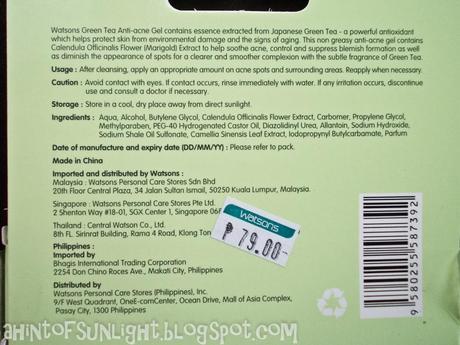 Claims:Watsons Green Tea Anti-acne Gel contains essence extracted from Japanese Green Tea - a powerful antioxidant which helps protect skin from environmental damage and the signs of aging(nothing new here).It also contains Calendula Officinalis Flower (Marigold) Extract to help soothe acne, control and suppress blemish formation as well as diminish the appearance of spots for a clearer and smoother complexion with the subtle fragrance of Green Tea.
I did a little research and found out that Calendula Officinalis (Marigold) has anti-fungal, anti-bacterial and anti-inflammatory properties and has been predominantly used as a herbal remedy to common skin conditions including acne.
Sounds like a good deal to me. The only downside is that allergic reaction to the said herb had also been reported.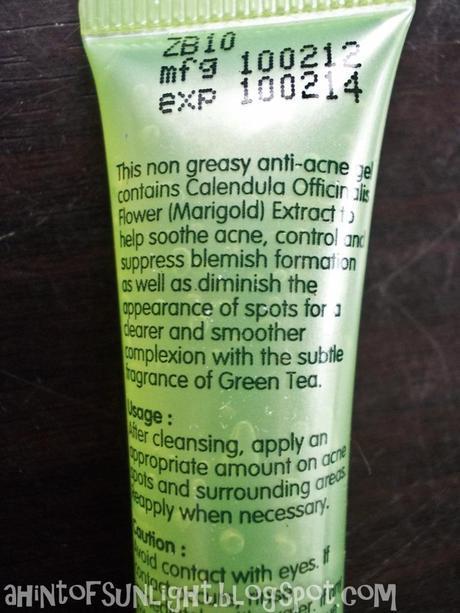 expiration date indicated
As for my own experience with the actual product, it is indeed a non-greasy clear gel (sorry, forgot to take pictures) that has a slight cooling effect. I love it's smell as it smells of green tea, which is a very refreshing scent for me.
I was expecting it to work the same way that the previous anti-acne products that I tried did. Most of them contained Salisilyc acid and worked by drying out the pimple. So I was dismayed when I didn't get the same result with this one. I almost felt like this product isn't working. But as I continued to use it (the smell of green tea is just heavenly for me), I began to understand how it works.
It works in a very mild manner. It doesn't try out the pimple but simply soothes it so it's less red, less noticeable and heals faster than usual.
You can't expect this product to be a life-saver if a huge zit suddenly pops up out of nowhere the day before a big event. You'd be needing another product for that. But because this is such a gentle product, there's no peeling and it would be great to continue using it even as the pimple is at the end of its life-span.
I'm not really getting huge zits now, just those ones that are non-cystic and are just red and bulges a little from the surface of the skin. According to this source, I think it's what you'd called papules. As the main problem with this kind of acne is the inflammation, Watsons Green Tea Anti Acne Gel really worked well for me.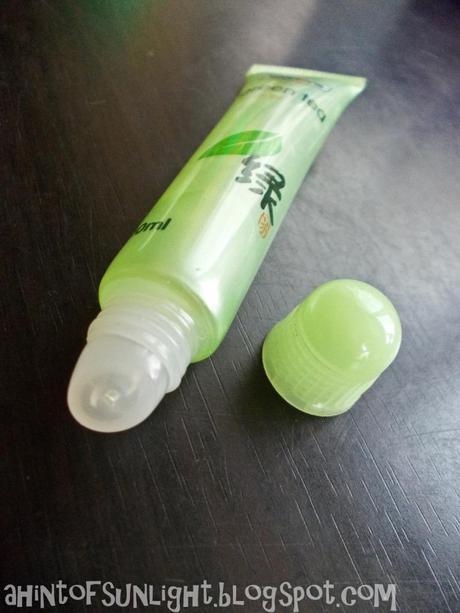 The packaging is convenient enough but it doesn't allow a precise application the same way Clean and Clear does
Pros:Non-greasyAt P79 ($1.9036) for a 10ml tube, it's quite cheap.Easily available. You can get it at Watsons.I love the smell of green teaHas a soothing and cooling effectMildly effective in treating acneNo peelingNot drying, although it dries fast enough so you can still wear make-up over it.Expiration date is indicated
Cons:Some may be allergic to Marigold, which is one of the main ingredients.Not helpful in getting rid of severe acnePackaging doesn't allow precise application
Over-all rating: 4/5I favor this more than the two other previous anti-acne gel I reviewed even if it's not as effective as they were in instantly getting rid of acne. This product gets a higher rating because of it's price, it's smell, and because it doesn't cause any peeling. For me, this works great in prevention of blackheads and whiteheads. The two are also forms of acne, and I find that this product is effective in reducing them. There's nothing magical about the effect and it is in fact very subtle but it helps somehow. Because it is very gentle, I can easily spread it in areas where blackheads and whiteheads are abundant without any fear of peeling. The other anti-acne products I reviewed are unable to do that for me.
Recommend?Yes. But be warned, this isn't for those who wants a quick solution to their acne-problem
Repurchase?Yes.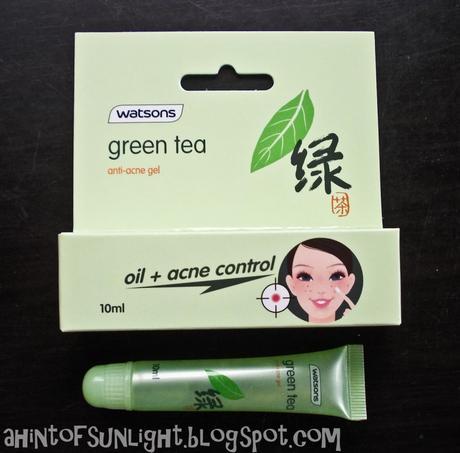 Thanks for reading!