The twins have been having a lot of fun recently putting the Yvolution Y Velo Balance Bike to the test. I love balance bikes, they really do prepare kids for pedal bikes as they teach them the key to riding bikes which is how to balance from the get-go. The
Y Velo Balance Bike
from Yvolution which is part of a wider range of Scooters and Bikes is by far one of the best I have seen on the market at the moment.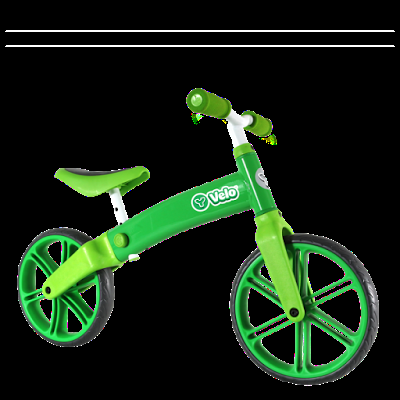 Yvolution Y Velo Balance Bike
From the minute I saw the Y Velo Balance Bike I was impressed as it looks sturdy and is big enough to last until your child is ready for their first pedal bike which is a big bonus for me as a parent. It was easy to assemble, is made of lightweight aluminum so perfect for popping in the car and bringing everywhere, it has bigger shock absorbing wheels than a lot of the other balance bikes I have seen on the market which makes it a smoother ride, a very comfortable padded seat, adjustable handlebars and height adjustable seat which is done with the turn of a knob so no more searching for the correct allen key. There is a great color range available to including the eye catching green which we have, pink, red and blue. 
Putting it to the test
The twins were really eager to get going on the Y Velo Bike as soon as they caught sight of the box and the novelty hasn't worn off yet. Zachary has been used to riding Ben's old balance bike which is a lot smaller so he immediately whizzed off on it saying he loved it, he really didn't want to hand it over to his twin sister. Zoey was next up and she took to it straight away, she has pretty much claimed it as hers and wants to use it all the time. 
The things I love about the Y Velo Balance bike include it's size as I can see it lasting until the twins are ready for thir first pedal bikes, it is also easily adjustable so will grown with them as required. In the past week since Zoey started riding it, I have seen her grow from a nervous little girl moving slowly step by step on the bike to one who now whizzes along, lifts her legs and glides. She has made incredible progress in a such short time and has properly learned how to balance using the Y Velo which speaks for itself and give me confidence that she will transition to a pedal bike without any problems once the time comes.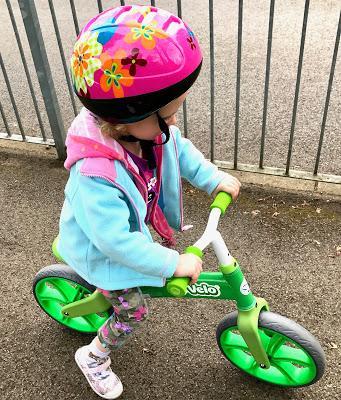 The Y Velo is definitely very eye catching and over the past week alone I have had lots of parents in the Nursery that Zoey and Zachary go to ask me about it, commenting on it's size and how great it is to see a balance bike with bigger wheels. We have had more than a few of the twins classmates test driving it too and all reactions have been really positive with one turning up this morning on their very own. 
Benefits of Balance Bikes
The debate of Balance Bike v's Bike with Stabilisers is one which has been going on for quite awhile now and the outcome always seems to be the same, a balance bike will prepare your child for a proper pedal bike far better than a bike with stabilisers because it teaches them the very important skill of balancing. I was watching a video on teaching your child to ride a bike recently and the person doing it raved about balance bikes and said that giving a child a bike with stabilisers was not preparing them for riding a bike but teaching them to ride a trike as it holds them up which makes total sense. 
The great thing about little ones learning on a balance bike is that they also learn to safely stop by slowing themselves and putting their feet down to avoid crashing and falling off. They quickly learn how to control the bike as they are doing the going and stopping themselves along with keeping it upright. 
I have loved seeing the twins confidence grow so quickly since they first started using the Y Velo bike just over a week ago, it is so nice seeing them whizz about on it and they love being outside with their big brother and little friends. I bring it to collect them from nursery and as soon as they see it through the glass door where they wait for me they cheer and smile, of course there always is the battle of who gets to ride it first. 
Safety Tips
As with all outdoor play on scooters and bikes with kids make sure they are in a safe environment and check for any dangerous hazards such as stones, broken glass etc. It is never too early to introduce the rules of the road and ensure that they are aware of staying on footpaths and the all important don't scoot or cycle into people. Obey traffic signs and if possible stick to cycle tracks or paths. If we are in public give the twins points where they can cycle or scoot to and then top and wait for me to catch up such as the blue bin or the yellow bush. When first getting used to the Y Velo though we started off in our quiet close where there are very few cars apart from our neighbours and I kept watch ready to stop anyone until the twins were safe. A flat, concrete surface is better than grass as although grass may provide a softer landing, it is easier to ride a bike on a hard surface. It goes without saying but always make sure your child has a helmet on. 
Our Verdict
We love the Yvolution Y Velo Balance Bike, it has been a massive hit since the start with the twins and their friends.  I have already seen the benefits of using a balance bike when it comes to the twins impressive progress using it so far. I have and will continue to be recommending it to parents of young children, it really is a fantastic first bike for little ones. I expect we are going to have a lot of fun with this bike now summer is on the way and we can get outside more.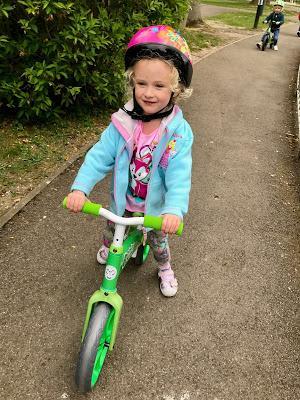 Where to Buy
The Yvolution Y Velo Balance Bike is aimed at children aged 3-5 years and is available to buy online from
Yvoultion
priced at £49.99 which is a fantastic price. This product definitely gets a big thumbs up from us!
*Disclaimer: I was sent the Yvolution Y Velo for review. All views and opinions are my own and unbiased.