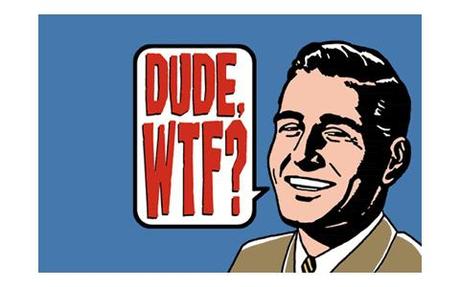 Doing the Wednesday WTF has taught me a couple of things I could have gone on happily without knowing. For example, people are batshit-crazy obsessed with Justin Bieber & One Direction. It's like Backstreet Boys and Nsync all over again, except less talented. Also, the majority of Tweeters can't tell the difference between you're and your. Oh, and most importantly, half of the people doing the various hash tag trends are either A. Giving way too much info, B. Talking themselves up, C. Talking themselves down in the hopes that someone else will talk them up, or D. Posting gibberish that has no discernible meaning.
Today's hash tag is #10ThingsIgetAlot. Of course most of the posts were made by girls giving themselves compliments (Barf). I honestly doubt that very many of them are told how super sexy or gorgeous they are all that often. Not that it isn't merited, but there is a pretty big difference between getting told something 'a lot' and having been told it once or twice in the span of your entire life. Just sayin'.
#10ThingsIGetAlot "Your not fat" ….kinda pisses me off because i know im being lied to.—
Ɨ Im the Blueberry Ɨ (@omg_nosh) August 08, 2012
You're*. This is one out of about a thousand tweets saying this same thing. Variations included "You're so skinny" or "You're so tiny but you eat so much". We get it, you want the world to know/affirm that you're thin. Attention monster wants attentions!
#10ThingsIGetALot I heard your ___ is big, is it true? (; LOL—
♛Last King Mike ♛ (@MikeRaww01) August 08, 2012
What self-respecting person would ask that? Or perhaps the better question is; can we can round-up the supposed 'many' who have and throw them off a cliff?
#10thingsIgetalot "You won't like Justin Bieber in a few months"- 2 years and I'm still going strong. YOU KNOW NOTHING.—
Justus Biebist† ∞ (@BiebsOfBelAir) August 08, 2012
Keep calm and Bieber on. (I swear, Bieber fans are taking over twitter. Oddly, so are Harry Potter fans. Are the majority of users 12 and stuck in 2009?)
#10ThingsIGetALot "omg are you beyonce's twin?!"—
*~•amzzzz•~* (@ammmyleeeigh) August 08, 2012
I hate to be the one to tell you this… but… you're white.
#10ThingsIGetAlot "omg you're ginger" REALLY I HADN'T NOTICED—
Steve Ballantine (@SteveBallantine) August 08, 2012
Kudos for Ginger power, using the correct form of 'you're' and being funny. I chuckled.
#10ThingsIGetAlot my period—
Zooey Davechappelle (@mauracakes) August 08, 2012
Announcing your bodily functions on twitter: Classy. 
#10ThingsIGetALot you're the most gorgeous person I've ever met.—
❁Makena Jordison❁ (@MakenaJordison) August 08, 2012
Did you get stuck in the bathroom in front of the mirror again?
#true."@itz_tayo: #10ThingsIGetAlot wande caol be like albino if he stand wit U̶̲̥̅̊"—
Anuoluwa segun (@anu_cutiee) August 08, 2012
Wtf?
#10ThingsIGetALot Daddy dick—
TiTO CALENTURA (@DontBeModest) August 08, 2012
WTF??
#10ThingsIGetAlot u and ur asamoah gyan azonto—
Dammie Ogunjimi (@Duro_D) August 09, 2012
Seriously, what the fuck?