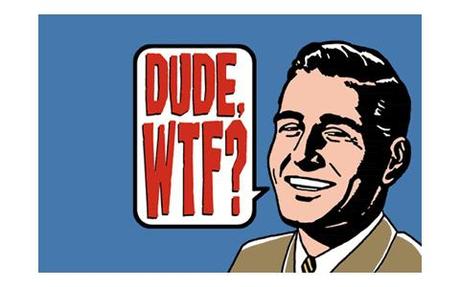 Good evening and welcome to the second ever Wednesday WTF. This weeks post has taken surprisingly less time than the first because 1.) I remade my twitter account, @Bridgesfolly, to more easily access the goldmine of crazy. Yes, I realize the irony. 2.) I just figured out you can simply insert the link of a tweet into a post rather than take a screen shot of 50 individually and 3.) The trending hashtag was too good to pass up.
This is also my first 'real' post since being Freshly Pressed. No pressure or anything.
The hashtag trending right now is #DontYouJustHateWhen (seriously, how long do these things need to be?). I found that the majority of tweets were angsty bids for attention with an 'unrequited love' theme, many directed toward Justin Beiber. Is he still a thing? Really?
After hours of searching and wanting to bash my head through the computer screen, here are the top seven. Seems like an odd number? I honestly couldn't take any more posts how Hoes be trippin' or how much it sucks to like someone who doesn't like you back. Attention monster wants attentions!
#DontYouJustHateWhen you lie, and then your hips betray you and tell the truth?—
~rice cooker~ (@awkwardnoodles) August 01, 2012
This one actually made me laugh, as did his Twitter handle. However, he tweeted about a hundred more tweets in the next 30 minutes so I couldn't bring myself to 'follow' him.
#DontYouJustHateWhen a hoe say dey aint no hoe wen dey kno dey is—
#IGotYoHoe (@FuckU_Hoez) August 02, 2012
Oh those silly hoes, when shall they ever learn?
#DontYouJustHateWhen your nice to someone, and there ignorant back—
ѕнαυηα¢яαωℓєу (@shaunacrawley) August 02, 2012
You're*, They're*. Would it be horrible of me to reply to the numerous tweets with errors like that with corrections? I feel like I'd be doing a civil service.
#DontYouJustHateWhen the person you hate is breathing—
Amy (@wh0rible) August 01, 2012
Her name is WhOrible. That alone is enough for me.
#DontYouJustHateWhen parody Justin bieber accounts follow you and you get excited until you read their username—
Arianna❤ (@bieliebercrazy) August 02, 2012
What is a parody account? Someone pretending to be a celebrity for attention while at the same time saying they aren't the celebrity so they don't violate Twitter Law?
#DontYouJustHateWhen the male gymnasts are just so attractive you can't pick a favourite because it's like choosing from your own children?—
Aa-min-a (: (@Amii132) August 02, 2012
Comparing finding athletes attractive to your children… Seems legit. I'm not familiar with this problem.
#DontYouJustHateWhen a gecko fell down and u couldn't go there to grab sumthing u need coz it's so disgusting—
Maurren Mondemon (@Mondemon21) August 02, 2012
Uhh…What?
I am exhausted. That literally drained the snark from me.