Meet  Shreddy, one of the 
Zoomer Hungry Bunnies
 who has made quite a big impact in our house. This little pink bunny, with her soft fluffy blue ears, is cuteness overload. Zoomer Bunnies are interactive and just like real bunnies, loves to eat and play. I have to admit I am very impressed with the interactive features which make this toy both extremely engaging and entertaining.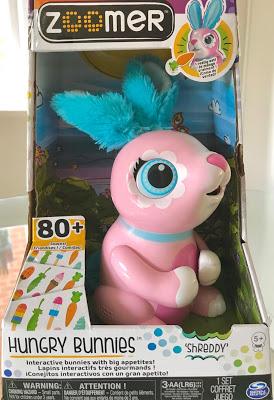 Hungry Bunny Fun
Zoomer Hungry Bunnies come with over 80 treats to choose from including carrots, radishes, ice creams, popsicles and more.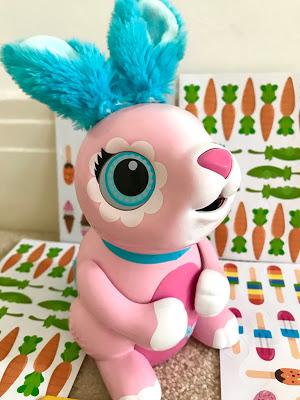 The thing that amazed and delighted my kids was how Shreddy really ate her treats which resulted in a rather colourful confetti surprise being produced - cue lots of laughter. Zachary, our little eco-warrior, made me laugh when he quickly pointed out that these bunny droppings are good as they can be recycled.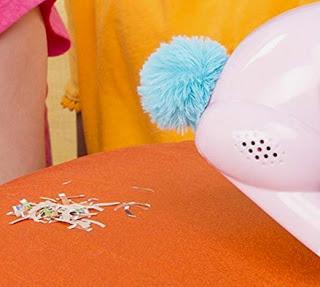 The good news is there is also a treat tracer template included so your little ones can make as many colourful, wild and wonderful snacks as they like. This was an ideal activity for my arty Zoey who quickly filled up the treat basket which is also included. Our Shreddy is definitely a very well fed bunny.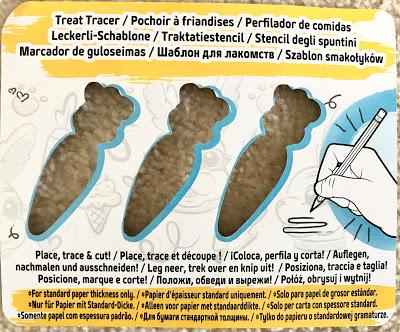 Our Verdict
Zoey fell in love with Shreddy the second she saw her, Being pink earned instant bonus points but when Zoey discovered all the treats and the basket she couldn't wait to get playing. She immediately made up the little basket and got the treats ready while I popped the batteries in.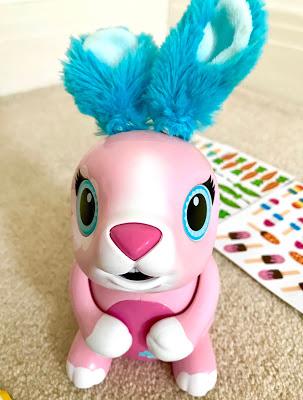 Zoomer Bunnies interactive features including sounds and actions ensure she has a  super high play factor. The bunny's tummy makes a grumbling sound when she is hungry and wants to eat. Then to indicate she has eaten enough she plays a magical sound. Sometimes she burps and needs a gentle pat on the back and tickling her tummy leads to lots of laughter. You pat her head to play magical music games and listen to her beautiful singing voice. In Zoey's words "she's the bestest bunny ever".
Where to Buy
Zoomer Hungry Bunnies comes in two colours,  pink (Shreddy) and white (Chewy) and are available to buy from the usual toy retailers and online including 
Amazon
 and 
Smyths Toys
 with an RRP of £29.99. If you are looking for a bargain Zoomer Bunnies are currently on sale in Smyths, priced at £19.99.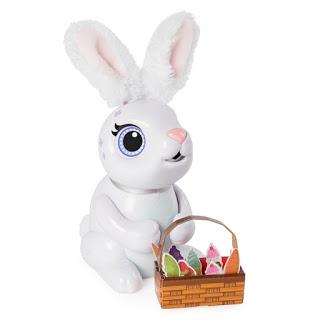 *Disclaimer: I received a Zoomer Hungry Bunnies toy for review. All views and opinions are my own and unbiased.