I'm not big on making New Year's Resolutions (you know like go to the gym, lose 10 pounds, all that other nonsense) but I definitely do like to set up goals for myself.  So instead of making a bunch of attainable resolutions, I thought I could lively more purposely in 2013 by giving myself a few goals for which I will strive.
Since no one likes to fail at achieving their own self-made goals, I made sure to stick a few no-brainers on there (you know like buying a house).  And, of course, since I love all things alliteration, I made 13 goals for myself.
Here's to hoping that writing these goals out cements them in my mind (or that's what I'm telling myself anyway).   I also find that a cute little infographic makes goal tracking a little more cheery (i.e. bearable).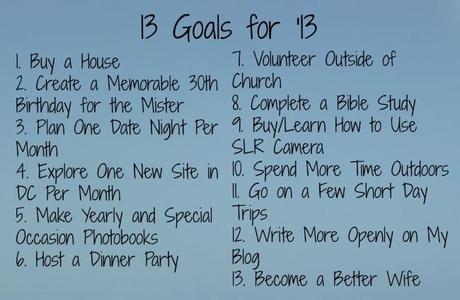 1.  Buy a House
Because I'm sure you all are tired of hearing me talk about it

And I seriously need to get out of this apartment.
2.  Create a Memorable 30th Birthday for the Mister
Plans are already in the works for Mr. A's 30th b-day bash.  Be prepared to get your mind blown babe.
3.  Plan One Date Night Per Month
We've fallen into a lazy slump with our dates (most of which have been spent watching a Netflix movie on the couch).  This is primarily due to the busyness of our lives but I would like to infuse some spunk and creativity into our time together and make it feel like the old days (where we actually went on planned, thoughtful dates).  Besides we live in one of the most entertaining places in the world so it can't be that hard.  I figured we could take turns.  So are you down hubby?
On a related note, I'm taking any and all date suggestions that you lovely folks have.  I figure January should be my month since it was in fact my idea.
4. Explore One New Site in DC Per Month
Even though we are in the mecca of all things historical, we haven't been so good about taking advantage of the opportunities that lie around us.  Since we won't be living so close to the good old capitol that much longer, I think we need to soak in as much as DC has to offer before we bid it adieu.  I think the first thing on the list has to be the Holocaust Museum.  I've only been talking about it for the last 2 years (granted it is kind of the last place I wanted to be when I'm in a happy moment).
So I'm also taking recommendations on top DC sites we need to see (consider MLK, TJ, Washington, Abe, the Reflecting Pool, and the museums on the Mall off limits–we've already seen them; we aren't completely awful tourists).
5. Make Yearly and Special Occasion Photobooks
We have so many great pictures from our honeymoon and our last four years together but most of them are just sitting on my desktop.  I want to make good use of them by creating a special photobook for each (e.g. Honeymoon, 2011, 2012, Caribbean Cruise, etc.).  I actually already did this for our engagement pictures and our wedding album.  It was actually really fun but it just took up a lot of time (my perfectionism definitely hurts me in this pursuit).
6. Host a Dinner Party
My great-grandmother gave me her most treasured possession before she passed away, her very fancy (and very expensive) silver.  Unfortunately, it's been sitting in a closet, along with the fancy china we received for our wedding.  It's about time we use that stuff.  I know Mom Mom would get a kick out of it (P.S.  I miss you terribly).
7. Volunteer Outside of Church
I used to religiously volunteer in high school and maintained that habit throughout college and my post-college life.  I only dropped it once wedding planning went into full gear.  Time to add that important past time back to my repertoire.
8. Complete a Bible Study
I'm really bad about reading my Bible on a daily basis (bad Christian, I know).  So I think that a Bible study will help me get back into the habit.  I was doing She Reads Truth for a long time but I dropped off when the holidays came around.  Perhaps, I'll dive back in.  Or are there better options out there people?
9. Buy/Learn How to Use SLR Camera
I've been dreaming about getting a fancy camera for a long time (and boy could my blog use it).  Since we are going to Hawaii in May, I want to have my manual camera skills mastered before we leave.  Any recommendations for great photography classes?  I vaguely know what I'm doing…very vaguely.
10. Spend More Time Outdoors
We used to spend a lot of time walking around our neighborhood and for some reason that habit dropped off.  Hoping we can pick that back up since we live around an infinite number of trails.
11. Go on a Few Short Day Trips
We've become masters of planning long involved trips but it would nice to take a quick 1 day trip every now and then as well.  It's always nice to get away from the hustle and bustle of the city.  I'm thinking Richmond, the Shenandoah, Harpers Ferry.  This would be a good one to do for date nights too.
12. Write More Openly on My Blog
I definitely shared more open and intimate moments here on the blog in 2012, with the introduction of the Faithful Fridays series.  I want to continue that openness in 2013.  Lately, I've been in a blogging rut, with all the home buying escapades going on around here (they make pretty boring posts).  I'm hoping that if I open up to more topics and share more with you guys that I will find even more and better material.  I just have to quell that voice in my head that tells me not to push the publish button.  Ironically enough, I find that every post that makes me mortified is actually really well received.  I should never be afraid to bare my soul.
13. Become a Better Wife
We've only been married for almost 2 short years.  Even though I feel like we grown leaps and bounds, I know I have a lot more to learn about being a good wife.  I hope this year that I turn every fight and disagreement into a learning opportunity.  Because when I'm a better wife, my husband is a better husband and then we are an unstoppable couple.
Seems like a pretty long and broad list but I'm confident that I can tackle it all with the help of my husband and of course knowing that I'm accountable to you all makes me really hold my feet to the fire

What goals have you set for yourself for 2013?