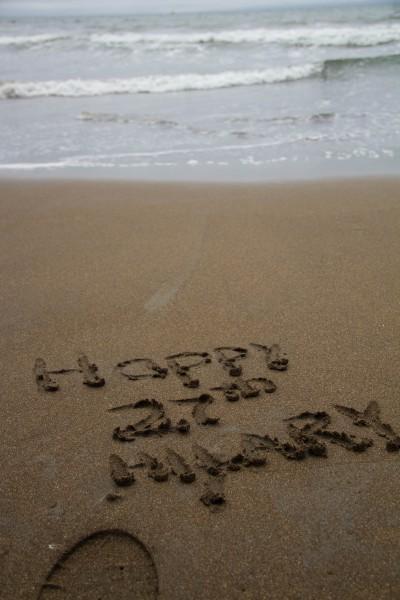 Our second day in San Francisco was the busiest and most exciting of our four days in town, which worked out well considering it was my actual birthday day.  We got up early that morning and headed straight to the car rental company to pick up our car for the rest of the trip.  Originally, Mr. A only planned to have the car for a day but after our previous day's disastrous encounter with public transportation we decided a car was necessary.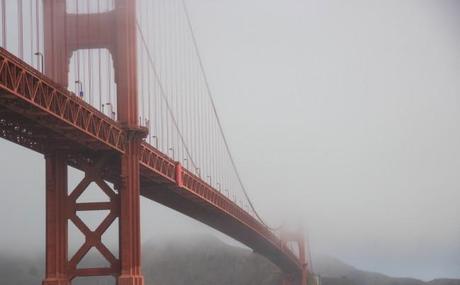 Our first stop for the day was the Golden Gate Bridge.  But before we drove across it, Mr. A wanted to stop at a park to gawk at those red arches, well technically they are painted with "international orange" but it certainly reads red to me.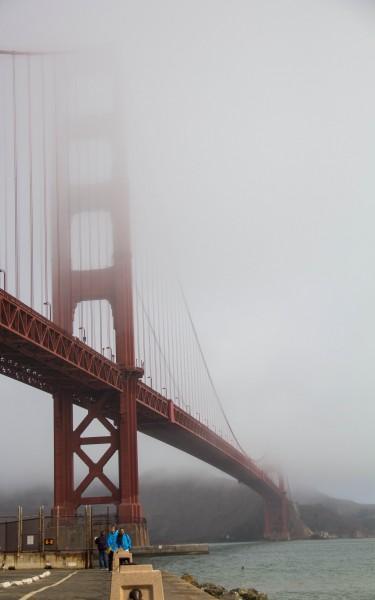 Our first overlook was Fort Point, where we could get a view of the bridge from the San Francisco side looking toward the Marin County side.  Since we went so early in the morning, the bridge was covered with the fog for which San Francisco is famous.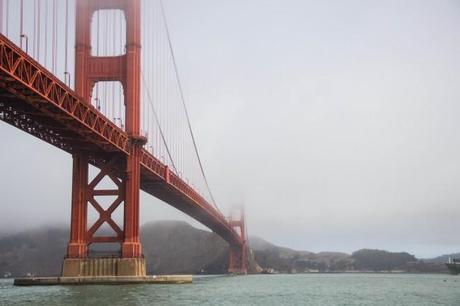 The Golden Gate Bridge has the second longest main span suspension bridge in the US, behind the Verrazano-Narrows Bridge in NYC.  It was designed primarily with aesthetics in mind.  The orange color was chosen specifically because it highlights the bays natural beauty and its visible in the fog.  Perhaps, the one major decision that skyrocketed this bridge into icon status.
Thinking that the views couldn't get any more beautiful, we drove over the bridge to catch the view from the other side.  The bridge was an easy straightforward drive.  I was thinking it was going to be horrible like the Bay Bridge here in Maryland but since there are pedestrian walkways on either side of the bridge I felt insulated from my normal terror.  On a random note, if you plan to visit San Francisco any time soon, keep in mind that you must pay the toll for the Golden Gate Bridge online before you go.  The bridge no long accepts cash.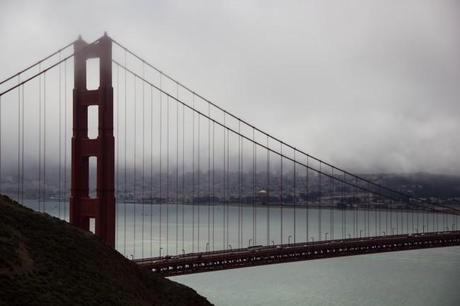 On the other side of the bridge, we headed over to the Marin Headlands.  This is officially part of the Golden Gate National Recreation Area and it gives you a great lookout over the hilly peninsulas of Marin County.  From here, of course, you can also get another fantastic view of the bridge.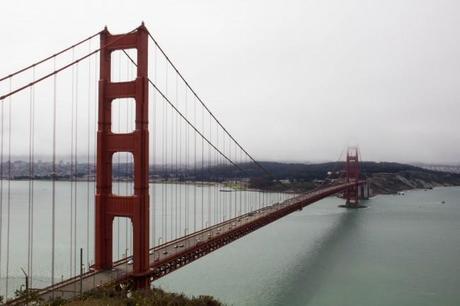 We drove back down the road slightly and then headed out to the Kirby Cove lookout, another scenic spot for the bridge.  At this point the winds were becoming increasingly intense, even my coat wasn't cutting it.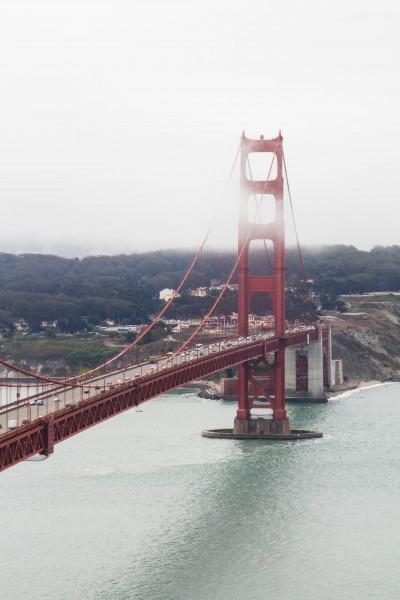 But we stuck it out to get a few more pictures.  I know it's just a bridge but I must have said, "This is so cool" like a thousand times that day.  It's probably one of the most architecturally stunning things I've ever seen.
Now that we knew the bridge inside and out, we headed out to our next destination, Muir Woods.  To get to our next spot, Mr. A decided to take a scenic route along the coastline.  Although we've driven to Hana and live to tell the experience, this was a little more panic inducing than those crazy Hana roads.  In Hana at least everyone was driving slowly and there were guardrails.  Here along route 1, there was nothing separating us from a 1,000 foot fall into the ocean.  I was so terrified that I couldn't even look let alone take a picture.  Every few minutes or so, Mr. A would say, "Oh my goodness, it's so beautiful.  Look over there."  I would fake interest pretending to look and then immediately start staring into my lap while secretly reciting prayers in my head.  So be forewarned if you decide to drive this way, it's a little frightening.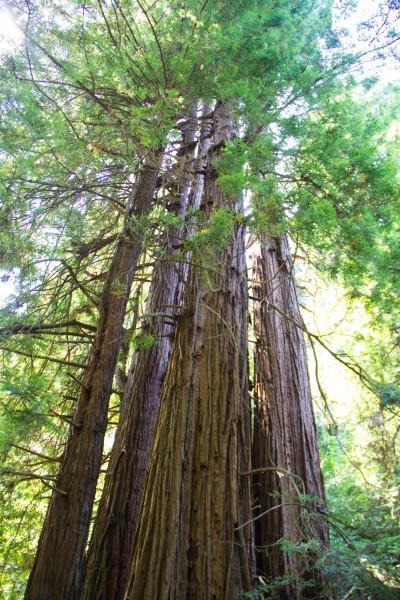 After our panic inducing drive, we finally made it to Muir Woods, which was surprisingly busy for a Friday morning.  We ended up parking about a half a mile away from the entrance because the parking lots were so full.  As soon as we reached the park, we could smell the trees.  It's hard to describe but it was the most intense nature smell that I've ever smell—very pure and completely untainted.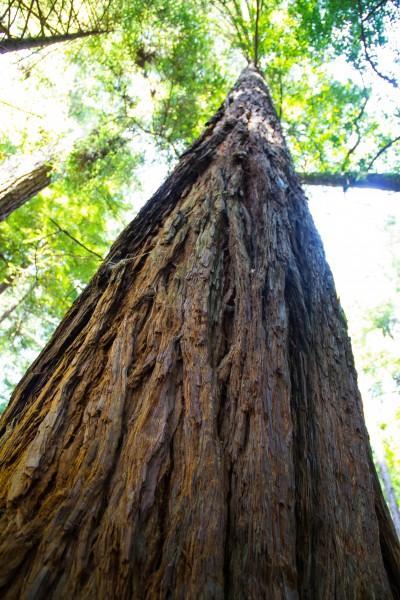 The park contains over 550 acres, 240 of which are covered by old growth Coast Redwoods.  Before the logging industry came along, there were almost 2 million acres of redwood forests throughout the United States.  Now almost all of the naturally occurring redwood forests have been cut down, except for a narrow 500 mile coastal strip in northern California and southern Oregon.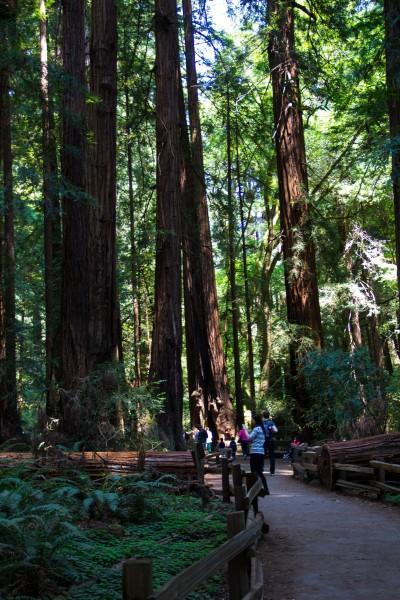 We started off from the main entrance and walked along the paved path through the woods. It was a magical experience—unlike anything I've ever seen before.  At every turn, we were in complete awe of the dominance of these trees.   They were so thick and entangled that the sun could hardly peak through.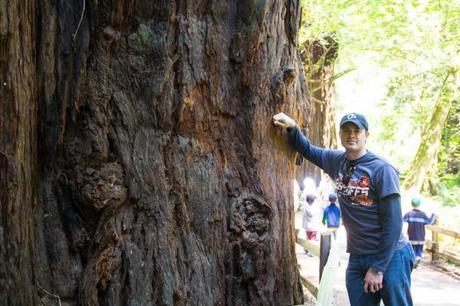 The pictures don't do these trees justice.  They are massive.  The tallest tree in Muir woods reaches 258 feet.  They range anywhere from 500 to almost 1,200 years old.  We kept trying to take pictures next to the trees to demonstrate their size but it really doesn't encapsulate their enormity.  The trees dove straight up into the heavens as far as the eyes can see.  I can only imagine the incredible things these trees have witness over the years.  It's sad to know that only small patches of old trees like these still exist.
After hiking through Muir Woods, we headed back to the car to our final stop in Marion County, Stinson Beach.  At this point, the road got particularly hairy.  Mr. A loved it.  I was glued to the side of the car in terror.  He offered several times to turn around but I really wanted to see what he had in store.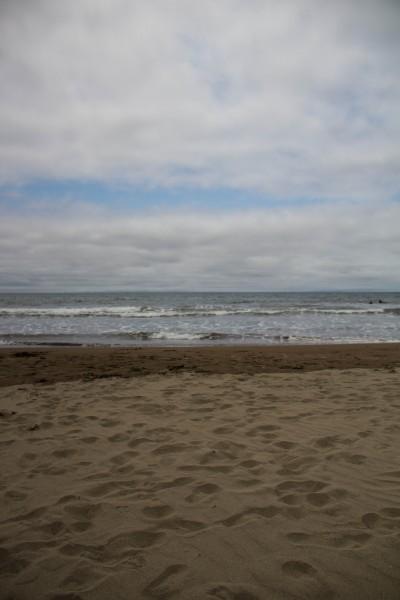 Stinson Beach is a long narrow beach popular with tourists in the area.  While there were lots of people swimming and surfing, it was far too cold for my blood.  I was stomping along the beach in jeans, boots, and a jacket, while young kids were swimming—quite the dichotomy.  Apparently, this area is also part of the Red Triangle, an area that has an unusually high number of shark attack, so swimmers beware.
Back in the warmth of our car, we headed over to the cute water town of Sausalito for lunch.  By this point, it was almost 3 o'clock, we had been surviving on trail mix in the car.  I had picked out a diner for lunch only for us to arrive and find out it was closed.  This happened several other times after that too.  So I guess Sausalito is a ghost town after 3.  Eventually, we found a diner that was still open and scarfed down our food as quickly as possible.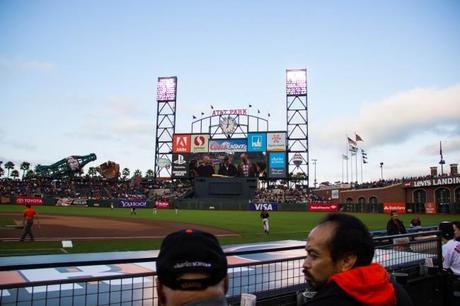 Back on the road, we headed to our apartment to do a quick wardrobe change before we headed out to AT&T park.  With traffic, we made it back to San Francisco in enough time to change and leave immediately.  The reason we came to San Francisco was because the O's were actually playing the Giants on my birthday.  To do it up in style, my hubby picked up tickets for us two rows behind the O's dugout.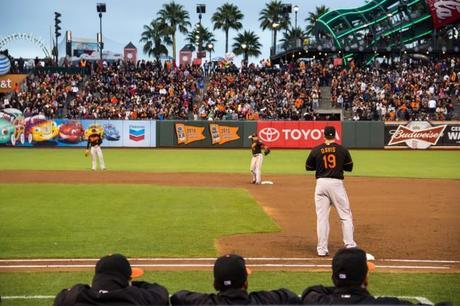 There was no zoom needed that night.  I was literally feet away from some of my favorite pretend husbands players.  I've never sat this close at a baseball game in my life.  I almost felt a little famous.  I could get used to being this close to Chris Davis all the time, although I'm pretty sure my husband would start to get jealous.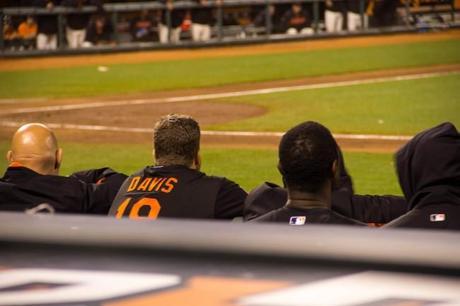 We didn't have any time to explore the park since we got to our seats minutes before the game started.  And besides, I didn't want to leave anyway.  I might miss out on Chris sending a wink my way.
Although we led for most of the game, thanks to Chris Tillman's amazing pitching performance, the Giants tied up the game in the 9th, leading us into extra innings.  The next inning we were able to mount a comeback and handily beat the Giants.   The O's have now won every single game that we've gone to this season.  I think this means we deserve some free tickets from the O's, right?
This was by far my absolute favorite birthday in my twenty seven years on this earth.  My husband far exceeded my expectations.  He managed to cram so many of my favorite things all into one day.  And it didn't hurt that the baseball Gods were on our side for this one.
Stay tuned for the next recap where we visit the Rock.