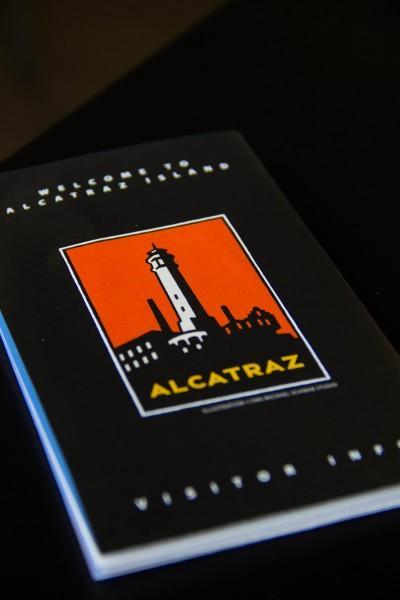 Our third day in San Francisco had Mr. A's most anticipated site, the Rock aka Alcatraz.  While he was over the moon, I had no idea what we were walking into. Obviously, I knew what Alcatraz was but I didn't really know much else other than that.  We had to arrive to Pier 41 super early for our ferry over to Alcatraz.  Apparently, the ferry rides sell out pretty quickly so we were lucky  to get a ticket.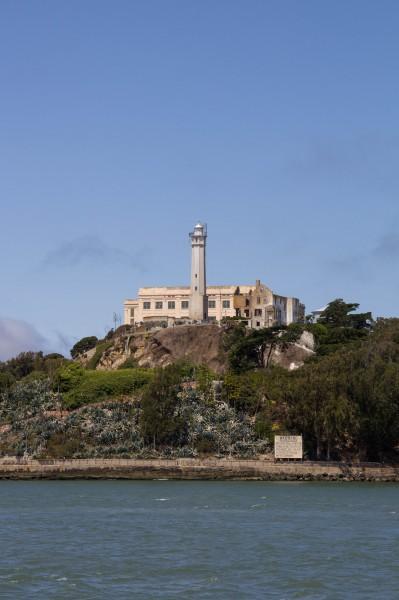 After a short ferry ride through the harbor, we made it over to Alcatraz.  You can explore most  of the island, with its abandon buildings and all, but the prison complex is the main highlight.  At the complex, we received our audio tour and started to tour the place.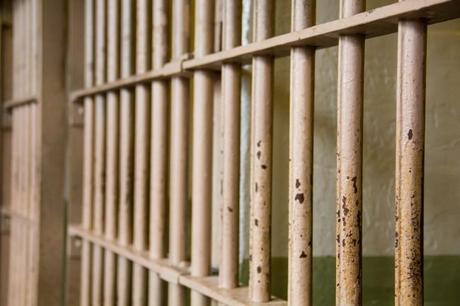 Mr. A was fascinated by the history, the mob links, and the escape attempts (and the mystery surrounding them).  I got bored pretty quickly.  The tour was haphazardly arranged, causing you to double back often and run into other tourists doing the same thing.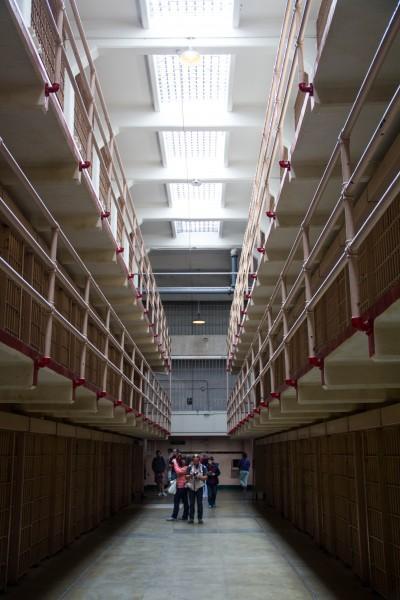 Since we had our tour on a Saturday, the facility was also really crowded.  Many of the audio tour stops asked you to gather around a picture or a cell, causing there to be huge groups of people in really small spaces.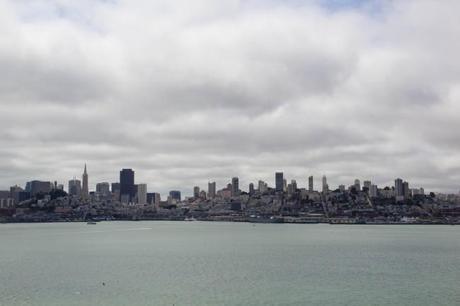 After awhile, I took off my tour and just kind of walked around.  I happened upon the entrance to the outside and entertained myself by taking pictures of the famous scenery across the Bay.  It's said that when the winds were right prisoners could hear people partying on the mainland.  What an odd sight to have this beauty sitting right outside of your jail cell.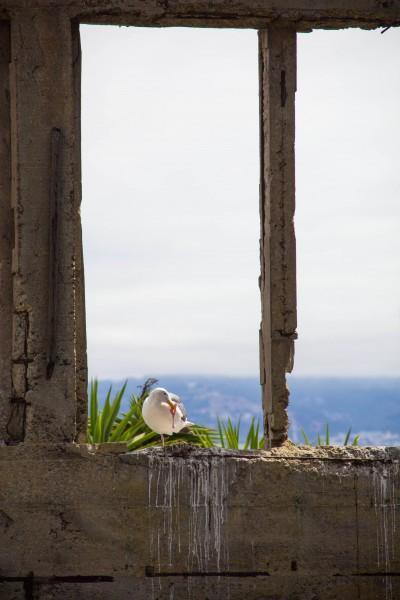 Eventually, we both had enough of the tour and decided to catch the next ferry out.  All in all, I would probably skip this if given the chance.  The idea of tourists ogling over a structure that caused so much pain and angst for others was really bizarre and almost disturbing to me.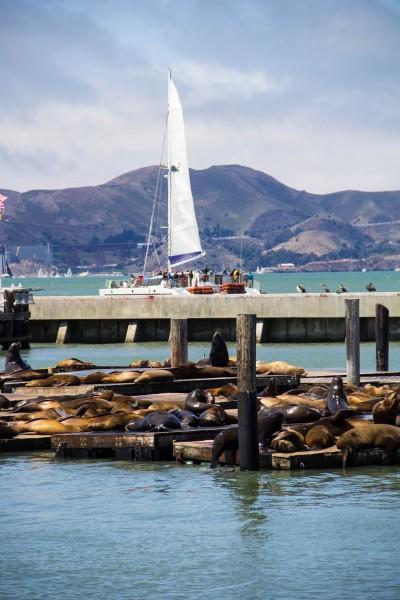 Back on the mainland, we headed to another famous pier, pier 39, to view the seals that now call the pier their home.  I never knew how loud these guys could be but you could hear them from pretty far away.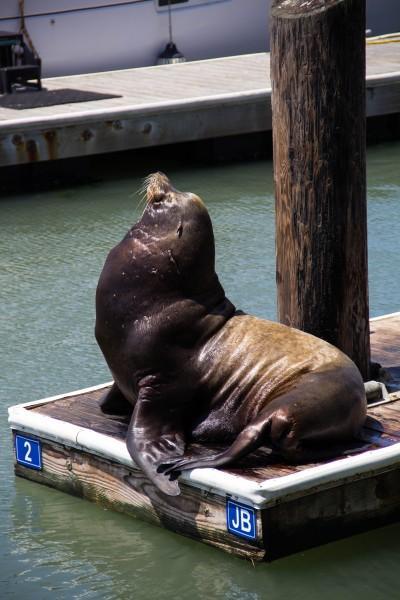 They are also pretty dramatic characters.  After catching the seals, we decided to hightail it out of pier 39.  It was covered with tourists and just really not our scene.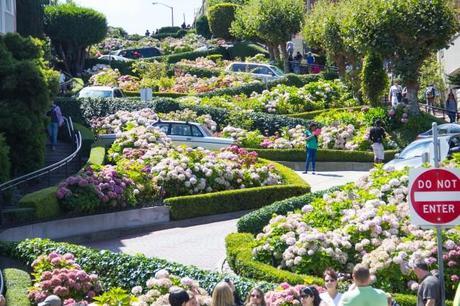 We headed out to another tourist trap, Lombard Street.  This actually turned out to be surprisingly beautiful.  The street is perfectly manicured with gorgeous plants.  While it was nearly impossible to take a picture with all the tourists around, it definitely was worth a stop, even with the massive hill that we had to climb to get to it.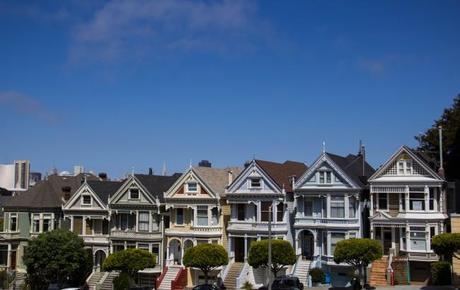 To follow up with another famous sight, Mr. A wanted to stop to see the Painted Ladies.  These houses are all Victorians that have been painted in several colors to highlight their architectural details.  The houses are also called Postcard Row as they are often the stars of postcards from San Francisco.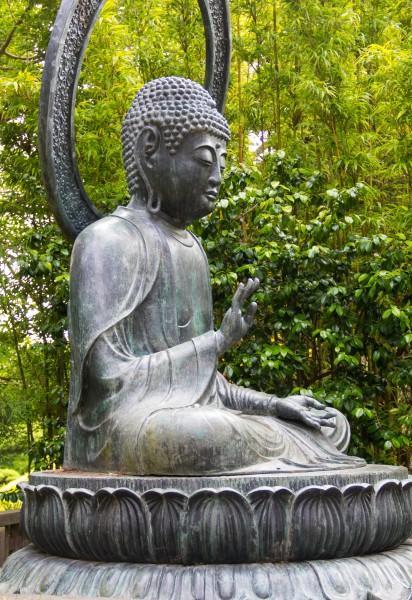 We then hightailed it to the other side of the city to check out the Tea Garden in Golden Gate Park.  This is the oldest Japanese garden in the United States.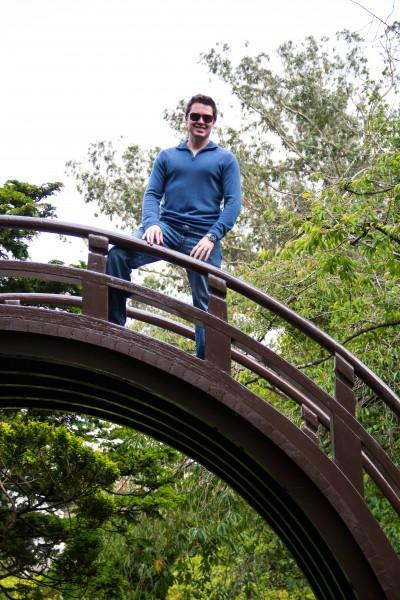 The garden featured tons of interesting and intricate details, including this fun bridge which was quite the popular photo spot.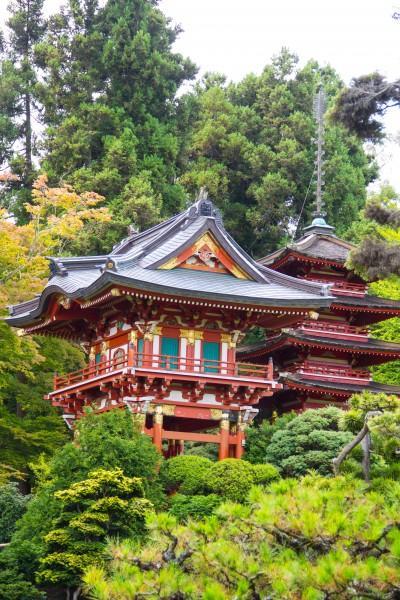 The garden was originally created by a Japanese landscape architect, Makoto Hagiwara, in the late 1800s.  Hagiwara poured so much of his soul and own personal wealth into the garden that he decided to live on the property to maintain it.  Unfortunately, during WWII, Hagiwara and his family were ordered into a Japanese internment camp and they were never allowed to return back to the garden.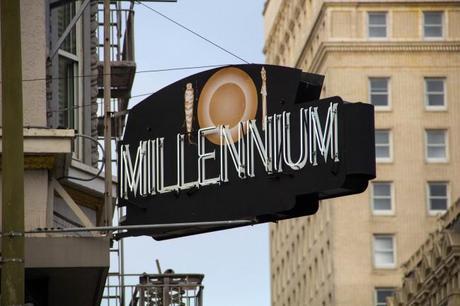 Once we finished exploring the garden, it was time for dinner.  Mr. A surprised me by making reservations at one of the most popular vegan restaurants in San Francisco, Millennium.  I really appreciated that he was willing to "sacrifice" meat for an evening to indulge in something that I would love.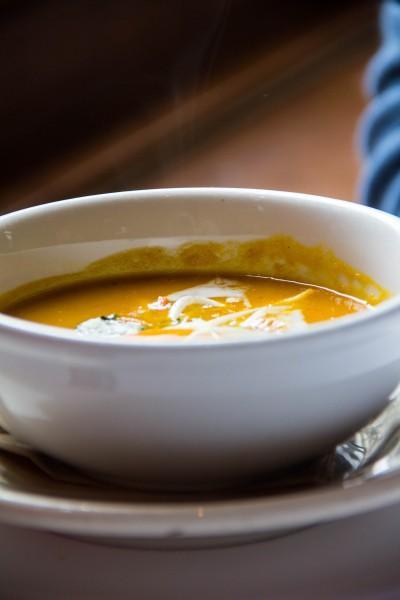 The food was nothing short of spectacular.  We started with a carrot ginger soup and a smoked tofu salad.  I love carrot and ginger soup and this was probably one of the best that I've ever had.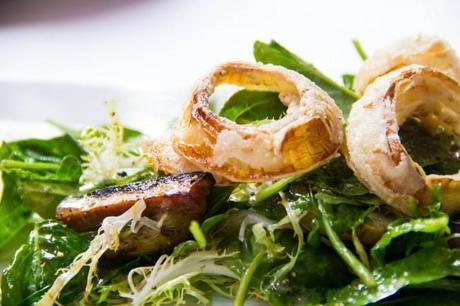 The smoked tofu salad was equally as delicious.  I had no idea that you could smoke tofu.  The flavor was reminiscent of bacon (oh, the irony).  We ended up fighting over the last piece of tofu.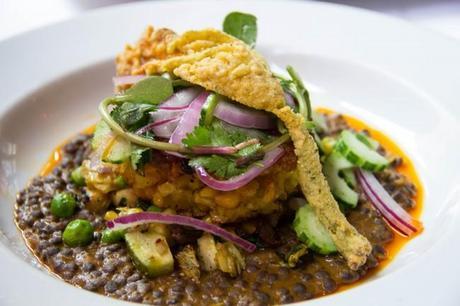 For my entree, I got the Saffron & Corn Risotto Cake with beluga lentil-coconut dal, corn & zucchini hash, English peas, pistachios,
seared cabbage, purslane, watercress, cucumber & methi salad, cornmeal crusted squash blossom, and chili oil.  I licked my plate clean.  It was so amazing to be able to have a plate a vegetarian food at a restaurant that didn't involve a boca burger or a portabella mushroom.  Every ingredient was so thoughtfully executed and the dish melded together beautifully.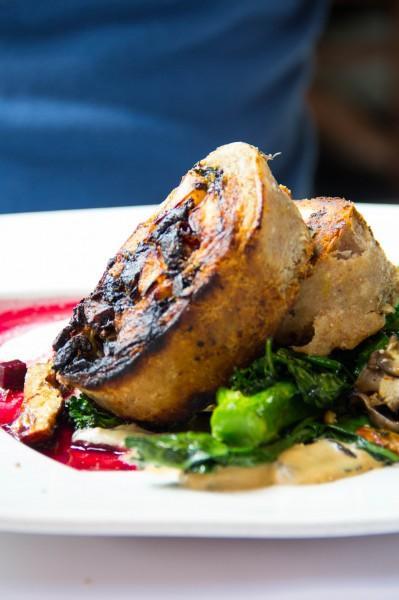 Mr. A got the Potato & Chard Roulade with cashew Florentine filling with smoked onion & sundried tomato, mushroom Madeira cream sauce, seared broccoli di cicco, red wine, beet & fennel reduction, and roasted maitake & lobster mushrooms.  Mr. A finished his plate as well.  The cream sauce was just as decadent as any meat based cream gravy that we've ever had.  He made sure to wipe up every last bit of it.
If you are in San Francisco and you like vegetarian food, I definitely recommend Millennium.  You will get a very thoughtfully imagined and perfectly prepared meal.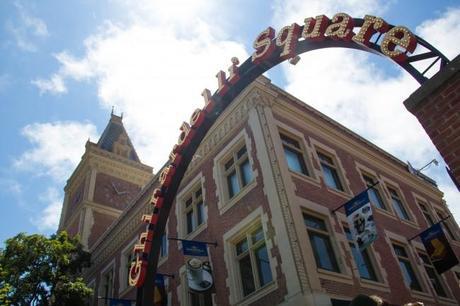 While I love vegan food for most of my meals, dessert is an area where I happy to indulge in eggs and dairy.  So we decided to skip dessert at Millennium and to head to Ghirardelli Square.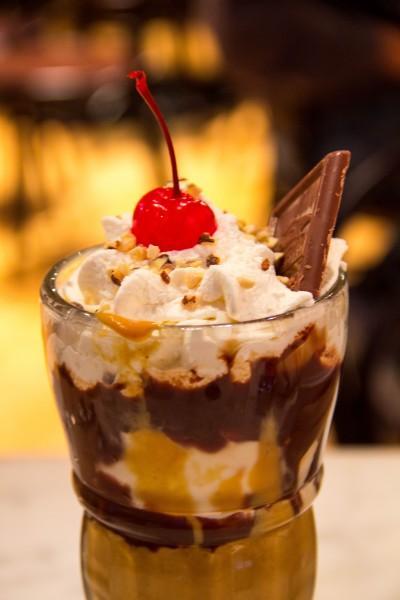 Here we were able to pick from an infinite supply of chocolate treats.  We finally settled on an ice cream sundae with dark chocolate fudge.  The perfect way to end a day.
Stay tuned for the next post where we explore Napa Valley from a hot air balloon.