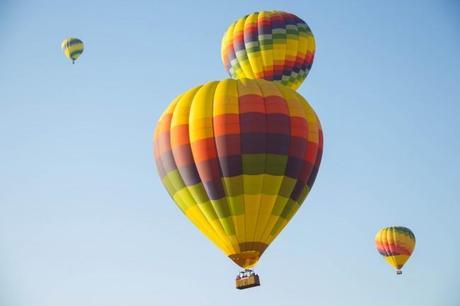 Mr. A saved our last day in San Francisco for the biggest surprise of all, a hot air balloon ride in Napa Valley.  Napa Valley is only a few hours drive north of San Francisco.  After hearing from several friends about Napa's beauty, Mr. A decided we had to find a way to work Napa in.  Apparently, hot air balloon rides are a really popular attraction in the valley so he figured it would be the perfect way to introduce ourselves to Napa.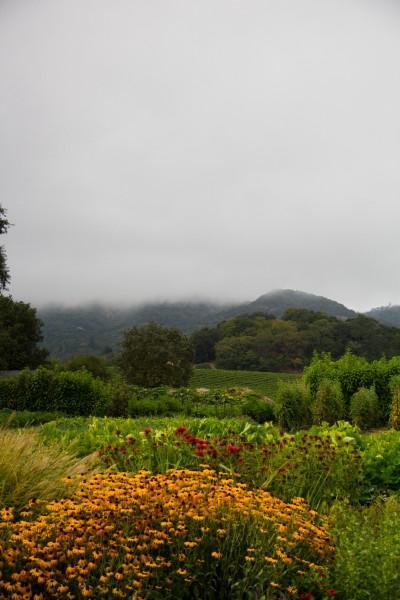 Fog in Napa still hanging around at 11am
The hot air balloon ride with Napa Valley Balloons was scheduled to fly early in the morning so that we could watch the sunrise over the valley.  Unfortunately, when we got to the balloon's headquarters, we were told that we couldn't fly in Napa because of the dense fog.  During the summer, a stubborn fog sticks around Napa until the early afternoon.  Legally, hot air balloon companies aren't allowed to fly in dense fog.  So the company offered a second option of driving to another town about an hour west where the fog wasn't as bad.
We were at little bummed to know that we wouldn't get to watch the sunrise and that we had lost several hours of sleep for nothing (we had to get up at 3am to get there on time).  But the show must go on, so we hopped in their passenger vans for the ride to the next town.  I think everyone fell asleep on the drive there.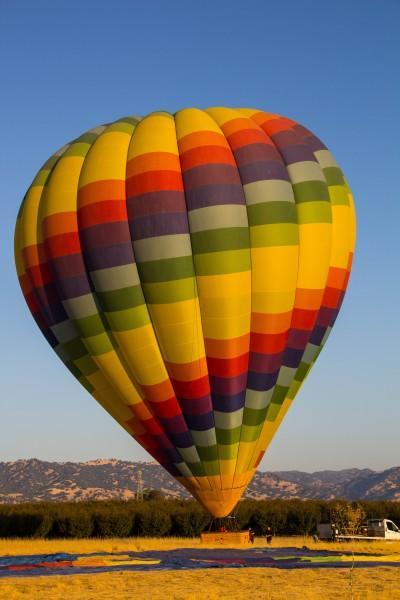 When we arrived in the farm fields, we were met by the huge hot air balloons and baskets.  From the picture, I'm sure this doesn't look big but it's large enough to fit a bus.  I was excited and nervous to start our ride.  Occasionally, I have a fear of heights so I wasn't sure if I would like being suspended in the air in a basket.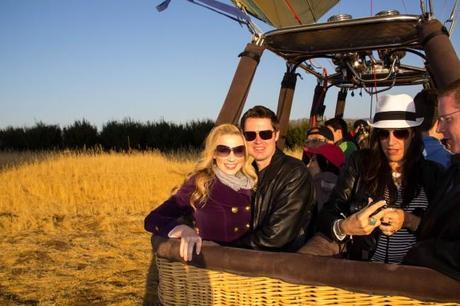 It ended up being a really fun experience, without any jitters.  The balloons glide through the air at the speed of the wind, which was pretty calm.  So our ride was very smooth.  The only time we ever felt any wind was when we were changing elevations.  At the point, the wind was a welcomed friend.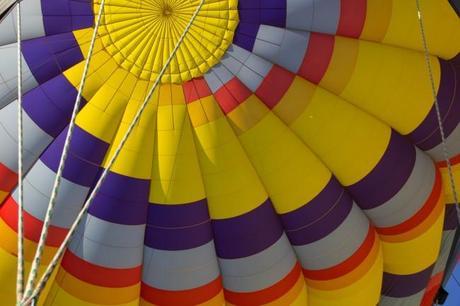 Even though it was pretty cold outside, it was blazing hot underneath the balloon.  The propane burners let off a lot of heat.  Luckily, I have a lot of hair to protect my head.  I can't imagine what it would feel like if you were bald.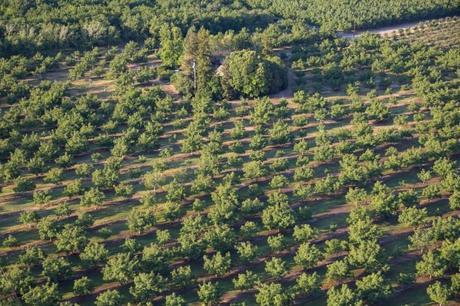 The location that the balloon company chose is supposed to have a similar landscape to Napa Valley.  The land was covered in all different kinds of farms, apples farms, peach farms, almond farms, you name it.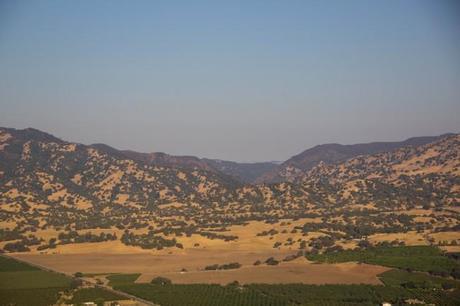 The foggy haze was still in effect though so it made it difficult to get any wide landscape shots.  But if you look really hard, you can see the mountains in the background.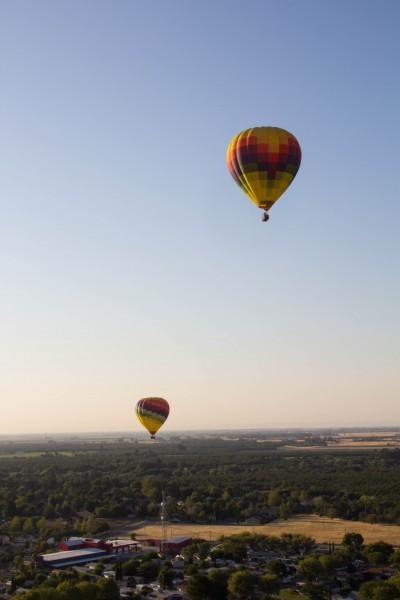 Even though we were amongst a sea of balloons, we still were able to see some really cool things.  And taking pictures of balloons off in the distance was pretty cool too.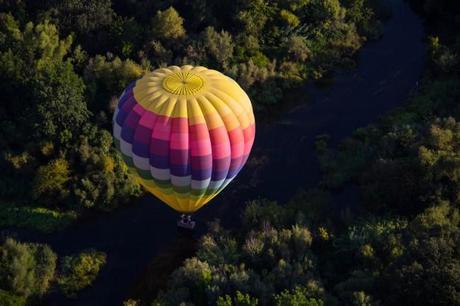 Some of the ballooners did some neat tricks with their guests, including this guy.  He held his balloon over the stream below for several minutes, getting within a foot without touching it.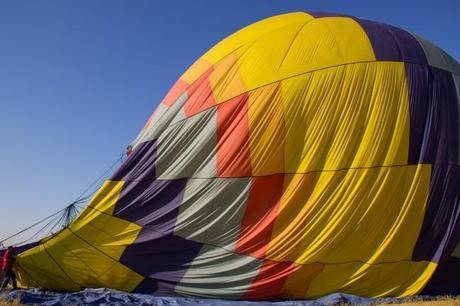 Once we landed on the ground, the crew let us inspect the size of the balloon.  You don't realize how massive it is until it's laying on the ground.  It took them hours to blow it up, but only minutes to bring it down.
We hopped back into the van and headed back to the balloon's headquarters.  Our driver happened to be the owner of the company, who answered our million questions about ballooning.  It was really interesting to hear his story and how he developed his company.  Apparently, he and his friends went on one hot air balloon ride and after a few drinks they decided that they had to have a hot air balloon.  Basically, the company serves as a way to feed his expensive hobby.  How amazing would it be to do a job that's your hobby every day?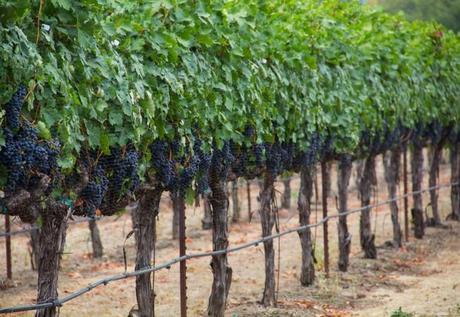 Back at our car, we headed out to check out some of the scenery around Napa Valley.  We had decided that neither one of us was really interested in doing the whole wine tour bit.  While it may make us sound unsophisticated, I have no shame in admitting that we both hate the taste of wine.  So the thought of spending several hours imbibing wine was not appealing.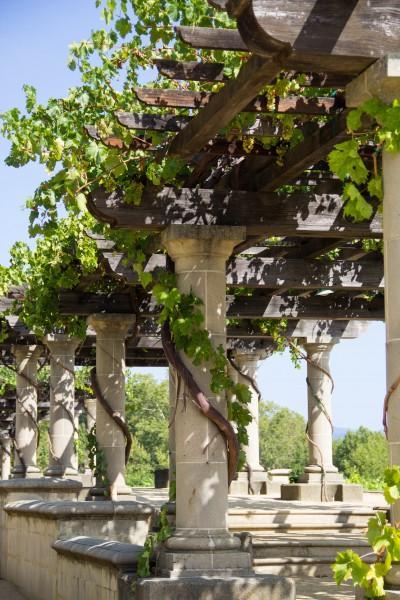 Regardless, the wineries were still beautiful to admire from the outside.  While I don't like the liquid that grapes produce, I sure do like taking pictures of them.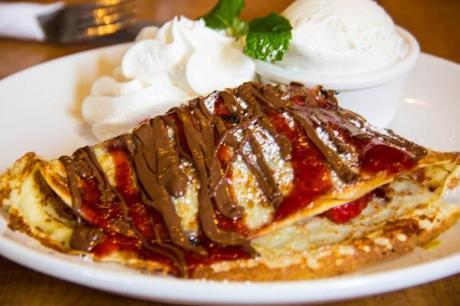 A few hours later, we had to drive back into the city to drop off our rental car.  By this point, our tummies were both grumbling for some food.  Mr. A had read about a local place called Squat and Gobble that had great crepes.  Since I'm all about chocolate, especially in breakfast form, we headed over to check it out.  I was instantly reminded about how delicious sweet breakfast food is.  This crepe was so amazingly delicious.  I wish I could have it for breakfast every day.
With that, we ventured back to our apartment.  Our flight back home was leaving at 6am the next morning so we both wanted to get in a good night's sleep beforehand.  We were sad to leave but it was time to head back to the heat and humidity.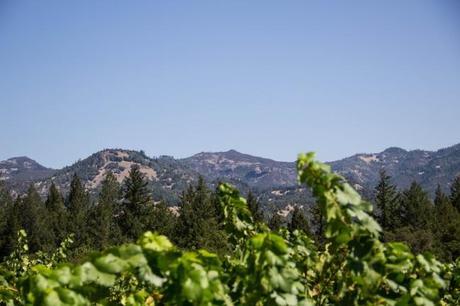 If you are considering going to San Fran, I definitely recommend it.  It was one of the most unique, fun cities that we've visited in a long time.  The cool air was a welcome relief from our unrelenting heat and humidity.  San Fran, it was a short visit but we truly loved your city.  Hope to be back soon.