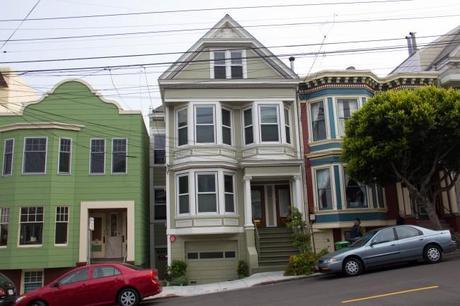 Mr. A was lucky enough to get a flight from DC to San Francisco that landed around lunchtime West Coast time.  While it meant that we had to get up super early for our flight, we also didn't miss a lot of time our first day traveling.  Once we got off the plane, we headed over to our digs for the trip a cute little studio in the Castro District.
Mr. A was able to find our studio on VRBO, our favorite place to find local deals.  So far, we've loved renting out spaces instead of staying in hotels.  It makes us feel more like guests and less like tourists.  Mr. A debated along time about whether to stay in the heart of San Francisco with the natives or in the tourist trap near the Fisherman's Wharf. Clearly, I'm glad he choose the former.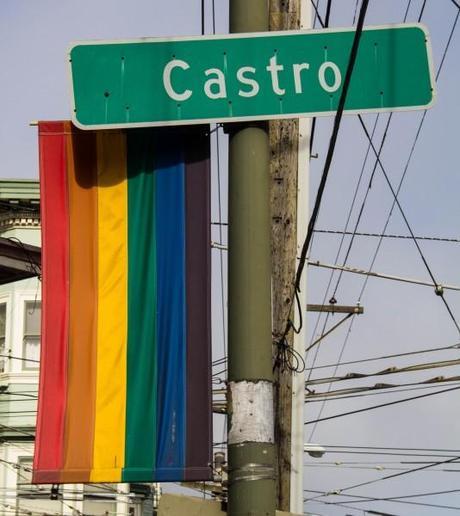 Funnily enough, every time that we mentioned that we would be staying in Castro, people gave us the side eye and said, "You know that's the gay part, right?"  But we really didn't care.  While there's a huge gay flag flying over the local square, it's not like boys were chasing after my husband.  In fact, I think he was  a little disappointed that he didn't get hit on once.  Anyway, the Castro district was a great home base.  It was central to all our major stops, convenient for transportation, homey, and very welcoming.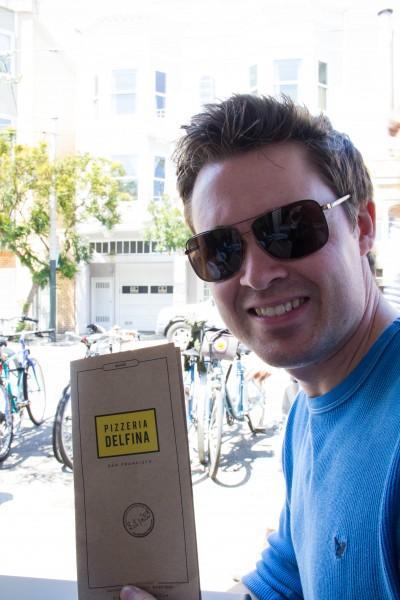 Once we packed our suitcases away, we headed out for lunch.  Mr. A had picked out a local pizza joint, Delfina Pizzeria, that was about a mile down the road from our place.  We ended up at a table outside.  It was really odd to be sitting outside in the 60 degree weather in the middle of August.  My brain definitely had a hard time adjust to the 30 degree difference.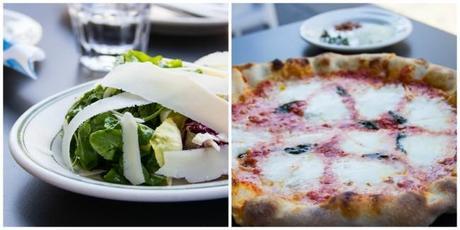 As always, we ordered our standard Margherita Pizza and then added a side salad to share.  We are always jonesing for an authentic Italian pizza.  This one was a pretty close match, if I closed my eyes I could almost see the Coliseum.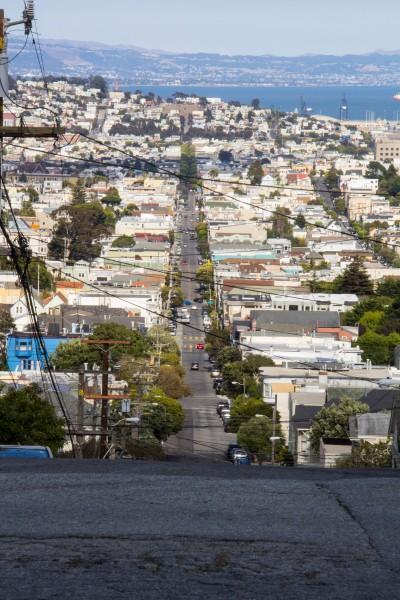 With our bellies full, we ventured to our first stop, Twin Peaks.  Before we left, Mr. A mapped out the public transportation routes that we could take to view all our sights   Since we use public transportation on an almost daily basis, I was fine with hopping on the buses and trains.  Everything was rolling along fine until we had to make our second bus.  Somehow we missed it and the next bus wasn't coming for 30 minutes.  With no other bus routes in sight, we opted to climb the rest of the way to the peaks.  It would be an understatement to say that this was a horrible idea.  We both highly underestimate how incredibly intense and steep the streets can be in San Francisco.  I'm talk about inclines that go almost straight up, where it's difficult to find your balance because gravity wants to roll you down the hill.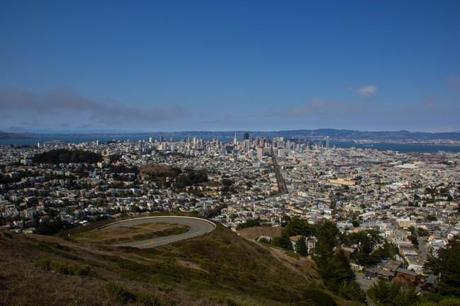 All in all, it took probably an hour to climb up to the Twin Peaks to finally see this amazing view of the city.  There was a lot of swearing and heavy breathing and almost dying.  I've never felt so fat and out of shape in my entire life.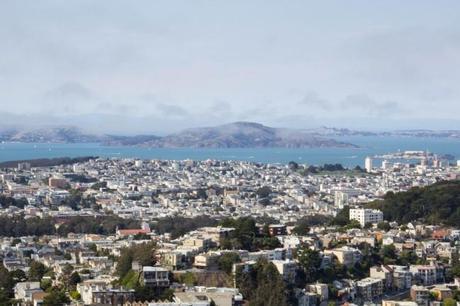 Once I caught my breath, the peaks stole my heart.  From here, we were able to get a 180 degree look at the entire city, including both bridges. The water makes for a truly incredible skyline.  The peaks give visitors a perfect vantage point of the city because, besides Mount Davidson, they are the highest points in the city, at an elevation of 900 feet.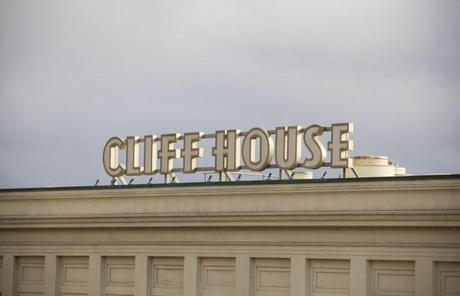 With my heart beat back to normal pace, we started our descent down the hill to our next bus stop.  Sadly our poor navigational skills and inept hill climbing put us way behind schedule and it was time to go to our dinner spot for the evening, Cliff House.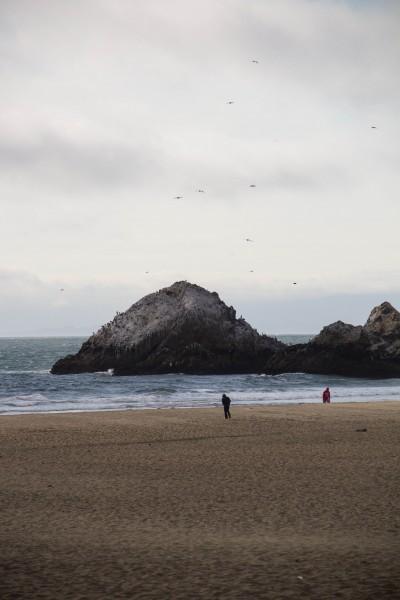 As you can tell by the name, the Cliff House sits atop a cliff that overlooks the Pacific Ocean and the famous Seal Rocks.  Before we headed into the restaurant, we took a stroll at the adjacent beach, Ocean Beach (really creativity names I know).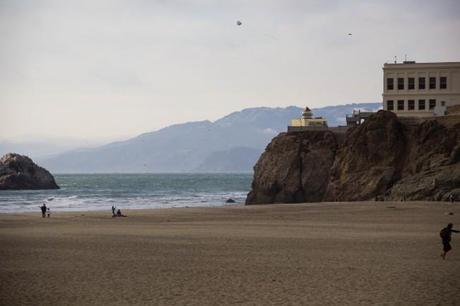 From here you could see the Cliff House perched high on the cliff side.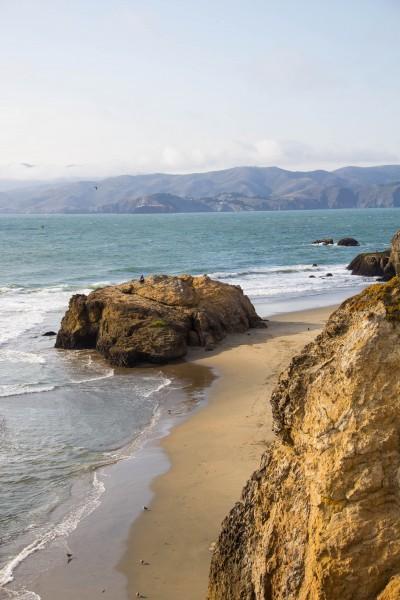 There are also several walking paths around the restaurant that allow you to explore more the of  San Francisco Oceanside.  We walked around and admired the view for a little, including Seal Rock.  These rocks used to be home to San Francisco's seal population.  While the seals have moved to Pier 39, the birds have stayed.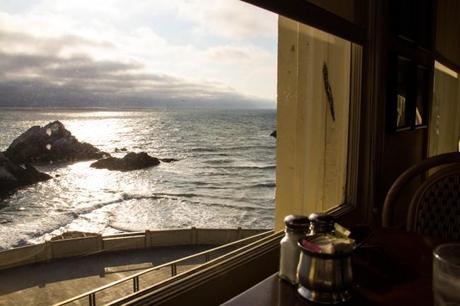 Inside the warmth of the building, we headed to the Bistro section of the Cliff House, aka the cheaper part.  Even though the menu is significantly cheaper than its counterpart, you still get the same great ocean view.  From our table we were able to see not only the Seal Rocks but tons of dolphins and birds.  My heart skipped a beat as we watched a pod of dolphins swim right past the rocks.  I'll always have a soft spot for my favorite animals.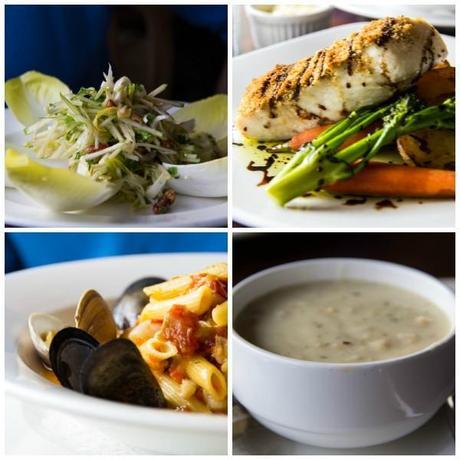 Seafood was the name of the game for the evening's fare.  I tried the Baked Alaskan Halibut with a cup of Clam Chowder.  Mr. A got the Frutti de Mare, a pasta dish filled with tons of seafood including shrimps, scallops, mussels, clams, and crab. I wasn't a huge fan of my meal but Mr. A really enjoyed his.  While this certainly wasn't a foodie's paradise, the view was fantastic and our waitress was really sweet.  At the very least, you could always come here for happy hour drinks and apps, if you wanted to skip out on the food.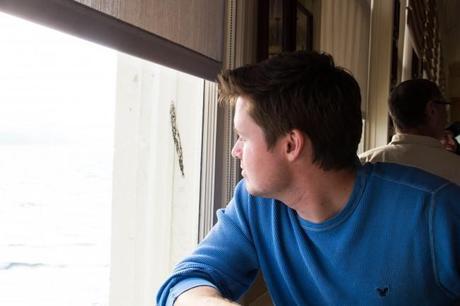 While we had plans to watch the sunset from our table, neither one of us really realized that seeing the sun is pretty rare in San Francisco.  It was so cloudy that eventually the sun just disappeared.  I guess that kind of counts as it setting right?
When dinner was over, so was our day.  We were completely exhausted after walking around the whole city.  It's the hills I tell you.  We crashed hard back at our studio, which was a good thing because if we thought today was jammed full of action, tomorrow was going to be eight times busier.