We woke up the next morning sad to be leaving beautiful Siesta Key but excited to embark upon the second part of Mr. A's birthday surprise.  To make the torture of not knowing last as long as possible, I didn't tell him where we were going when we packed up our rental car and started driving north.
The next two hours were spent fielding his unyielding questions, until eventually I had to tell him (before the highway signs did).  My Mom had developed some free custom maps from Disney World and had them made for Mr. A, so I used them to announce our next destination.
We've been to Disney a million times before but this time we were going without any plans.  My parents set up a suite at the Boardwalk hotel but other than that Mr. A had free reign to decide how he wanted to spend the rest of our vacation.
When we arrived at the Boardwalk hotel, they had a special pin waiting for the birthday man.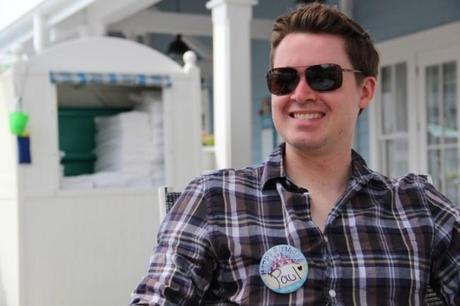 He looks so proud to be turning 30.
Once we got our room arranged and unpacked, we walked over to the Beach Club Resort to have some lunch at the Beaches N' Cream restaurant. It's a cute 1950s theme diner, with ice cream and French fries galore.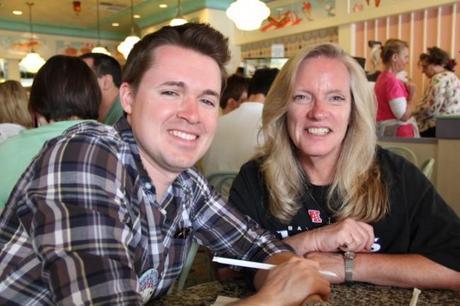 Definitely Mr. A's favorite kind of fare.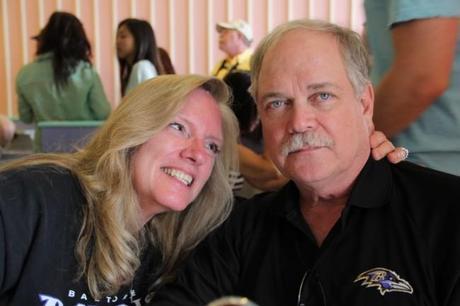 And then I somehow managed to snap this pic of Mom and Dad.  Sums up their relationship pretty well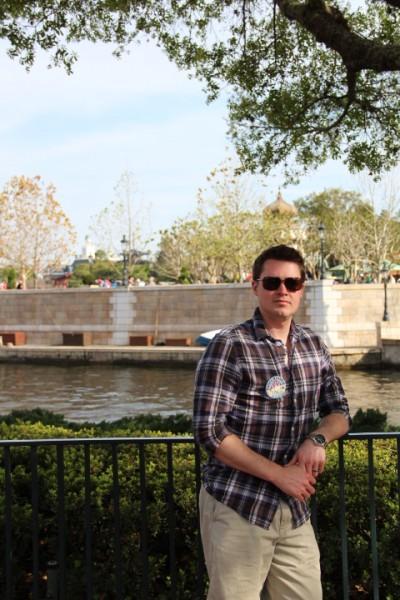 After lunch, we headed over to Epcot to check out the Flower and Garden Festival.  Throughout the Spring, Epcot displays themed topiaries as well different garden themed food and drink stands.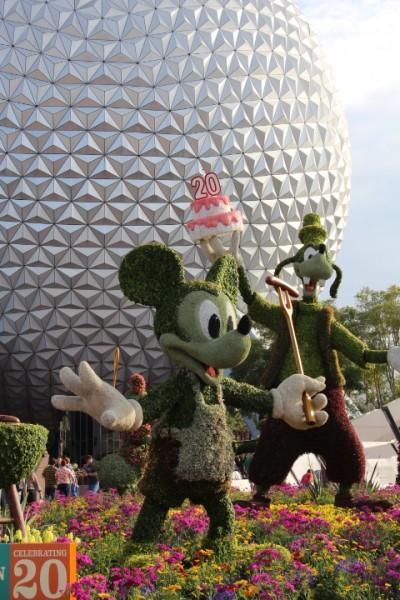 The front of the park holds the largest topiary display with all of the original Disney characters, Mickey, Minnie, Donald, and the like.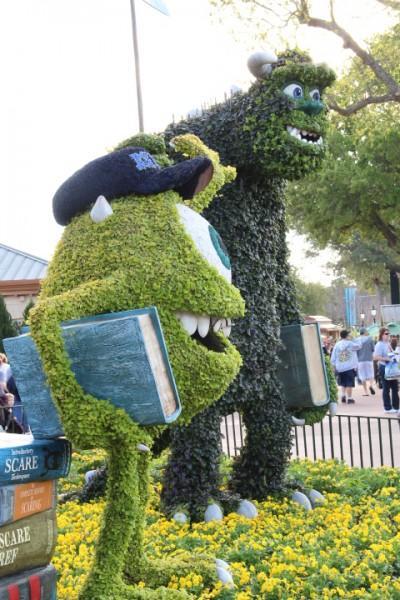 Then, I of course had to take this one for my baby brother who loves Monsters, Inc.
Towards the back of Epcot in the World Showcase, each country displayed their own flower garden.  These beautiful flowers were from Mexico.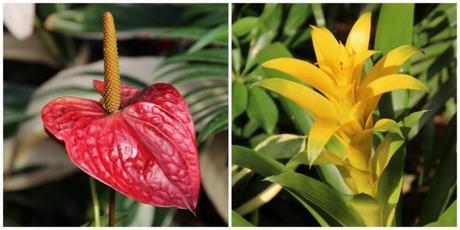 The boys were itching to try some of the marketplace stands in place for the festival.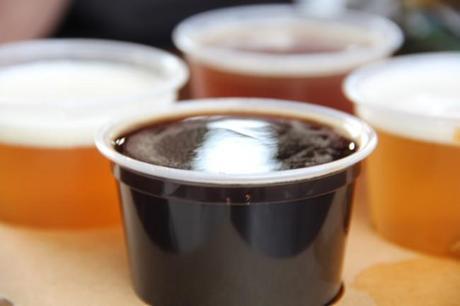 So when we got to America, Mr. A and my dad stopped to get one of the beer flights.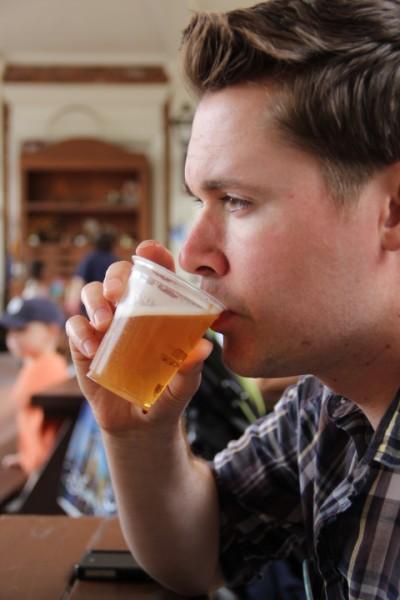 When that didn't seem to seem to stave off his hunger enough, Mr. A suggested that we go to dinner. Once again, it was his choice.  He decided on Germany's Biergarten Restaurant, a buffet of all the classic German food.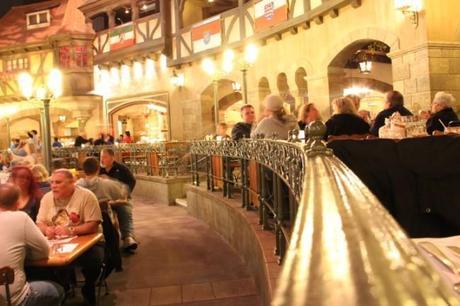 This place is always one of my Dad's favorites because it reminds him of the food my Great Grandmother used to make for them when he was growing up.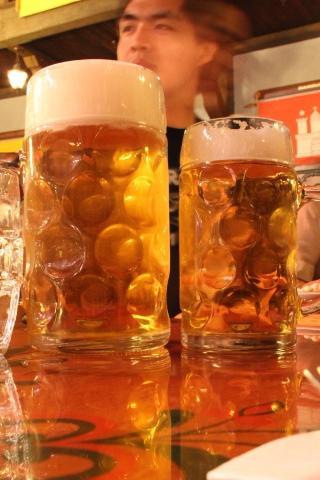 And they serve these colossal sized beers. Bound to make anybody happy.
I love the cheesy German band that comes out to play.  The kids sit on the floor as the band plays classic German songs, including a beer chant for the adults.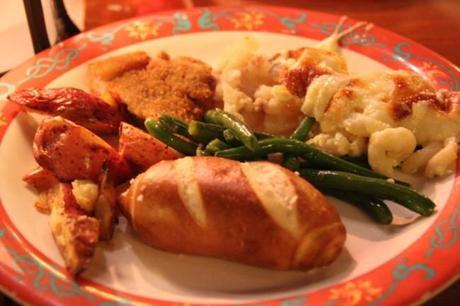 The food is always pretty good too, which is surprising for a buffet.
When we finished with dinner, we walked back to our hotel room.  The best part about staying at the Epcot Resorts is that you can walk from your room straight to the park, no buses, no boats, no waiting.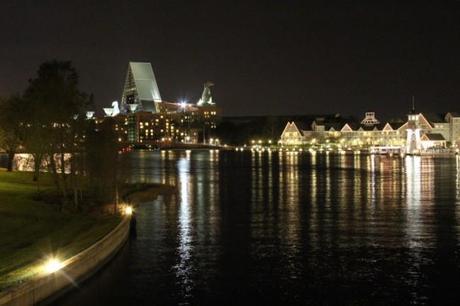 It's incredibly convenient and you also get an amazing view.  The resorts all surrounded a man-made lake that leads from Epcot to Hollywood Studios.  At night, you can see the beautiful reflections of the lights from all of the resorts in the lake's calm waters.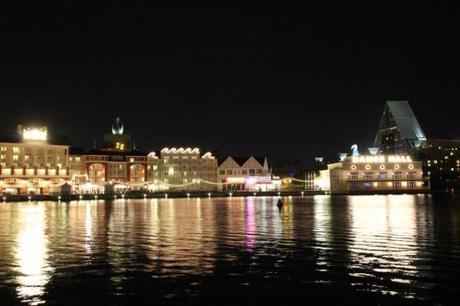 Beyond that, the Boardwalk hotel actually has a boardwalk, complete with nighttime entertainment (magicians and illusionists), an arcade, a dancing hall, a piano bar, and tons of dining options.
Unfortunately, we couldn't partake in any of the fun going on that evening because we had an early, early day the next morning.  It was the final surprise for Mr. A's birthday and he didn't even see it coming.