This holiday weekend was jammed pack full of fun. There was time with our friends celebrating a birthday, breakfast and lunch with my immediate family, and then a home cooked dinner with my aunts.
Mixed in with all that fun was an extra special celebration for my Dad, whose birthday was on Sunday. Getting gifts for him has always proved pretty challenging. He buys whatever he really wants as soon as he sees it and he's not one to actually make a list, which always leads to last minute scrambling for gifts on my part.
This year I opted for the safe route—food. As long as I made something he loved, I knew it would be a present that wouldn't go to waste. Then I remembered my Mom telling me about how much my Dad loves these energy bars that she gets from the grocery store. Basically, it's a small bar of bread with raisins and nuts—seemed easy enough to recreate.
I decided to give an extra energy boost to my version by adding in apricots, chia seeds, and sunflower seeds—all nutritional powerhouses and favorites of my Dad's.
And I think he actually really liked this present. When I gave it to him at his birthday breakfast, he actually opened up the bag, ripped off a piece, chewed it for a second, and told me that it was good. If you knew my Dad, you would know what a compliment that was.
Happy birthday Daddy!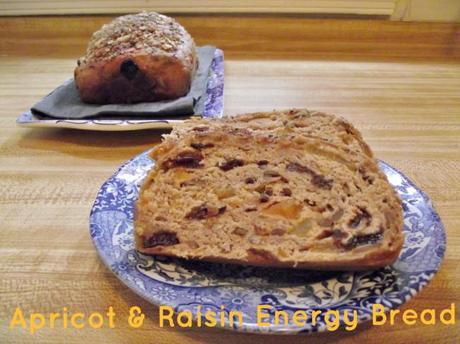 Ingredients:
.25 ounce package rapid rise yeast
1 teaspoon raw sugar
1/2 cup warm water (100 degrees F)
1 1/4 cup water
1/4 cup melted coconut oil
1/4 cup molasses
2 tablespoons plus 1 teaspoon cinnamon
1 tablespoon nutmeg
1 cup raisins
1 cup chopped dried apricots
3/4 cup sunflower seeds
2 teaspoons salt
2 cups whole wheat flour
½ cup plus 2 tablespoons rolled oats
2 1/2 cups bread flour
2 tablespoons vegan margarine
1 tablespoon brown sugar
1 teaspoon chia seeds
Method:
Add 1/2 cup warm water to yeast and sugar. Allow this mixture to set up for 15 minutes. You want it to double in size.
In the meantime, combine remaining water, melted coconut oil, molasses, salt, wheat flour, cinnamon, nutmeg, apricots, raisins, and sunflower seeds in a large bowl.
Once the yeast has doubled in size, add the yeast to your dough mixture and allow it to set up for 15 minutes.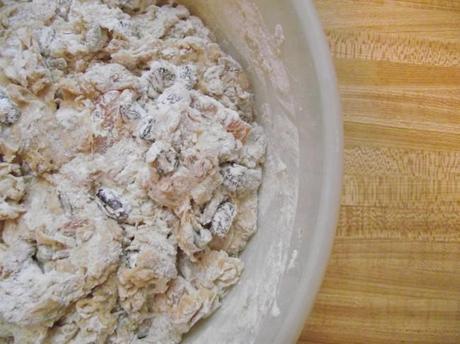 Next, add in your bread flour and mix until the dough turns into a ball. Now, place the ball on a floured surface and kneed for 10 minutes.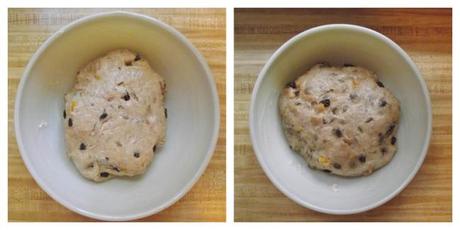 Place the dough in a bowl that has been coated in vegan margarine and cover the bowl with saran wrap. Allow the dough to set up for an hour.
Preheat oven to 375.
Remove the dough from the bowl and divide it in half. Form each half into a loaf and place them into 2 9X5 bread pans. Melt 1 tablespoon of margarine and use it to butter the tops of the loaves.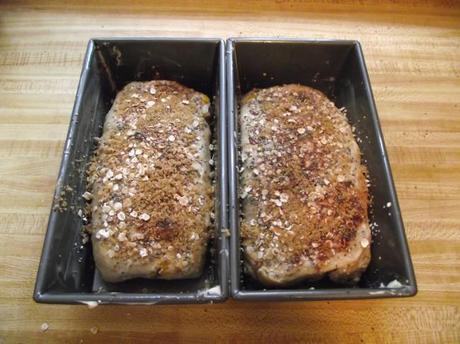 In a small bowl, combine remaining oats and cinnamon, brown sugar, and chia seeds. Pour half of the mixture over each loaf and press it into the margarine with your fingers.
Place a small pan of water in the bottom of the oven and your bread pans on the top rack.
Bake the bread for 30 minutes.
Now remove the bread from the oven. Melt the remaining tablespoon of margarine and butter the tops of the loaves again.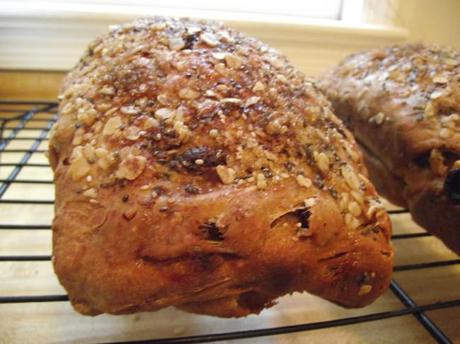 Remove the bread from the bread pans and allow to cool completely on a cooling rack.
This loaf has the best of all worlds—it's sweet and salty and crunchy and gooey all at the same time.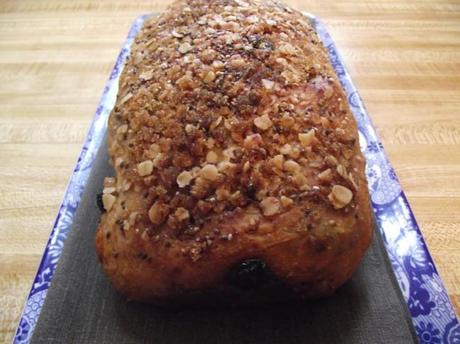 The hint of brown sugar on top makes the bread sweet enough that you don't need any jelly or butter. You can just slice off a piece and stuff it into your mouth.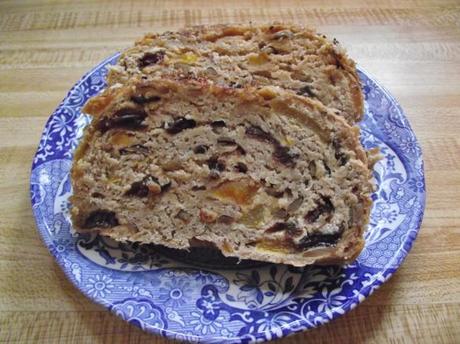 And you don't feel so bad about your yeasty indulgence because of all of the wonderful nutrition you've packed in with the raisins, apricots, chia and sunflower seeds.