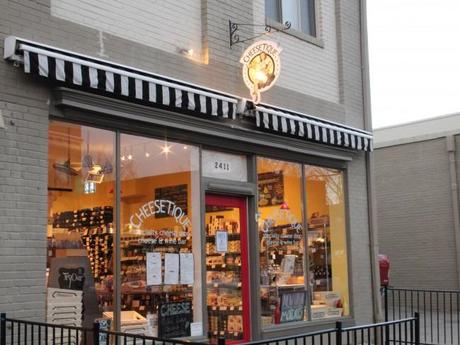 This year the mister and I agreed to postpone our Valentine's dinner to the following weekend.  We've never been huge fans of the overcrowded restaurants and forced three course dinners.  We would much rather celebrate another night, without the pressure and the overinflated prices.
So last Friday, we decided to venture out into a neighboring town, Del Ray, for a fabulous post-Valentine's dinner at Cheesetique, a local wine and cheese bar.  We had driven past this place many times, never realizing that beyond the cheese market was a cute little restaurant.  After reading the glowing reviews, I knew we had to try it out.  How could you resist all that amazing cheese?
While usually I try to avoid eating cheese at home, I'm definitely always up for splurging for quality cheese when we are out.  And Mr. A doesn't need any prompting to enjoy cheese-tastic fare.  He's a southerner, which means he thinks mac and cheese is in a food category all on its own.
We headed over to Cheesetique for a relaxing dinner after work Friday.  We walked through the cheese and wine shop to the start of the bar, where we were ushered to a small table in the corner.  It was a dark, romantic atmosphere, but the tables are small and the space is small so we were pretty close to our neighbors.  Next time, I think we might ask to sit in the very back where the space seemed a little quieter.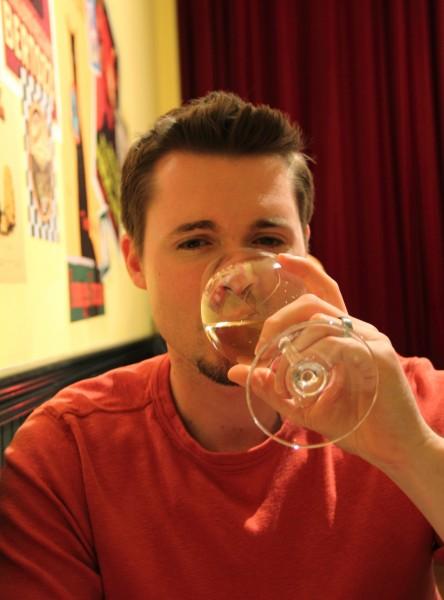 We ended up getting there right at the end of their happy hour special, so we were able to get a discount on our wines and cheeseboards.  Although I typically don't splurge on alcohol (too pricey and not my cup of tea), we decided to imbibe since it was a Valentine's celebration after all.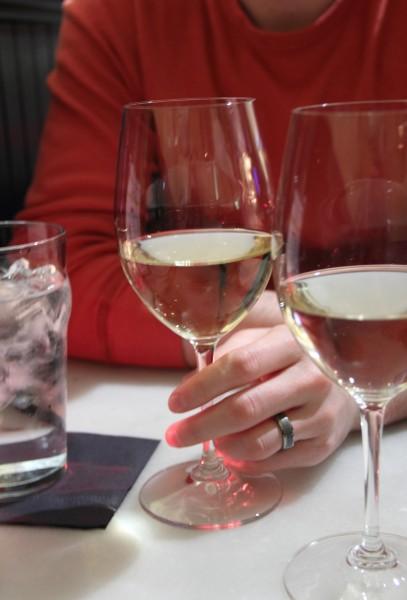 Mr. A had the fresh Chenin Blanc, while I stayed on the sweet (safe) side with Gewurztraminer (it's organic).  I quickly learned why I don't drink wine anymore, leaves me feeling buzzed after a glass (such a light weight).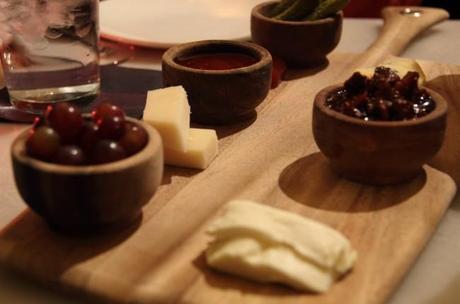 We started off with a cheeseboard, since we were in fact in a cheese place.  Cheesetique allows you to pick your cheeses and accompaniments.  We went with a honey goat cheese, a manchego, and a gorgonzola, paired with glazed greek figs, raw honey, bread, flatbreads, membrillo, cornichons, and grapes.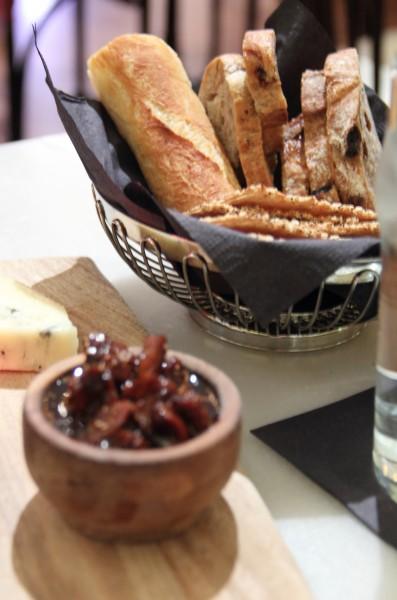 My favorite by far was the honey goat cheese.  There's really nothing as smooth and creamy as goat cheese, and with the honey it was just over the top delicious.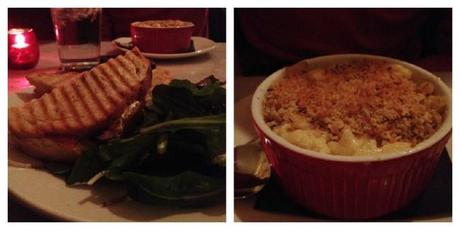 For our main dishes, my hubby, the mac and cheese connoisseur, opted for Cheesetique's crowned jewel, the Mac N' Cheesetique, which is made with goat gouda, asiago, cacao di roma cheeses topped with truffle-infused breadcrumbs.
I chose the Chevre and Roasted Vegetable Grilled Cheese, which was basically red peppers, tomatoes, onions and mushrooms topped with chevre.
I was completely over the moon in love with the Mac N' Cheesetique.  It literally was one of the best mac n cheese dishes I've ever tasted.  The truffle breadcrumbs really made the dish.  But if you are used to a super creamy mac and cheese, this isn't the mac n cheese for you.  I can't wait to get my hands on another bowl.
I was less thrilled with my Chevre sandwich.  The chevre was delicious, not like you could ever mess that up, but the vegetables left a lot to be desired.  The sandwich was billed as using roasted veggies.  Once I took my first bite, I could tell that the veggies, the red peppers in particular, had only received a cursory sauté.  I love roasted veggies so I was really disappointed that the veggies were so undercooked.
Luckily, the hubby was feeling a little too indulgent with the mac n cheese so he offered to trade meals with me. I proceeded to down his mac n cheese in less than a minute.  So good.
We originally went into dinner with the idea that we would have dessert.  Cheesetique has a nutella panini that sounds wonderfully decadent.  But by the time we made it to dessert, we both felt so full that we couldn't stomach the idea of any more food.
So I think the key to enjoying Cheesetique is either to use your cheese board like an entrée or skip the cheeseboard in favor of an entrée.  Having both is just too rich, unless of course you like to overindulge.  I think we finally learned that it is in fact possible to eat too much cheese.
If you are in Del Ray, I highly recommend Cheesetique for a romantic dinner date.  I would suggest getting there early.  By the time we left (around 7), the restaurant was packed and it was difficult to enjoy our conversation (remember the tables are pretty close together).  The wait staff is lovely and very helpful (they guided us through selecting cheeses and entrees with pleasure).
I can't wait for another round of Mac N' Cheesetique.  In fact, I told my parents that we found the perfect restaurant for their next visit.  So when are you coming down Mom and Dad?