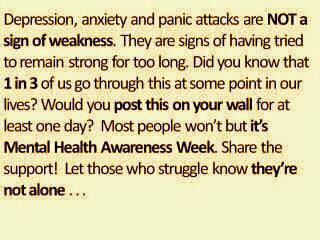 A beautiful Sentiment from
Unconditional Love
 in support of Mental Health Awareness Week (MIAW), which is scheduled for October 7-13, 2012.
This simple post led me to seek out more information about MIAW and its organizer, NAMI (National Alliance on Mental Illness), the nation's largest grassroots organization for people with mental illness and their families.
I also found out that "U.S. Congress established the first week of October as Mental Illness Awareness Week (MIAW), in recognition of NAMI's efforts to raise mental illness awareness."
As someone that conquered depression and has also suffered an anxiety attack so severe I had to be taken in an ambulance to the emergency room, I invite you to start preparing for this important week of mental health awareness.
Because as NAMI states, we can all "change our attitude to change lives."