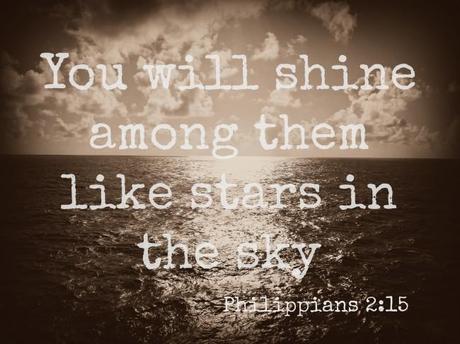 Part of what I love so much about the Bible from a literary standpoint is the metaphorical use of light and dark.  Yesterday's She Reads Truth scripture focused on another one of those light references:
Do everything without grumbling or arguing, so that you may become blameless and pure, 'children of God without fault in a warped and crooked generation.' Then you will shine among them like stars in the sky as  you hold firmly to the word of life.

Philippians 2:14-16
Whenever I read light references, I instantly begin creating a mental image, like the Bible is coming alive right before my eyes.  As soon as I read the reference to the stars, I thought of the stars serving as symbols of our hearts.  When we live in our old life before we give our life to Christ, our hearts are blackened with the dark and dirt of sin.  Then, when we baptize ourselves with the Holy Spirit, we instantly take away the darkness and grime of sin on our heart making it shine a little brighter.  Slowly as we turn closer to God and become more like Christ, our heart gets even brighter, as more and more darkness gets buffed away.  With each kind thought, good deed, and selfless action, we wipe away another layer of the darkness until eventually our hearts shine as a beacon of light, so bright that it's like a star.
That's how I want my heart to be recognized by others–so undeniably bright that it is as recognizable as a star in the dark night sky.
So I ask you today what are you doing to brighten your star?