DISCLAIMER: This is a non-sponsored post, but I did receive SWAG and an invitation from Fresh Brothers to learn more about the Skechers Pier to Pier Friendship Walk.  The following is my true and honest opinion.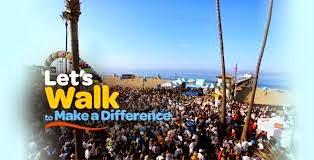 Photo courtesy of The Skechers Pier to Pier Friendship Walk
One of the first careers I explored as a young adult was youth counseling.
I actually took several child psychology classes in college before I proudly announced to my parents that I would be leaving my "fashion dreams" to work with "kids that had challenges in life."
I wanted to make a difference. One child at a time.
Fast forward to today: Although I didn't finish my degree in youth counseling, I began volunteering with children non profits several years later.  I found this to be a happy medium.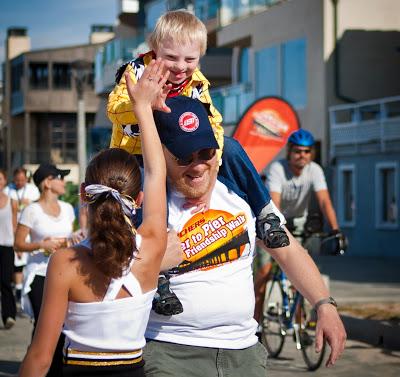 Photo courtesy of Easy Reader
Whether it's seasonal help or a long term commitment, I'm always looking for new organizations and ways to
help the young live a happier life.
 Mostly, because I believe that children are blank slates ready to be filled with awesome experiences to one day become happy adults....and who doesn't want more happy adults in this world?!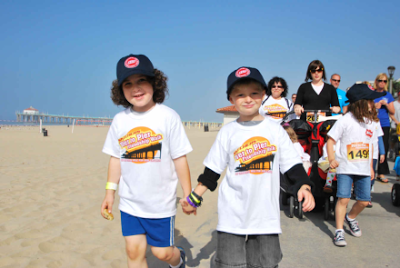 Photo courtesy of the Redondo Beach Patch
It's not hard to find that little place in your heart for children when you find out about organizations like The Friendship Circle, a Manhattan Beach-based non-profit that's
committed to bringing happiness and companionship to children and young adults with special needs.
I wasn't familiar with The Friendship Circle, until my good friends at Fresh Brothers invited me to a bloggers lunch at the Sketchers Corporate office to learn more about their largest fundraiser: The Skechers Pier to Pier Friendship Walk.
The Sketchers Pier to Pier Friendship Walk is "a day frilled with fun, friends and family...but most importantly, a day of giving back," shared Michael Greenberg, President of Skechers USA.
This awe-inspiring walk is held annually in Manhattan Beach, and has brought together more than twelve-thousand walkers and raised more than one million dollars for a single cause: support children with special needs and education. (See the video above the get a feel of how amazing this event is!)
This year, the walk is being held on Sunday October 27, 2013 in Manhattan Beach Pier.
Like most non profits, The Friendship Circle exists because awesome people like you (I am pointing to every one of my readers). 
Whether you donate, volunteer or walk during the Skechers Pier to Pier Friendship Walk, I encourage you to look into The Friendship Circle and find-out how you can support this worthy organization.
Although I can't be there due to work and other commitments, I hope that I have inspired you to learn more about the walk and participate in any way possible - especially spreading the word!
Learn more about the Skechers Pier to Pier Friendship Walk by visiting their website www.skechersfriendshipwalk.com or follow them on twitter @skechersp2pwalk.
Thanks for your support - really do appreciate it!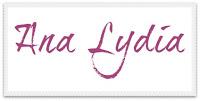 I was invited by Fresh Brothers to learn more about The Skechers Pier to Pier Friendship Walk at the Skechers Corporate office.  I received lunch, a SWAG bag and an overview of this amazing organization.  No other compensation was received - or expected!