While I mentioned last week that Mr. A and I are in no rush to get pregnant, we have been making a lot of changes in our life in anticipation of little ones.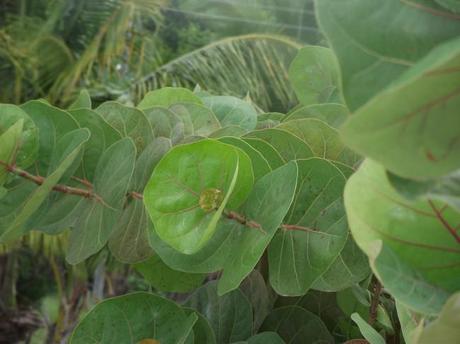 One of the biggest chances has been our attempts to green our lives by removing toxic chemicals and pesticides.  I decided that instead of massively overhauling our lifestyle we would slowly transition into a greener life.  Because let's be honest being green isn't always friendly to the green in your wallet.
The biggest green offenders in our household definitely have to be the chemical laden cleaners.  When I started looking into the price of green cleaners, I was shocked at their exorbitant cost—I mean it's just all natural ingredients, right?
So like all the other cheapskates I know, I instantly googled homemade cleaners to find one I could make more cost effectively myself.  Since it seemed overwhelming to make eleven different cleaners at once, I decided to tackle greening our cleaning supplies as they ran out.
The first thing that ran out was laundry detergent (which should be no surprise since I live with a boy that wears at least three outfits a day).  In googling homemade laundry detergents, I found a lot of recipe that relied heavily on Borax.
I know Borax is a semi-controversial topic in the green world.  If large doses are ingested by humans, it can in fact be lethal.   You can learn more about the borax debate here.
I wasn't willing to take the risk of using borax since the entire purpose was to make our home free of harmful chemicals.  But I certainly won't judge you if you decide to use it.  To each there own.
Below is my recipe for a green borax-free laundry detergent.  It's super easy and super cheap and leaves your clothes smelling so fresh.
Homemade Green Laundry Detergent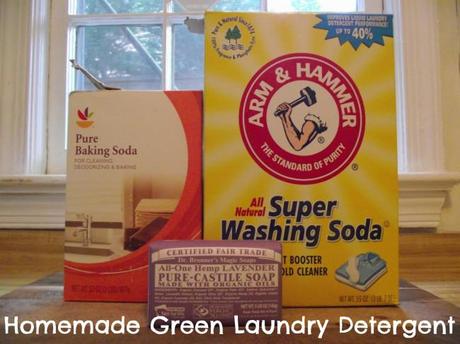 Ingredients
1-5 ounce bar of Dr. Bronner's soap (I love the lavender scent)
Method
Add the washing soda and baking soda to a large container.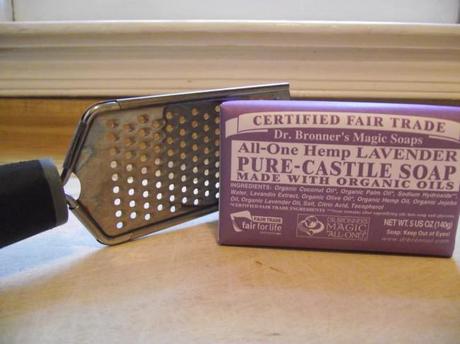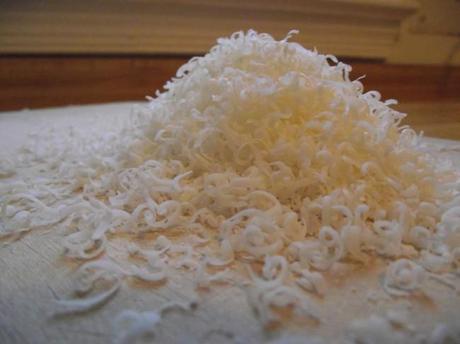 Then grate the entire bar of soap into small flakes.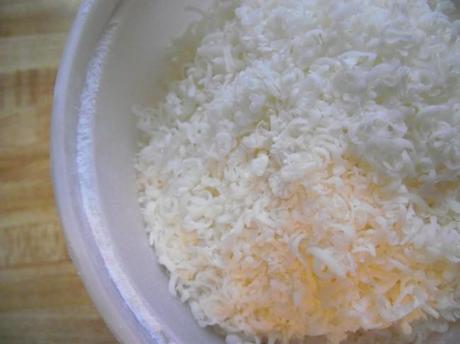 Add soap flakes to container.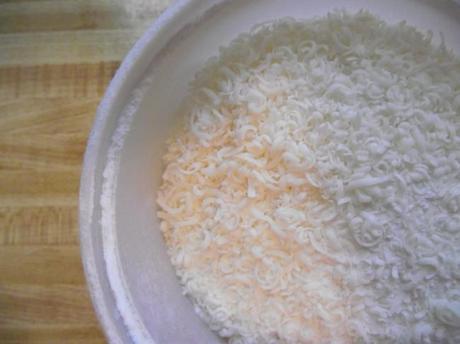 Shake up the container until completely mixed.
Make sure to keep a lid on this until you are ready to use it.  Before you use it, you should shake the container as the ingredients may have settled.
I use a tablespoon of laundry detergent per load, which makes this stuff last forever.  It doesn't really leave a scent on your clothes like regular detergent does.  Your clothes actually just smell clean and fresh.
For those of you unfamiliar with washing soda, you can find it in the cleaning aisle of your local grocery store.  I always get mine at Giant.
Since the ingredients are so cheap, this green alternative actually ends up being a lot cheaper than regular laundry detergent and it's better for the environment.  Total win, win.
Do you use homemade laundry detergent?  What's your recipe?