Before I jump into a quick tour of our new humble abode, I just want to say thanks to everyone for your sweet, kind words yesterday.  We really appreciate all the love.  And while I'm doling out thanks, a special thanks should also go to my family, who took time off of work and away from their own lives to help us move.  I can't begin to explain how much appreciated their help.  Without them, the pictures you see below would be a bunch of stacked up moving boxes.  So thank you from the bottom of our hearts guys.  We love you!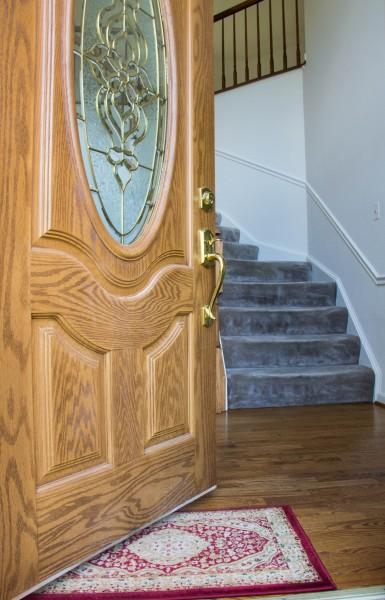 Now that I've got all that mushy stuff out of the way, let me welcome you to our home.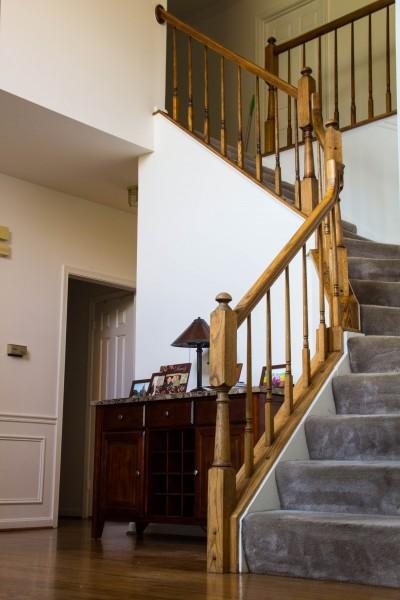 When you first walk in the front door, you are met by our two story foyer.  As ridiculous as it sounds, this is one of my favorite features of this house.  I know that they are energy wasteful but they make the house feel so open.  Remind me that I said this when I get our first A/C bill.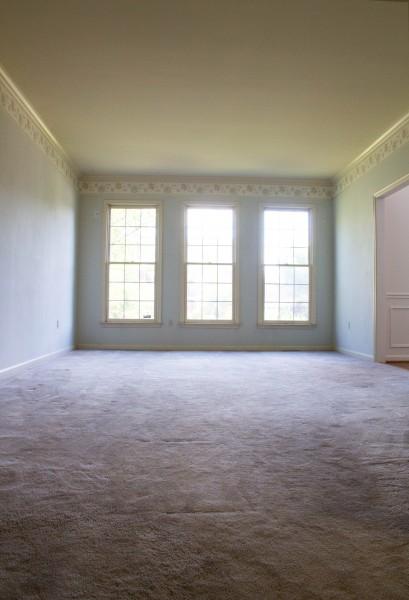 To the right of the foyer is our formal living room, which currently has zero furniture.  It's a really long, big space, with a lot of potential.  That is of course once we rip down the wallpaper border and change up the cream ceiling and molding.  This will probably be one of the last spaces to be finished.  We are thinking our high traffic zones like the kitchen and family room will get renovated first, making this formal living room fall pretty far down on the priority list.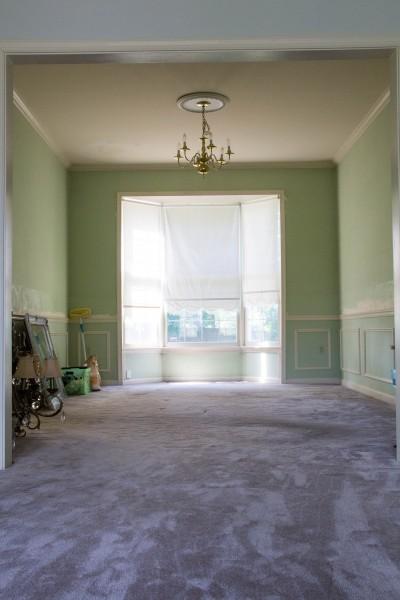 On the other side of the formal living room is our formal dining room, featuring this beautiful mint green color and cream moldings.  I know it looks like we haven't accomplished much in these rooms, but it was quite a feat getting them cleaned and taking the window treatments down.  I still shudder at the thought of all the dust that was hanging around in these rooms.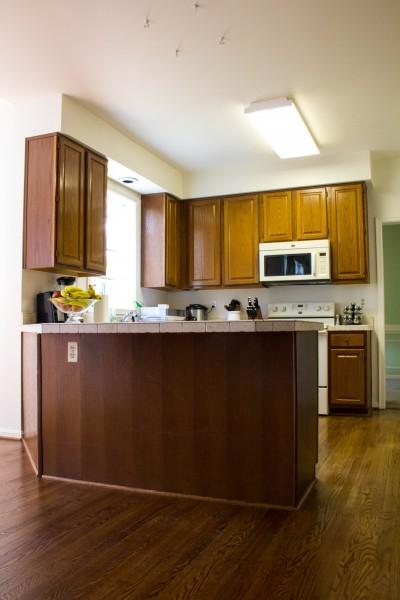 Through the left side of the dining room is our kitchen.  I've got big plans for this room, including changing out the wood cabinets for white.  But the jury is still out on whether we will keep these cabinets and paint them white or replace them.  I'm still trying to figure out if I like the peninsula set up or if I would prefer an island.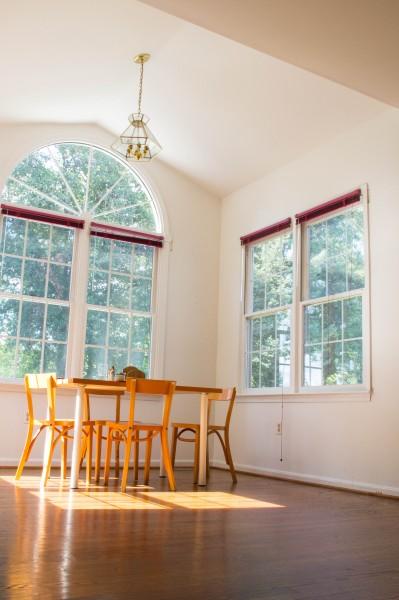 To the right of the kitchen is the casual dining nook. I know that name sounds made up and it is.  I have no idea what to call it.  It's a huge space that should be perfect for family meals and homework time.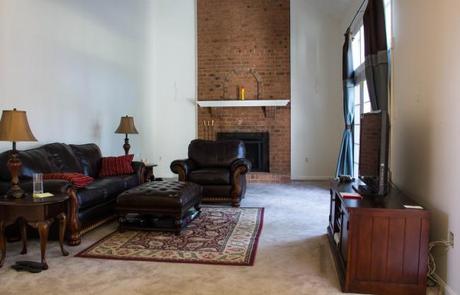 Just beyond the kitchen is our family room complete with a two story fireplace.  I know the TV setup looks ridiculous–and it is.  It chops the room in half.  Unfortunately, for now we are stuck with this setup until we can move our cable connection down.  We are hoping to mount the TV over the fireplace eventually but in the meantime we thought we could position the TV in the corner to see how we liked it.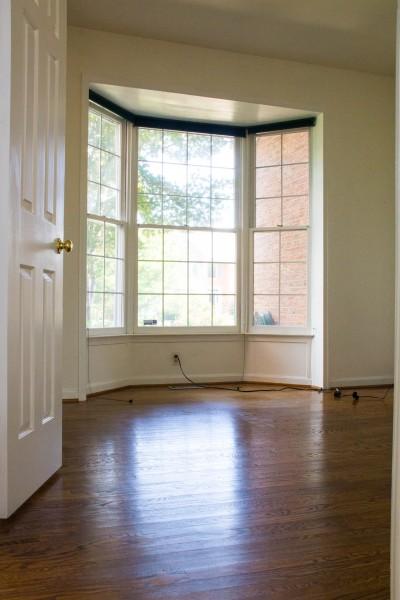 Completing the circle around the staircase, you come to our office. I literally have no idea what to do with this space.  We were never expecting to have an office space so this is really a huge bonus for us.  Guess I should start looking into a getting a bigger desk.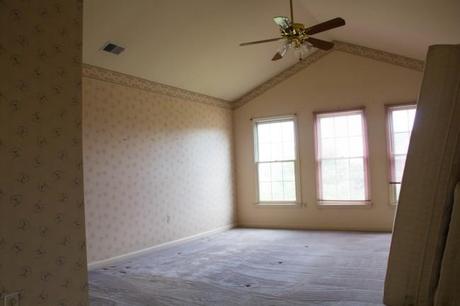 Now, we'll head on upstairs to our master bedroom, featuring this beautiful pale pink wallpaper.  We are in the process of ripping down all this lovely paper so this room looks very different now.  I'm sure the mister will be happy to depinkify this room.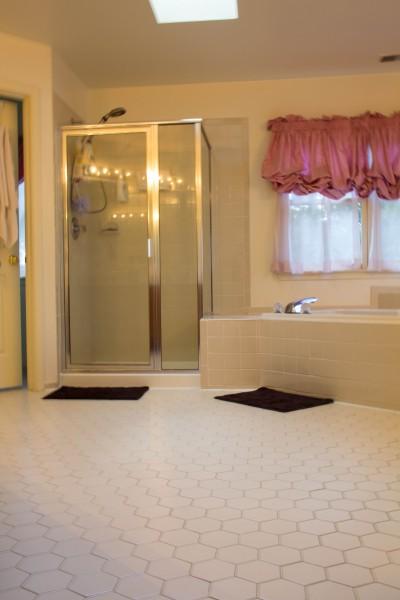 On the other side of the bedroom is our huge master bath. We finally have double sinks so we can brush our teeth at the same time.  I've also got a built in vanity on the side of the bathtub.  Having spent the last four years getting ready in our guest room in our apartment, it feels really weird to put makeup on in an actual bathroom.  This room also needs to be depinkified but I have to find new curtains before we do that (don't want to flash the neighbors).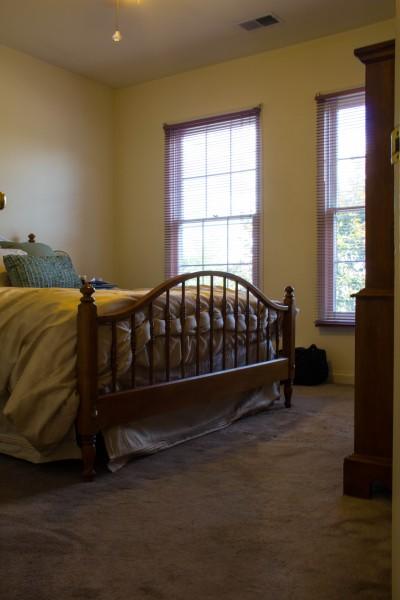 The upstairs features 3 other guest rooms.  There's nothing much to discuss about them–they are all equally as empty as our other rooms.  We are currently living out of this guest room as we continue the pink paper party in our master.  I'm still not sure when we will actually sleep in our master bedroom but I'd much rather sleep outside of the mess for now.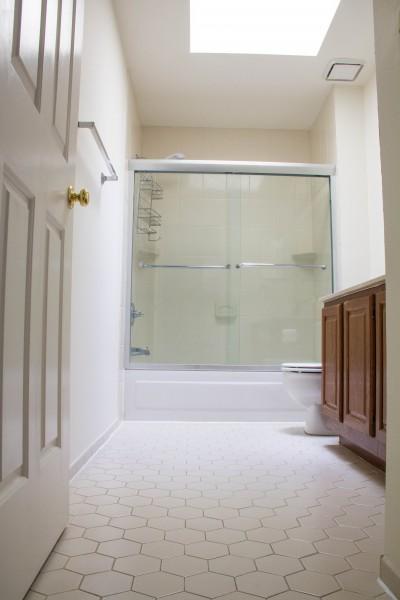 At the very end of the hall is our guest bath.  It's very boring white right now but I've got some plans to add a splash of navy blue to these walls.  It's more prominent in this picture but both of our bathrooms have skylights in them.  Even without lights on, the rooms glow.  Who would have ever thought that skylights in a bathroom would be so cool?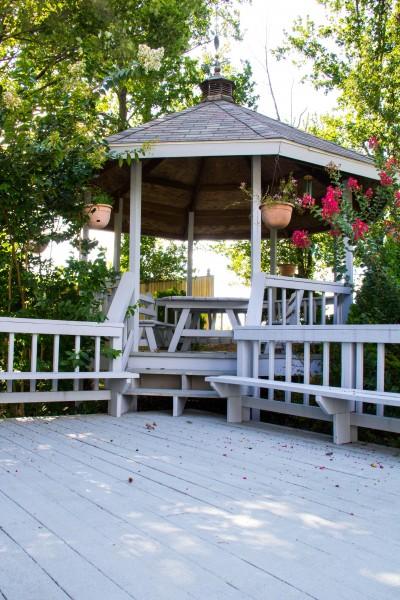 That rounds out the inside of the house (the basement is unfinished). So let's take it outside.  We have a great deck right off of our family room with this amazing gazebo.  The original homeowners even left us their crab table.  We can't wait to have the family over for our first crab feast.  Our yard is a playground for tons of local wildlife.  This weekend we watched a baby bunny rabbit hop right on our deck and immediately stuff his face full with a flower from one of our potted plants.  So I guess you can say that the wildlife here is a little bold.  I may or may not have yelled at the bunny to run away.
That's our house in a nutshell.  It's clearly way too much space for the two of us but we are hoping that it can be a space that our family can grow into over the years (Lord knows after last week I never want to move again).  Every day that we've woken up in this house I've said a prayer and given thanks to God for our overwhelming blessings.  I can't imagine what I ever did to be able to have a dream like this come true.
Hope you enjoyed taking a peak inside the new house.  While I'd love to stay and chat more that pink wallpaper is calling my name.  Good thing I don't mind getting a little dirty.