There's very few times that I get excited about anything to the point of driving. In traffic. For over an hour.  With 90+ degree heat. To see
a
movie.
A movie.
But it wasn't just any old movie.  It was a screening of
People Like Us
at the AMC in Century City.  Albeit walking distance from my home, it was clear 
across
 town from where I was the entire day.  But I wasn't going to miss this screening, even if going solo.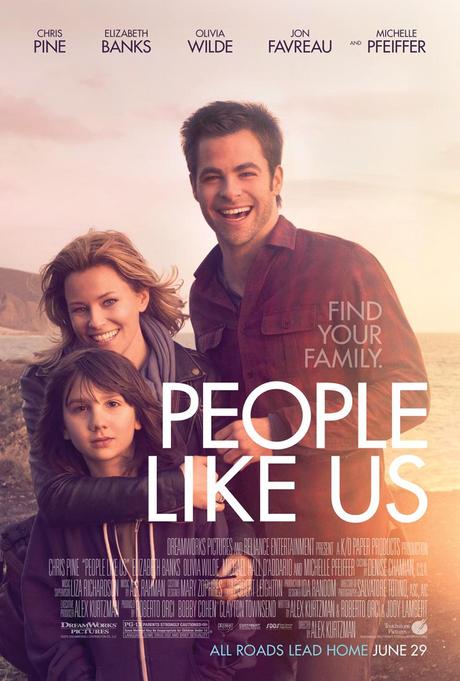 According to the press materials,
People Like Us, an emotional family drama, "was inspired by by writer/director Alex Kurtzman, "who grew up knowing his father had been married before and had two children who he never met. Until he ran into his half-sister at a party."  
I can't imagine what that would have been like, but I could totally relate with
 Sam (Chris Pine), when learns that his father has suddenly died. 
I too ignored my moms cell-phone calls as I was getting ready to go to work.  A job I had only started a week prior.  The anxiety, and guilt, that maybe if I too could have picked up my moms call sooner and seen my dad alive one last time, was quite possibly what Sam thought when he ignored his mother calling him at work. So, from the get-go, this movie was completely relatable to me.
However, unlike Sam, my father didn't leave me the responsibility of putting the family estate in order and later uncovering a family secret.  A secret, that unless you have missed every single trailer about this movie, is the obvious "Sam's father had another daughter that no one knew about."
Or did they?
As the film develops, we learn that Sams beautiful mother, played by Michele Pfeiffer, is just as human and broken as Sam is.  And, the family, their family, is as dysfunctional as any other family: with very real problems, complications, and calamities as any other family, but never stereotypical or Hollywood-esque.
Most viewers will be hard pressed
not to
fall in love with every character and relate to a small degree to the life choices they make along their path to lead them to where they are at now.  Viewers might even sympathize to the alcoholic in recovery, and Sam's half-sister, Frankie played by Elizabeth Banks.  I know I did...and fell in love with her son Josh, played by Michael Hall D-Addario; who in his feature film debut, steals the screen every time he opens his mouth.
As Sam and Frankie make their way through emotional ups and downs as they deal with the loss of a man that happened to be a father to both of them, the film takes us on a tour of many of Los Angeles hidden-gems.  The places that, unless you are an LA native, are completely unfamiliar to.  
Being that I am born and bred Angelino, seeing places that are all but ignored in other LA movies, including the valley staple Henry's Tacos, was refreshing and real.  
Besides the heart-felt story line, seeing these places on the big screen made the story much more real to me; and it will be to you.

Regardless of whether you live in Orlando, or Ohio, the characters and story line of People Like Us, will touch you with its heart-breaking and touching story that is relatable to anyone that has ever had or been part of a family.