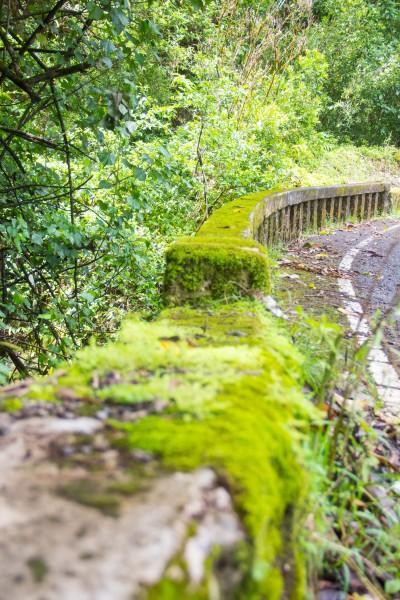 By far the thing I was most excited to do in Maui was to drive the road to Hana.  Not that Hana is a particularly fantastic place but the drive to get there is a once in a lifetime experience.  The drive starts in Paia on the northern side of Maui and continues 68 miles east to Hana.  The highway connecting these two cities cuts directly through some of Maui's most lush tropical rainforest land, including waterfalls, cliffs, scenic overlooks, and generally just amazing views.  In order to accommodate the roadside waterfalls, the road curves over 600 times.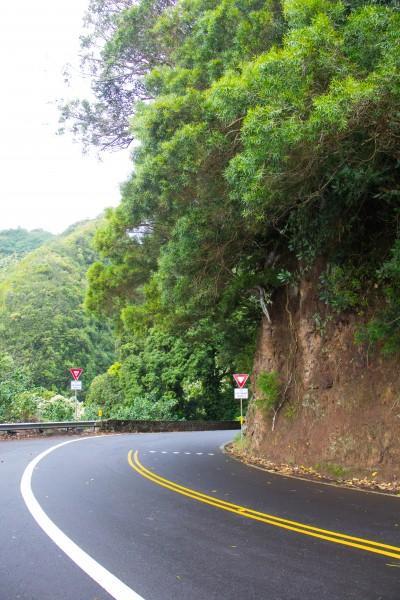 Besides being incredibly windy, the road is always very, very narrow.  Many sections start as a two lane highway and then quickly disappear into one lane, includes over 40 one lane moss covered concrete bridges. For skittish or timid drivers, this highway would prove to be a harrowing experience.  Even though we had read many warnings about the difficulty of the driving the highway, we opted to drive it ourselves instead of going with a tour company.  I trusted Mr. A enough (and he trusted himself enough) to get us there safely and we all really liked the flexibility of being able to stop when and how long we wanted too.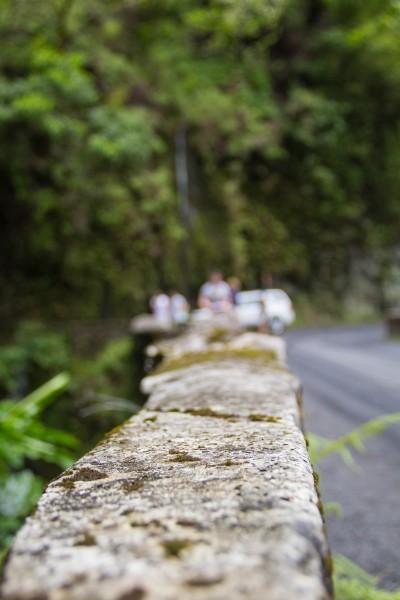 But we did heed the rest of the advice regarding the trip to Hana.  We made sure to pass the airport by 9 am with a full tank of gas and our lunches packed (there aren't a lot of places to stop to eat or fill up along the way).  We also purchased and downloaded the Gypsy Guide for the Road to Hana, which I hands down recommend if you ever decide to go to Hana.  The guide used GPS to figure out where we were on the Road to Hana. As we approached the different landmarks and stops, the guide would provide us a little background and also tell us where to stop.  This was an absolute necessity as the landmarks are not marked and are sometimes very difficult to see from the road (especially when navigating around hairpin turns that lead into one lane bridges).  On top of the Gypsy Guide, I also used my handy Maui Revealed book to write out an itinerary the night prior to our departure.  There are so many different places to stop along the road that you could eat up an entire day and never make it to Hana.  I wrote out ten specific must stop locations, anything else that our Gypsy Guide mentioned we basically tried to skip (due to the time constraints) unless it sounded unbelievable. I wouldn't have been able to navigate without these two things so I highly recommend them.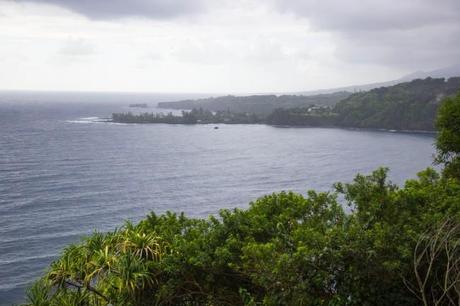 Our first stop was a little anticlimactic but very necessary.  Kaumahina State Wayside Park had the first public restrooms that we could use for over 60 miles.  We snapped a quick picture, used the loo, and packed back into the car. Even if you are tempted to skip this stop, I highly recommend it because you won't see another bathroom for a while (and besides at this point you will want to stretch your legs after being crammed in the car for two hours).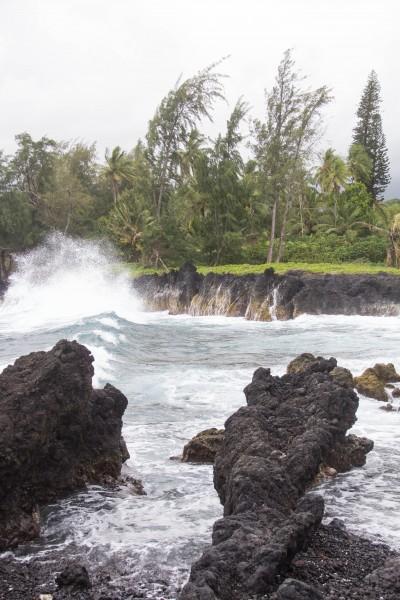 The next stop was the Keanae Peninsula, which actually was a few turns off of the main highway (once again proving that a GPS is totally necessary for this adventure).  This area was decimated by a massive tsunami in 1946 that wiped out the entire village except for the old stone church.  The tsunami originated in Alaska and reached 100 feet before crashing into Maui.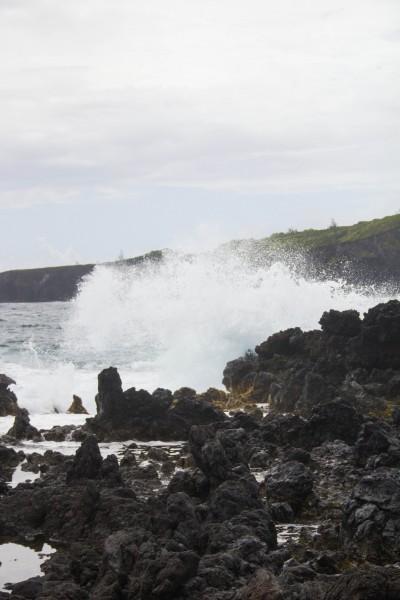 The beach at Keanae is formed from newer lava that sticks straight out of the ground.  The waves crash incredibly hard against the rocks causing water to surge up into the air.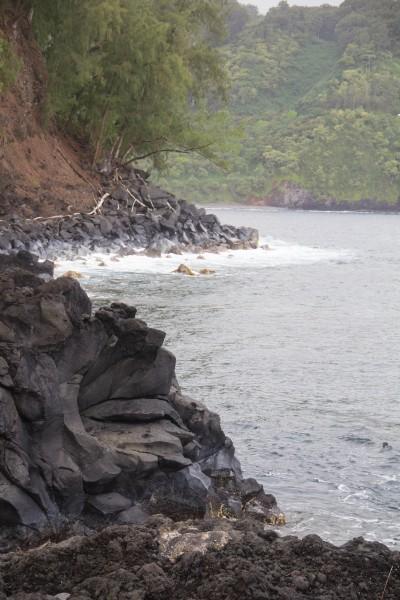 While this is a pretty interesting stop (with restrooms), make sure you don't spend much time here, you've got plenty more adventure ahead of you and not much time.  If there was one mistake we made, it was spending too much time at our first stops, causing the last stops to be really rushed.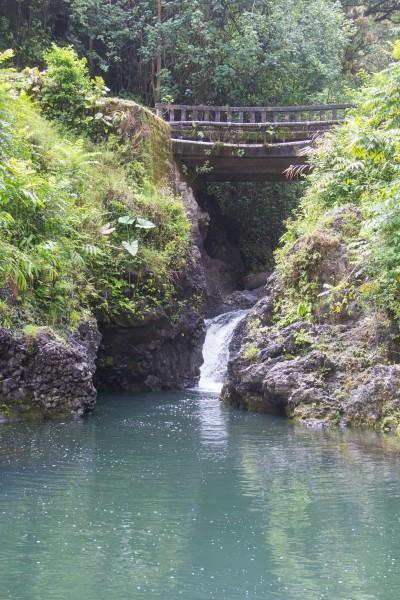 Before getting to the next town, we stopped at our first waterfall for the day, Ching's Pond.  While this was probably the least impressive waterfall we saw all day, it did give us some momentum to keep on driving.  At this point, we had been driving for several hours and we still hadn't seen a waterfall. This gave us the perfect boost. The trail to access the pond is very steep and rough.  Make sure you have your water shoes on for this one.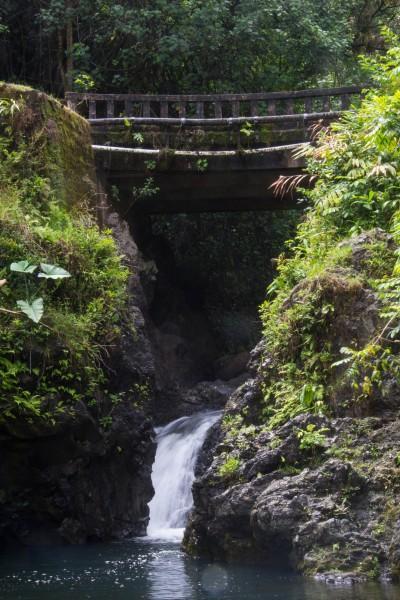 We also saw several people jumping from the bridge into the pond.  I would never ever recommend doing this.  The room for error is nearly zero and if you hurt yourself there's no hospital close by.  If you are pressed for time, feel free to skip this stop.  The Maui Revealed book made this pond seem like something spectacular but I would venture to say that many of the other sites that lie ahead are much more deserving of your time.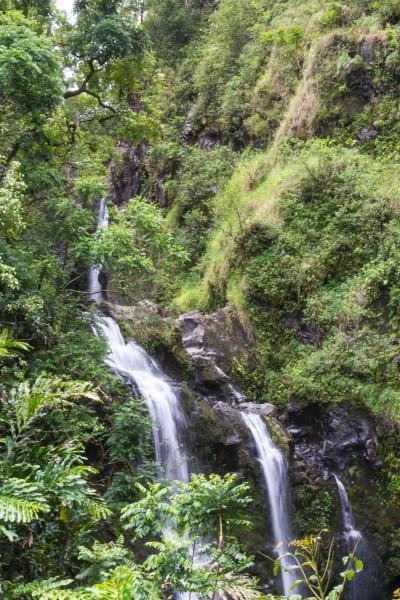 After Chings, we finally got to see our first big waterfall, Upper Waikani Falls (also called Three Bears Falls).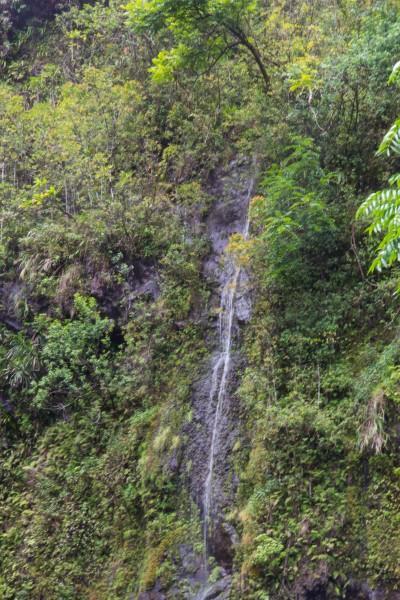 Just on the right side of the one lane bridge was this beautiful waterfall.  While I've seen waterfalls in my lifetime, I've never seen a waterfall quite like this.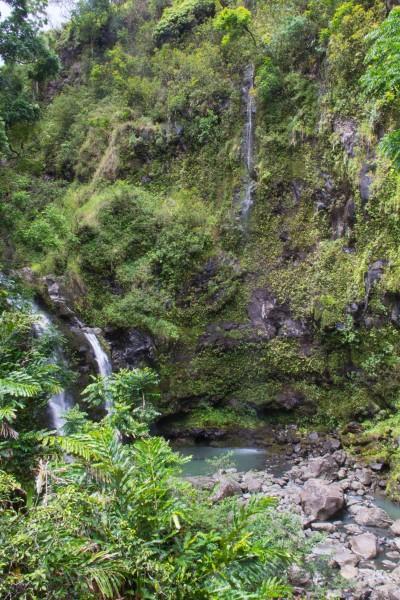 The waterfalls was towering high above us, more than I can capture with these pictures, and then it dropped dramatically below us into a pool. On the far side of the bridge, a path had been created to go down to the bottom pools of the waterfall.  The first step to the hike was so steep and so dangerous that I couldn't justify climbing down to the pond (think a large slippery rock with a very narrow slice to slide down).  Like Ching's Pond, there were plenty of tourists tempting fate and climbing into the abyss.  I just couldn't do it. I was more content to take pictures from the bridge anyway :0)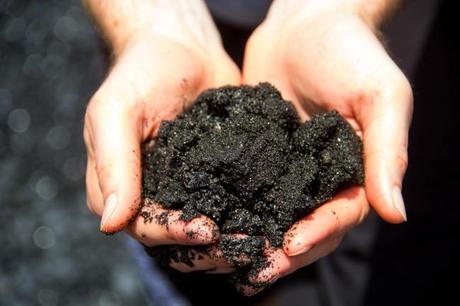 Tomorrow, I'll continue our road to Hana story with arguably the coolest part of the whole trip, the real black sand beach.  It was truly my favorite thing of the whole trip.