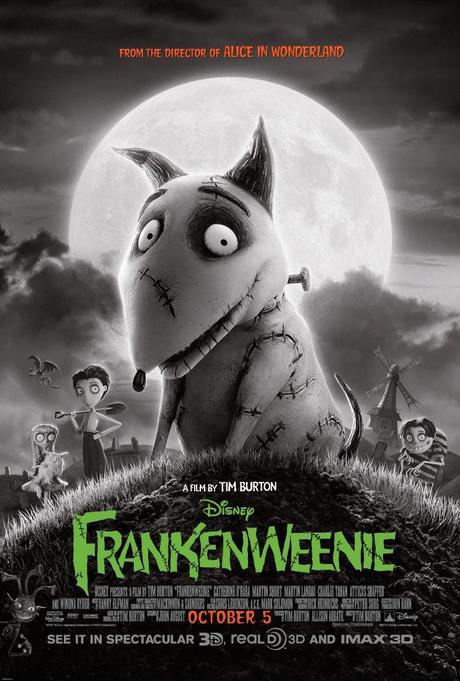 There is NO SECRET that my hubby and I are HUGE movie buffs, and consider ourselves even bigger fans of anything animated.  Add Tim Burton (a personal IDOL) and Dany Elfman (LOVE!) to work on a movie that is focused on the love of our furry children, and I am smitten for months.  So imagine my absolute GLEE when I was invited to an advanced 3D Screening of Frankenweenie?! 
To simply say that I was looking forward to Frankenweenie, doesn't give credit to my absolute anticipation to see this film.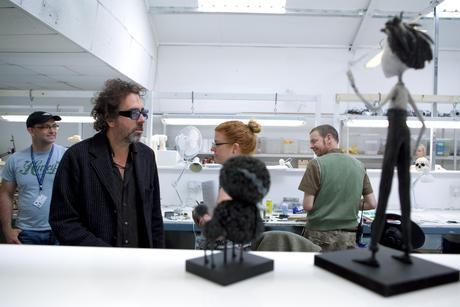 The amazingly talented Tim Burton working on the Frankenweenie Clay Character
About the Movie
From creative genius Tim Burton ("Alice in Wonderland," "The Nightmare Before Christmas") comes "Frankenweenie," a heartwarming tale about a boy and his dog. After unexpectedly losing his beloved dog Sparky, young Victor (voiced by an adorable Charlie Tahan) harnesses the power of science to bring his best friend back to life—with just a 
few minor adjustments. He tries to hide his home-sewn creation, but when Sparky gets out, Victor's fellow 
students, teachers and the entire town all learn that getting a new "leash on life" can be monstrous.
A stop-motion animated film, "Frankenweenie" was filmed in black and white and rendered in 3D, which elevates the classic style to a whole new experience. In Tim Burton's "Frankenweenie" young Victor conducts a science experiment to bring his beloved dog Sparky back to life, only to face unintended, sometimes monstrous, consequences. Martin Short (Mars Attack!) will voice Victor's dad this time around, while Catherine O'Hara (Beetlejuice and The Nightmare Before Christmas) will provide the vocals for his mom. Joining Short and O'Hara is Winona Ryder (Edward Scissorhands and Beetlejuice) in the role of Elsa and Oscar-winner Martin Landau (Ed Wood) as Mr. Rzykruski. Music by one of my favorite musical artists of all time: Dany Elfman.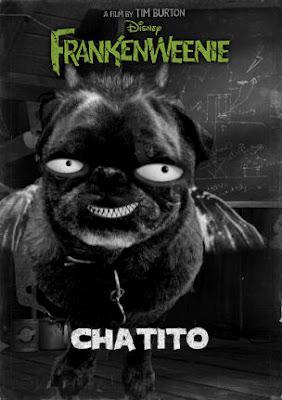 My Thoughts
Can you imagine loosing your best friend - your only friend - in a freak accident?  Now imagine at what lengths you would go to bring back your loyal four-legged friend?
Sound familiar?  Of course it does - especially to those of us that have lost
our
best friend sometime in our childhood.
Trust me - this movie is not about me - but it definitely put into perspective the possibility of one day loosing my beloved baby Chatito. (like I did Chester when I was only seven years old!).
So, yes - I cried at all the heartfelt moments in the film.
And, I laughed - at all the quirky commentary and at the
motley crew
of characters.
And,
I fully enjoyed every second of the film
- and I know that Tim Burton fans will be just as awe-struck as I was.
NOTE: Although the movie can be enjoyed by most adults, I have a hard time believing that anyone under the age of ten will "get" the quirks and 
eccentricities
 that are common with any Tim Burton film. 
Learn more About Frankenweenie on it's 
Website.  
Like Frankenweenie on
Facebook
 and Follow
 Frankenweenie on
Twitter
.
I also invite you to enter the Frankenweenie
 Monstrous Sweepstakes
for a chance to win a spooktacular vacation for four to experience all the fun of Halloween Time
at the
Disneyland
® Resort. Plus, don't miss The Art of
Frankenweenie
Exhibit only at the newly expanded
Disney California Adventure 
Park, where you can get an up-close look at the amazing world of
Frankenweenie
through sets, puppets, props and more. And for a limited time Guests will be treated to a special 4D extended preview of the film at the Muppets Vision 3D Theater before
Frankenweenie
comes to theaters in 3D October 5th!
Visit the Monstrous sweepstakes here, and you could win Halloween Time at the Disneyland® Resort for some frightfully family-friendly fun!
Dates:
August 23 - October 7, 2012
Entries:
Online: www.disney.com/frankenweeniesweeps
Mobile – Text EDGAR to DISNEY (347639*) to enter for a chance to win. *Msg and data rates may apply. If you're under 18, get your parents' permission first.
Prizing:
One (1) Grand Prize – A 4 day/3 night vacation for four to Disneyland® Resort and Disney California Adventure Park to experience the world of Tim Burton and 

Frankenweenie

 during Halloween Time.
Five (5) First Prizes – An Autographed 

Frankenweenie

 movie poster

Both my hubby and I received complimentary tickets to this screening from
Allied-THA at Walt Disney Studios Motion Pictures.
 I have not been compensated in any other way.
All opinions are my own.