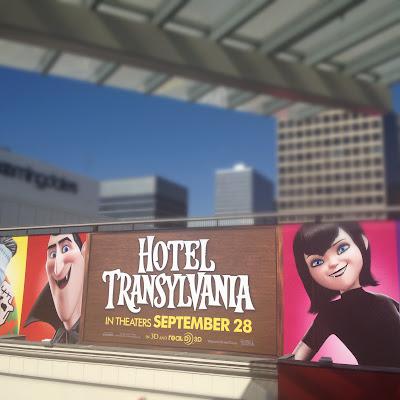 This past week, I had the opportunity to preview the Sony Picture Animation for Columbia Pictures, film Hotel Transylvania, courtesy of Smart and Final.  Being a huge fan of animation, I was tickled pink to be able to see the film!
About the Movie
The 3-D computer-animated film takes place in a five-star resort-style hotel created and managed by Dracula (voiced by Adam Sandler), that allows
monsters
to vacation from (us) pesky humans! Dracula also happens to be a proud, and over-protective father to a (soon-to-be) 118-year old
teenage
 daughter Mavis (voiced by Selena Gomez).  
Dracula, like most dads (I imagine), looks forward to celebrating his daughters birthday surrounded by his friends, that happen to include: Frankenstein (voiced by Kevin James) and his very annoying wife Eunice (voiced by Fran Drescher), Murray the Mummy (voiced by Cee Lo Green), a spread-too-thin Werewolf family (parents voiced by Steve Buscemi and Molly Shannon), Griffin the Invisible Man (voiced by David Space), Bigfoot, the Blob, Shrunken Heads, and every single monster we have ever read or seen in our own childhood movies and books!  
Mavis, of course, has other plans and looks forward to finally seeing the world outside of her five-star monster castle, while Dracula plays various tricks to avoid his naive daughter from running into, well, us (humans)!
But, of course, things couldn't be that smooth like in most homes, and eventually Jonathan (voiced by Andy Samberg) an unsuspecting human traveler, crashes the hotel and chaos ensues!
My Thoughts
At first, I found the film to be a little slow and trying too hard to set-up the plot-line.  The great news is that the hundreds of kinds in the theater didn't seem to mind and stayed quiet. For. The. Entire. Run. Of. The. Movie.
I eventually found myself falling in love with the characters and personally relating at what my poor father had to go through when,
I too
, wanted to grow-up a little too soon.  The film was filled with beautiful family moments showing how a dad (Dracula) could also be a role-model to his daughter, and most importantly how Mavis could voice her opinion without disrespecting her father.
Overall, I really
loved
the film and look forward to watching it again sometime after it open with my hubby, who happens to also love 3-D animated films, and has a special interest in monster movies (just one look at
our
Monster Movie DVD home collection confirms this!)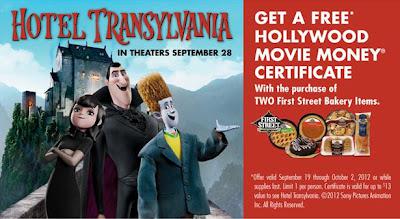 To enjoy the movie even more, 
Smart & Final
currently has a promo through the 2nd of October, when you purchase two First Street Bakery items, you get a free movie money certificate for Hotel Transylvania! The details of this promotion can be found
here
, and you can also follow the promotion on Twitter by following the 
#SFHotelT hashtag.
Happy movie watching!

I am a member of the Collective Bias™ Social Fabric® Community.  This shop has been compensated as part of a social shopper insights study for
Collective Bias
™ and
Smart & Final
#CBias #SocialFabric. All opinions are my own.