It seems often times that bad news comes in multiples.  While we were dealing with Mr. A's grandmother's rapidly declining health, I received an email from my best friend (who you all will remember from her fabulous speech) letting me know that her Dad was going to be undergoing surgery in the next week and her family could use our thoughts and prayers.  It's a scary thing when your parents start to need surgery, a solemn reminder that we are all growing older and there's nothing we can do about it.
I'm happy to report, however, that her Dad made it through the surgery and is recovering at home.  Even though the worst of it is over, I knew that her Mom still faced an uphill battle as she stayed home to aid in his recuperation.  It can be overwhelming being the caretaker and the strong one so I wanted to do a little something just to reminder her that we were thinking about her too.
I know one of the last things I want to do when I'm faced with a difficult time is to make an elaborate dinner, which often means resorting to cheap and easy food that isn't necessarily the best thing for an already ragged immune system.  So I thought I take some of the food burden away by cooking them a home-style dinner.
Since they both love Italian food (her Mom is 100% Italian), I thought I would try my hand at a traditional Italian soup—Pasta e Fagioli, which basically translates to Pasta and Beans.  The contents of the soup vary drastically from region to region but it's centered around cannellini beans, pasta, tomatoes, Italian spices, and vegetables.  I opted to use the veggies I had on hand—peas, carrots, and zucchini—but feel free to sub in more or less or different veggies depending on what you have around.  You really can't go wrong with this soup recipe.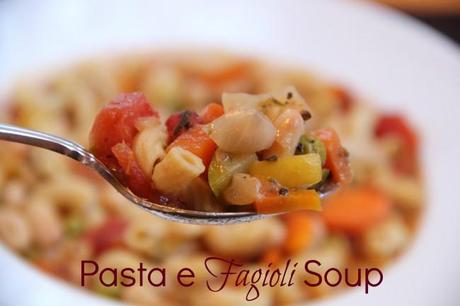 Ingredients
2 15 ounce cans of cannellini beans
2 cups macaroni pasta
1 large onion, diced
1 1/2 teaspoons garlic powder
2 15 ounce cans of diced tomatoes
3 carrots, diced
1 zucchini, diced
1 cup peas, frozen
7-10 cups of vegetable broth (more if you like thinner soup, less if you don't)
1 tablespoon dried parsley
1 tablespoon dried oregano
1 tablespoon dried basil
1 teaspoon thyme
1/4 teaspoon cayenne pepper
Dash of red pepper flakes
Dash of olive oil
Salt and pepper to taste
Method
Heat a dash of olive oil over medium heat in a large dutch oven.
Add diced onion and cook for 5 minutes.
Then add in carrots and zucchini and cook for another 10 minutes.
Add in spices, garlic, parsley, oregano, basil, cayenne pepper, and red pepper flakes.  Cook for 1-2 minutes.
Add in the remaining ingredients, pasta, diced tomatoes, and vegetable broth.
Bring to a boil and allow to boil for 5 minutes.
Then reduce to a simmer and allow to simmer for 20 minutes.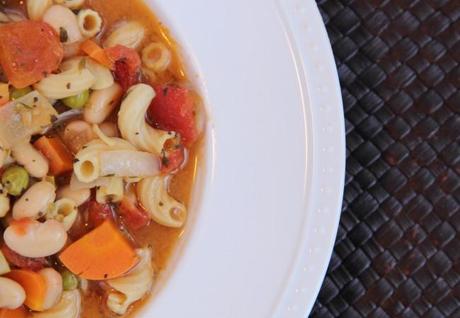 Enjoy with your favorite slice of bread or perhaps an Italian cornbread biscuit (recipe coming tomorrow).
This is the first time I've ever tried this Italian soup and I have to say it's one of my favorites.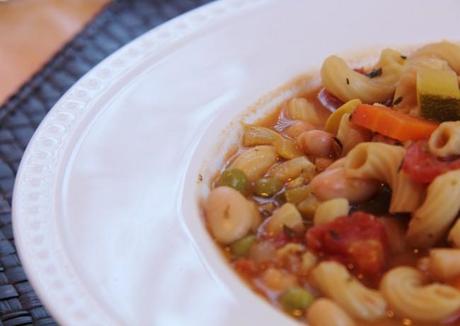 The spiciness of the cayenne pepper and the red pepper flakes balances out the sweetness of the tomatoes perfectly.  Just enough bite to clear up your sinuses but not enough to make you tear up.
And you know that I love all things carby so the pasta was right up my alley.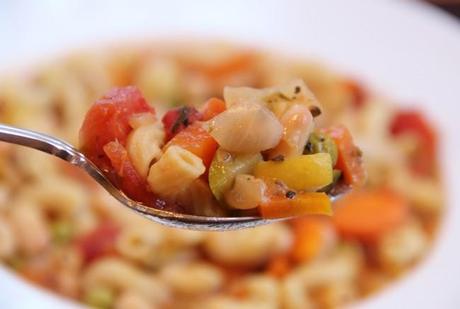 Hope you enjoyed your soup Mr. and Mrs. B.  You are still in our thoughts and prayers.
P.S. On a totally random note, who else is super depressed that there is no Downton? I wish the show would never end.