Disclosure: The costs of the events and activities for Fitcation were defrayed by sponsors, and the attendees were contractually obligated to write a summary of the experience and also received free swag items. All opinions expressed are 100% mine.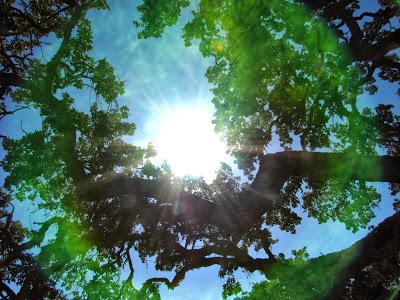 The beautiful Paso Robles sky as seen through a 600-year old tree at Halter Ranch.
I have been to
many
conferences in my career.  
In the recent five years, I have worn various hats when I attend these conferences: from entrepreneur, to blogger, to blogger network owner, and as a PR professional. Not once have I attended as the woman that I am, until this past weekend at
Fitcation 13.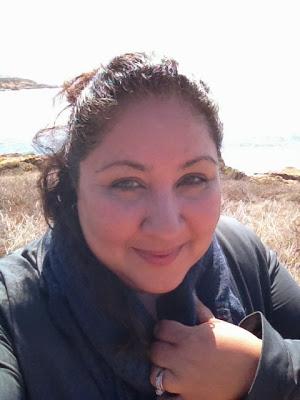 This is me wearing not an once of makeup and basking in the Cambria sunshine, with the Central California Coast behind me. 
Fitcation is a healthy vacation for Mamavation community leaders, who are hand selected to spend the weekend team building, exercising, sight-seeing, and learning about healthy living.
Mamavation™, founded by Shape Magazine Mother of the Year Leah Segedie, is an online docudrama and weight loss support group for moms in social media.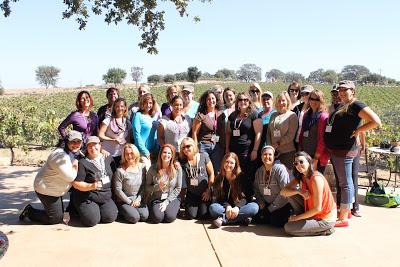 These are all the women & bloggers that attended Fitcation 13 from October 10-13, 2013 in Paso Robles, California.  We are posing at the Castoro Cellars Winery.
Although I am not a biological mom, and not an
official member of Mamavation, this group of women welcomed me with open arms.  Not once did they make me feel less of a woman because I haven't given birth to a child.
Actually, many of them commented on how being a mom to Princess Maya and a Stepmom qualifies me as a mom.  I humbly took that title with honor for the weekend.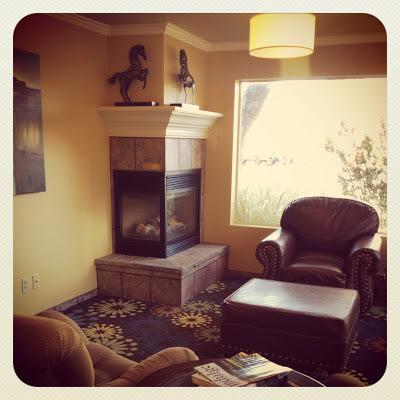 The lobby at the Holiday Inn Express in Paso Robles.
My knowledge of Fitcation 13 prior to my packing was dismal.  I had no idea what I was in for until the night before - then panic set it: I have NOTHING to wear and I am horribly out of shape.
Plus, I didn't want to drive alone this time, so I volunteered to pick-up a
stranger
from the airport and meet-up with
more strangers
on the way to Paso Robles.
I'm so glad I opened myself up to this new experience!
The drive up the coast was wonderful.  The lunch in Santa Barbara was yummy, and before I knew it, I was already sharing with my travel buddy my need to pick-up Lysol before I checked in to the hotel. 
She found it funny (maybe crazy, but was totally open to stopping by a Target on the way up to Paso Robles.
"I found a new friend and someone that 'gets' me,"
I thought to myself.  (Either that, or she thinks I am too darn crazy and didn't want to disturb the troll within)...
Moving on...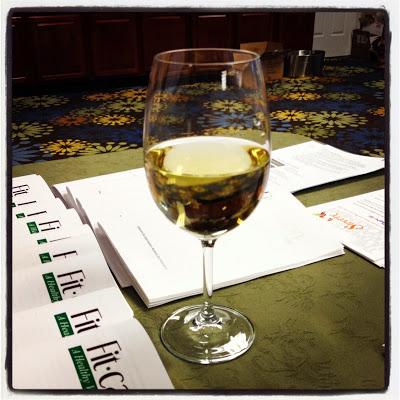 SIP Certified wine welcomed us to Fitcation 13.
We got to Paso Robles right at the end of check-in time.  I was trying not to be my usual frazzled self with the bit of hotel check-in drama.
Heck, nothing wine can't make better, right?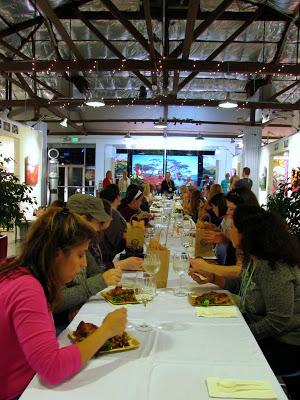 Our first dinner was in the middle of beautiful works of ART. Heaven!!
After we checked in at the hotel, we were driven to Downtown Paso Robles to enjoy our first gathering at the amazing
Studios on the Park
, a non-profit arts center.
Besides enjoying wine tasting, we also toured the space and had an amazing dinner prepared by Fig Good Food. 
Some of us stayed behind to enjoy after-dinner drinks and went back to the hotel a
wee-bit
late.  
This time only served as a bonding experience, as many of us (actually I'm only speaking for myself right now) didn't know all but a couple of the women in the group.
Little did I know that these women would become great friends in the span of a weekend, and are now stuck with me and are now obligated to call me a friend (Ha! Joke's on them!)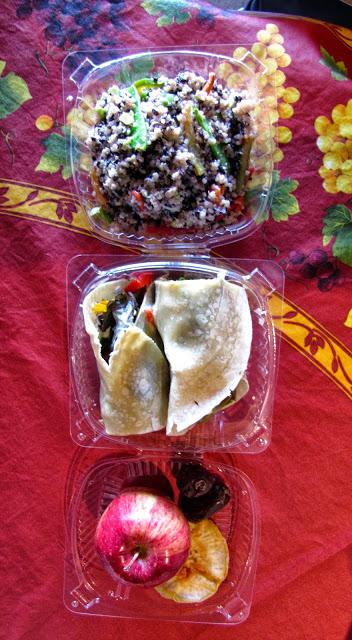 Our first boxed lunch was prepared by Castoro Cellars and was completely organic, farm-to-table, gluten free and vegetarian.  I enjoyed EVERY single bite.
The first day was torture.  
Being of strong mind but weak (and ambulatory of sorts) body, getting up to have breakfast only to follow it up with cross training seemed like "fun" at the time.
Let me admit to this:
I am completely and utterly sorry I didn't take care of my knee injury sooner. 
Doing cross fit training. In the cold. First thing in the morning. After drinking. With a bum knee.  Was more than a physical journey, it was also mental.  If a woman with a pregnant belly could bounce around like a rabbit so could I, gosh-darn-it.
Tried as a may, and as much as I tried to keep up, my knee wasn't having it.  I was the slowest of the bunch - but again, not one person made me feel inadequate.
I wasn't in L.A. anymore.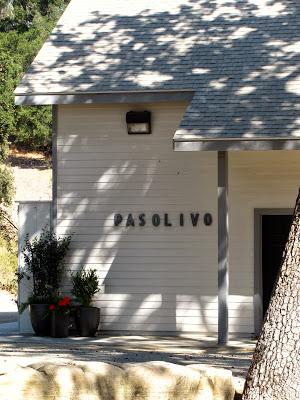 We toured the beautiful olive grove of Pasolivo - GORGEOUS and absolutely YUMMY olive oil. 
After returning to our hotel room to shower after that physical torture otherwise known as cross fit training, we then traveled through some beautiful scenery to what seemed like the other side of the moon.
We were in the boonies. The hills.  The land of no cell phone reception and limited WiFi.
It was beautiful.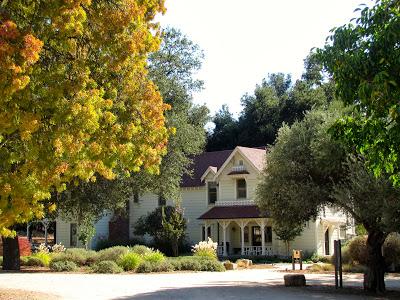 Again, absolutely stunning.  We walked through grape vines, hiked up a hill (let me remind you, I have a bum knee that by this time, is swelling to one side).
The hike was completely worth it.  We sat under a 600 year old tree.
It was  massive.  It was beautiful. It was breath taking.
I think all of us had a moment with reality, life, each other and how important this trip was. Is.
It wasn't blogger getaway, a business trip, as so much as a moment to reconnect with ourselves and each other as women.
It was magical and an experience completely unlike any other.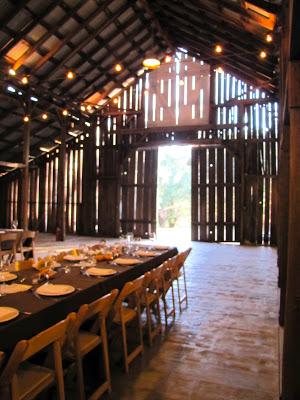 We had dinner IN a barn at Halter Ranch with locally harvested foods.
It was like a scene straight out of the movies.
I learned so much from each and every one of the women that were part of this journey.  Activities aside, there's something that happens when you give women good food, great wine, and strip them of the superficialities of every day life:
You become yourself.  True. Gritty. Honest.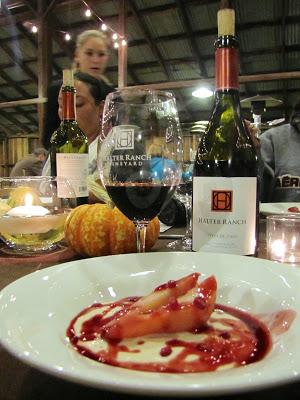 Dessert at Halter Ranch included Pears in yogurt drizzled with pomegranate sauce.
I hate pears.  I loved this dessert.  'Nuff said.
The next days activities started with a tour of
Hearst Castle
.  I actually felt a bit guilty about this part of the trip, because I wanted to tour this space with my hubby first.
Because we were on a time sensitive schedule, I didn't see much of the castle, but did take a ton of photos (that you can see
here
).
I don't feel that guilty any more.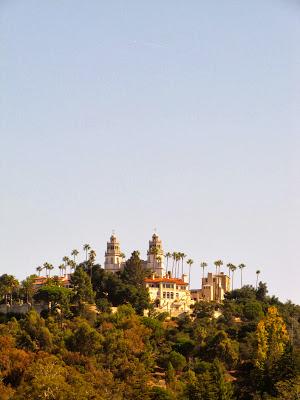 Hearst Castle as seen from the drive down the hill.
After the castle, we were then taken to
Cambria,
a cute town with an amazing beach.  The plan was to have lunch on the beach followed by yoga on the beach (check this off my bucket list).
It was cold.  It was windy.  The sky was blue.  It was beautiful.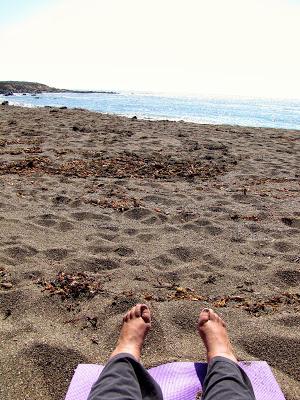 I did yoga on the beach - bum knee and a broken ankle that never healed right.
As we waited for lunch, many of the women in the trip wanted to explore the rocks (Note to self: do nothing more that will cause falls and more potential injury).
I wanted to stare at the ocean.
I did.
This was the perfect opportunity to think and reflect.
I thought about life.  My career. My marriage. My dreams....
And it all came together.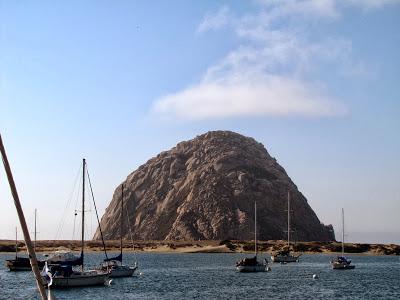 The rock at Morro Bay.
After yoga, we were then whisked away to Morro Bay.  Again, the drive is just absolutely beautiful.
Even though I have been to Morro Bay plenty of times, the town itself is so cute you have to stop in when you travel through California's Central Coast: there's always something new to discover.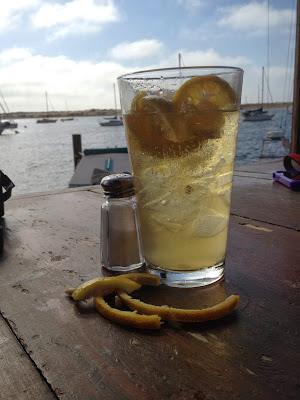 Mexican Lemonade made with Beer
The plan in Morro Bay was to Kayak.  I told everyone I was going to Kayak.  I really thought about it - really, I did.
Until I thought about this:  I don't know how to swim.  I am clumsy.  The water is cold.
Add all this up and you can see by the picture above what I did: Sit in a restaurant with a few other ladies -
to take photos. 
HA!
After a brief meet-and-greet with the folks from the Morro Bay Tourism Office, we drove off to San Louis Obispo for our last meal/dinner of our trip at
Eatz.
This was a high-end dining experience, with a delightful casual setting.  Of course, more wine, more conversation and more bonding - the perfect ending to a wonderful experience...that I will never forget.
I also wont forget the gum alley. Gross.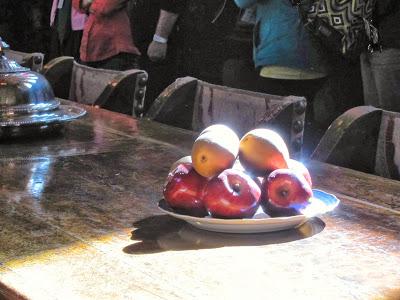 Table setting at Hearst Castle
I can't thank the organizers and every single company (and brand) that took place in this great experience ENOUGH.  I will forever remember this getaway as the moment I let loose - for the first time - in front of women I hardly knew.
I don't regret it.  Not one bit.
P.S. Sorry if I snored to loudly Monica.
P.S.S.  Being #Loud and #Obnoxious makes you bond quicker.  Just sayin. (inside joke)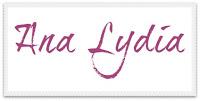 View more of my photos from my Fitcation 13 experience here.