After spending eight glorious days in Maui, we boarded our interisland flight to continue our adventure on the western, more metropolitan island of Oahu. Maui and Oahu couldn't be more different.  Oahu, known as "The Gathering Place," is the most populated Hawaiian island.  High rise apartment buildings, hotels, and office spaces are sprinkled throughout the island.  Oahu even has 3 interstates and a rush hour that could compete with nearly any big city.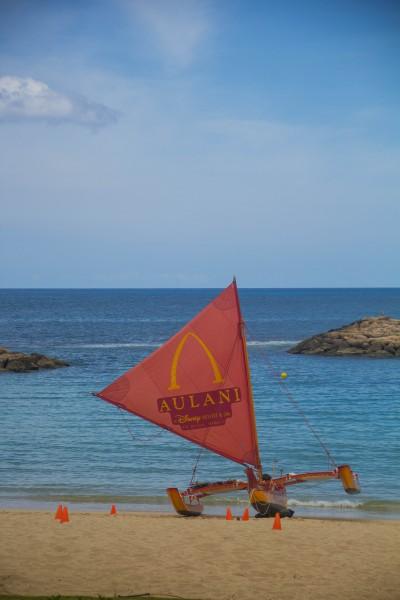 We were lucky enough to be able to stay at Disney's Aulani Resort during our time in Oahu.  My parents are part of the Disney Vacation Club so they graciously offered to use their points for our stay.  Since this hotel is so new and so spectacularly designed, I wanted to start off my Oahu posts by showing you around the resort.  It's really a work of art.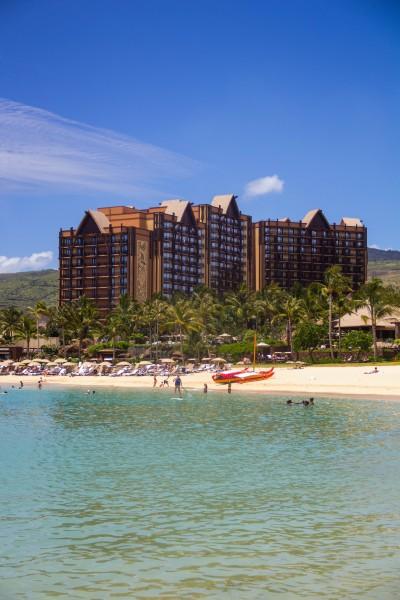 Aulani is located in the quiet and serene Ko Olina Resort & Marina area on the southwestern tip of Oahu. Disney designed and constructed the hotel as an ode to Hawaiian culture and traditions.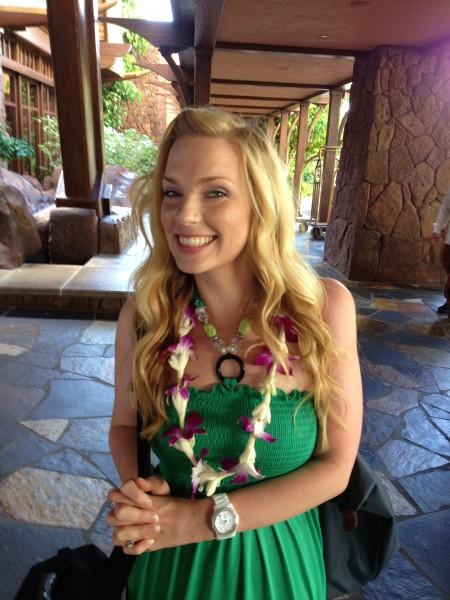 One such tradition is that every guest receives a lei upon their arrival.  The men received a nut lei and the women a tradition flower lei. Clearly, I was pretty excited to get lei-ed.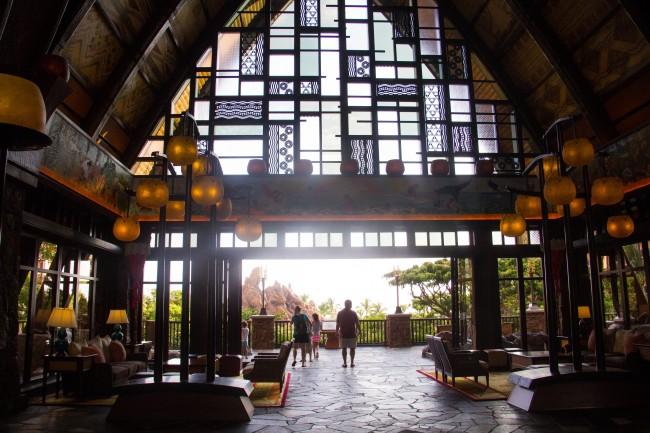 When we walked into the resort, we were immediately greeted by this open air foyer with a huge wall of glass windows that overlooked the pool and beach area.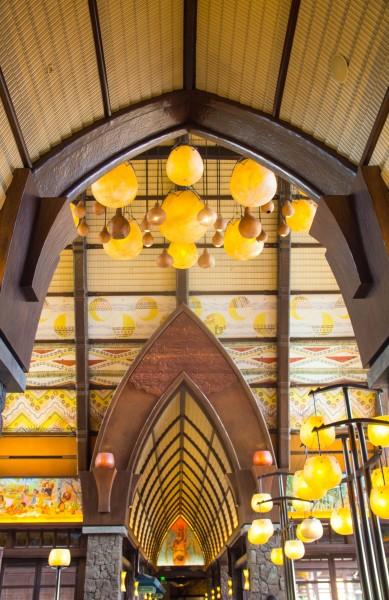 The décor of Aulani is based in the earth tone color spectrum with wood, thatch, coral, lava, and water playing a major part in most of the designs.  Many of the pieces of art found throughout the resort were created by local Hawaiian artists as part of Disney's attempt to keep Aulani as authentically Hawaiian as possible.  Disney took special care to ensure that each and every piece of Aulani was respectful and representative of Hawaiian culture by consulting with a cultural advisory board, made up of community leaders, hula masters, Hawaiian artists, cultural experts, about every decision. Even the head of the Aulani construction project was a Disney Imagineer that grew up in Waikiki.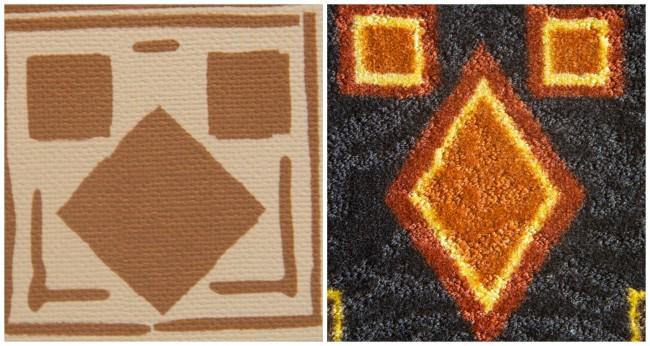 Like all Disney locales, Aulani is sprinkled with hidden (and not-so-hidden) Mickeys.  The one above to the left is from the wallpaper and the right to the right is from the hallway carpets. Disney also added a special Hawaiian twist to their signature hidden characters by hiding menhunes, mischievous, troll-like creative native to Hawaii, throughout the resort.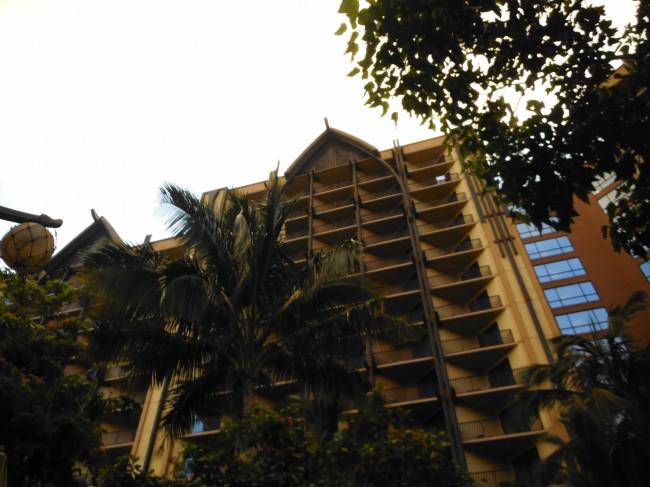 The resort is made from two large towers of rooms on either side with the lobby and other guest amenities located in the middle.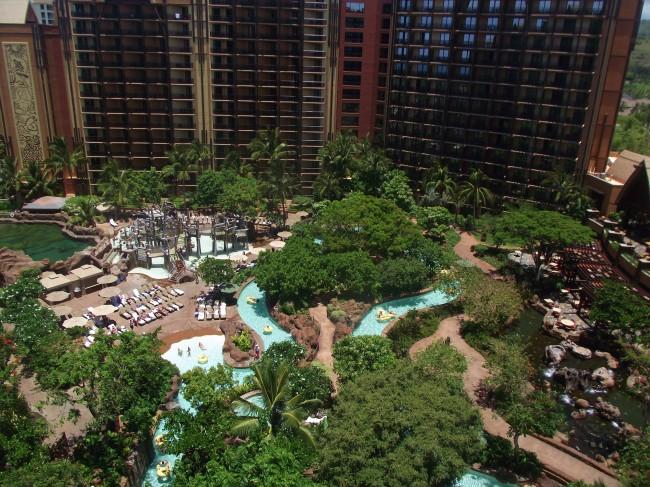 Aulani's backyard includes a massive 8,200 square foot pool complex complete with two slides, a lazy river, and an artificial snorkeling lagoon.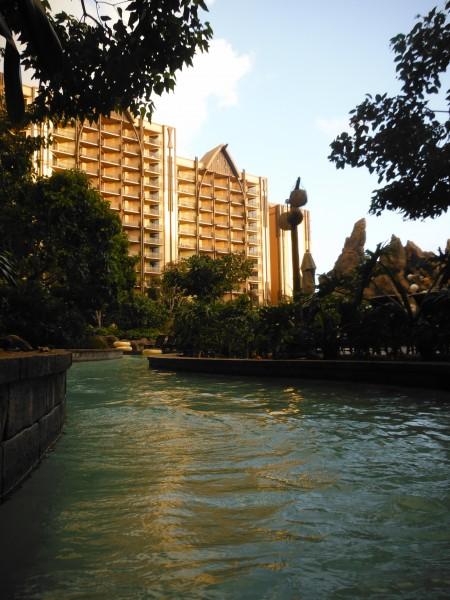 My favorite part of the pool was the lazy river, where we could spend hours floating on our inner tubes listening to the Hawaiian music play.  But be on the lookout for the menhunes, they hideout around the lazy river too.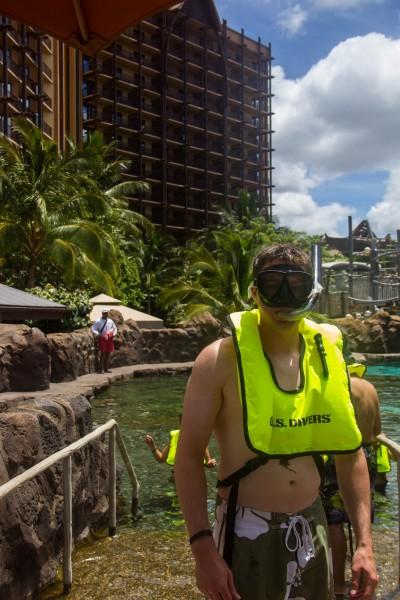 Mr. A, on the other hand, loved the 3,000 square foot snorkeling lagoon, with over 1,300 fish including Angel Fish, Butterfly Fish, Surgeon Fish, Yellow Tangs, and Hawaii's stat fish, Humuhumunukunukuapua'a.  While renting the gear was extra, he spent hours and hours swimming with the fish. Even my Dad, who hates water, jumped in to get a chance to swim with the exotic fish.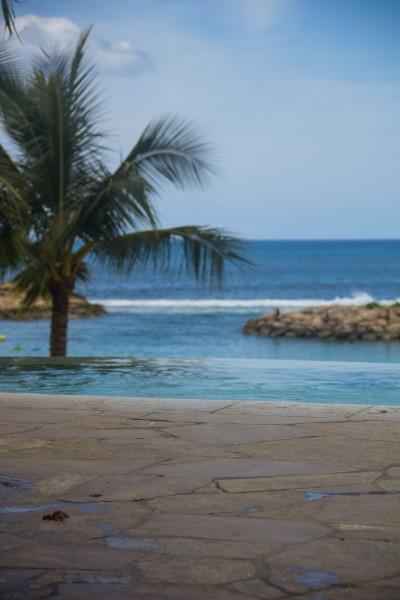 Just beyond the pool is an infinity edge hot tub overlooking the beach. The hot tub actually has two levels, which I've never seen before, but it was usually so hot outside that the idea of 100 plus degree water wasn't that appealing.  We did get in once just to say that we tried it.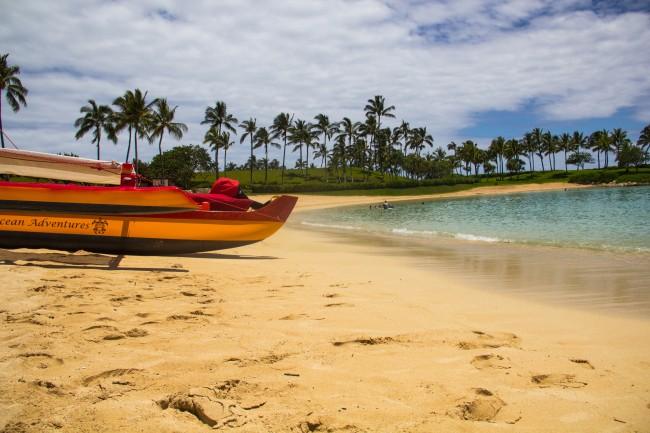 Just outside the pool area is the beach, one of the Ko Olina man made lagoons.  The lagoon is protected from the waves by a circular rock wall making it the perfect playground for kids and adults alike.  Disney provides free chairs and umbrellas for guests.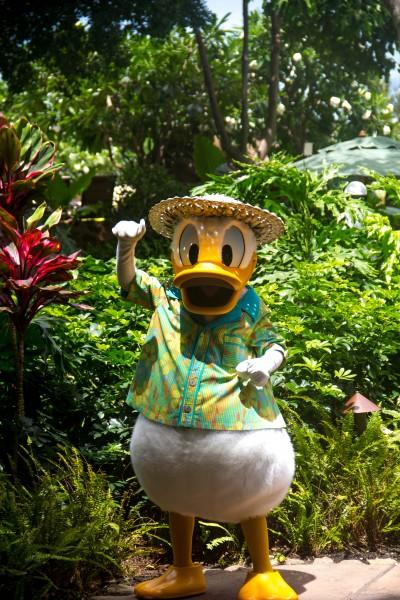 No Disney resort would be complete without a visit from Mickey.  So every day, Aulani organizes a couple meet and greets with some of Disney's most notable characters.  We happened to grab Donald on this particular day, but you can find Mickey, Minney, Goofy, and Stitch on a typical visit.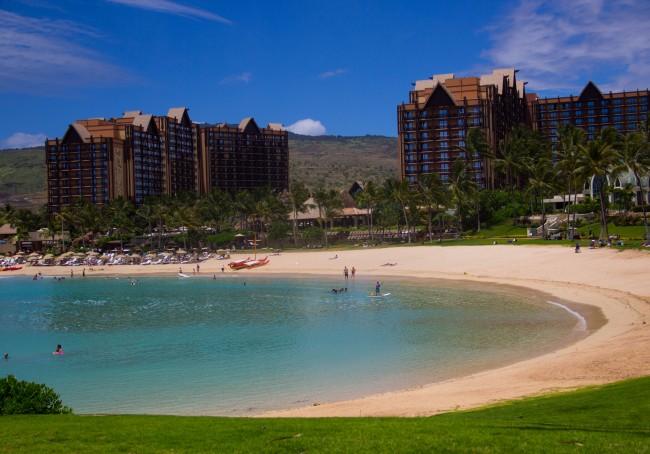 The Aulani resort is by far the most well-thought-out, well-designed Disney resort that I've ever experienced.  There were thousands upon thousands of intricate, specialized details around every corner.  It's not cheesy or kitschy stereotype of Hawaiian culture but rather the real elegant, beautiful, and whimsical thing.  Surely, it's not the cheapest option around (in fact, I would recommend eating most of your breakfasts and lunches in your room to save your cash) but like every other Disney product, the quality is certainly worth the price. We can't wait to bring the whole family back here one day.