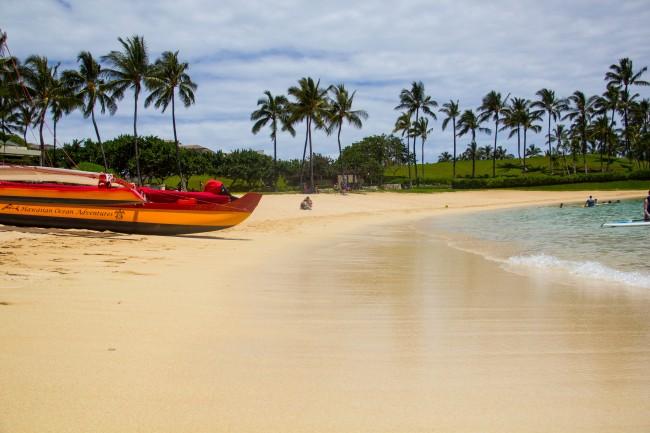 Once we were finished with our surf lessons, we headed back to Aulani to enjoy the afternoon at the beach.  Aulani sits on the Ko'Olina Lagoons.  These perfectly crescent shaped beaches are completely protected from the rough ocean waves, making them a safe playground for the little ones.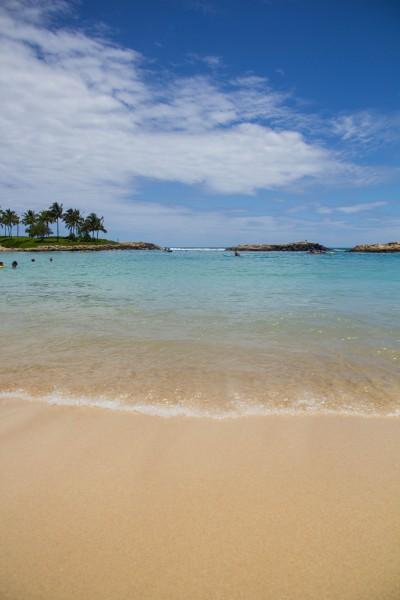 Disney provides the beach chairs, umbrellas, and towels, so all we had to do was show up. The resort also provides other beach activities for a fee.  There were paddleboards, kayaks, and a boat for rent as well as snorkel gear that could be used at the beach or in the manmade snorkeling reef.  The only downside to the beach was that Disney is not allowed to offer drink service on the sand due to Hawaiian liquor laws.  So there went my dream of sipping a pina colada by the ocean shore.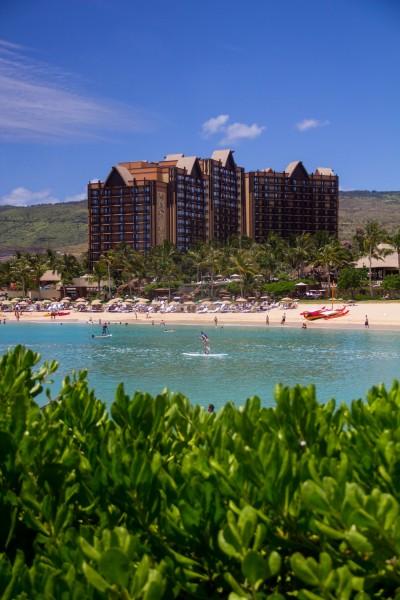 Beyond Disney's lagoon is a beach path to the other lagoons in the resort area.  We walked down the path to check out the other lagoons.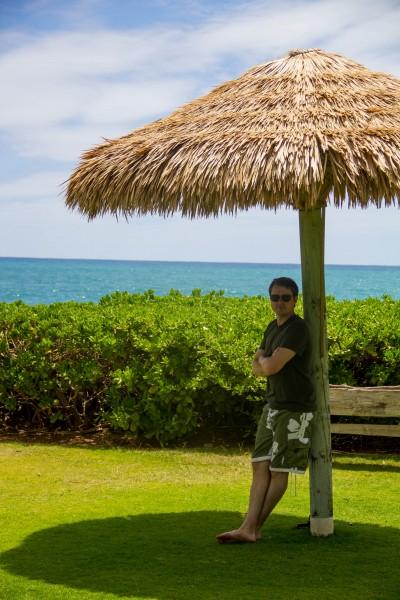 The lagoon next door was more peaceful and quiet but the only shade was provided by these little huts.  By this point in the afternoon, they were definitely all already reserved.
Besides the resort guests, a lot of locals frequent the lagoons (remember Hawaii requires that all beaches have a public access point).  The lagoon area also has a wedding chapel, which remained pretty busy throughout our entire visit.  I'm a little jealous that people get to have their wedding in this beautiful place.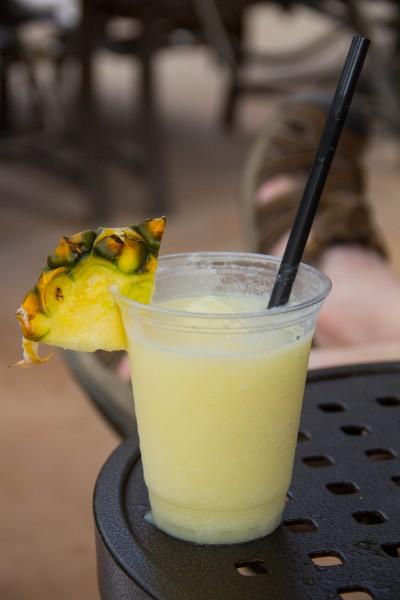 When we got our fill of sun and sand, we headed up to the pool area to start off our happy hour.  It only seemed appropriate to be imbibing some tropical drinks with the tropical weather surrounding us.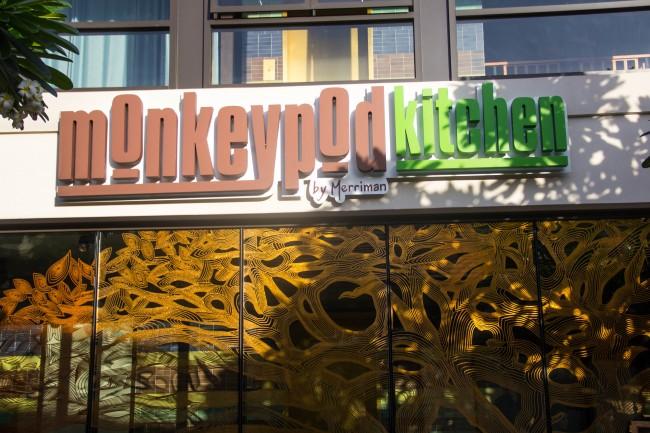 After finishing off our drinks, we headed out to dinner with an old high school friend of Mr. A's, who happens to live on Oahu.  He met us at a restaurant across the street from Aulani, called Monkeypod.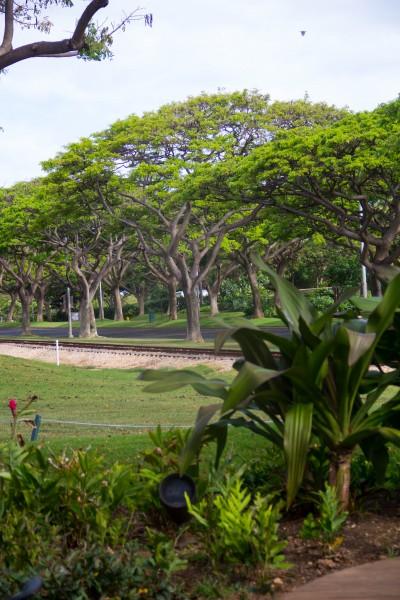 Monkeypod had a great outdoor patio with live music, allowing us to take advantage of the pristine weather.  Ironically enough, the patio area actually overlooks the restaurant's namesake, monkeypod trees.  We ended up ordering our food and drinks during their happy hour special, making all the drinks, pizzas, and appetizers half off.  I would definitely recommend trying out the happy hour at least once during your stay at Aulani.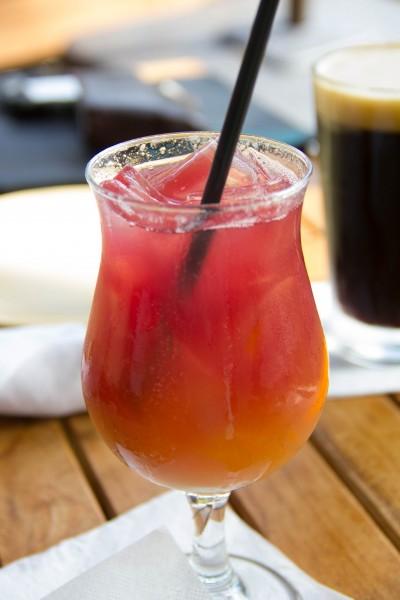 If there's one downside to Aulani, it would be that there aren't many dining options close by.  Certainly, there's dining within the resort (which gets expensive quickly) but outside the confines pickings are pretty slim.  Monkeypod is a great alternative since it is right across the street and it offers a variety of crowd pleasing options that won't bust your wallet.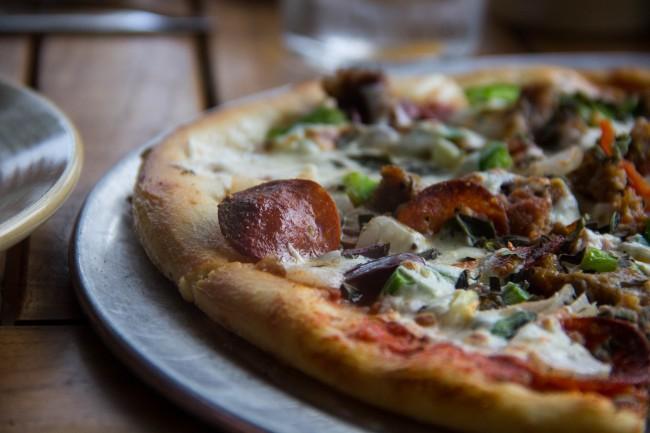 We decided to do a family style meal and selected several appetizers and pizzas.  We got the spicy seared Kauai shrimp, the smoked taro hummus, and the garlic truffle oil fries along with Margherita and Proletariat (aka meat) pizzas.  Everything was delicious, especially the shrimp.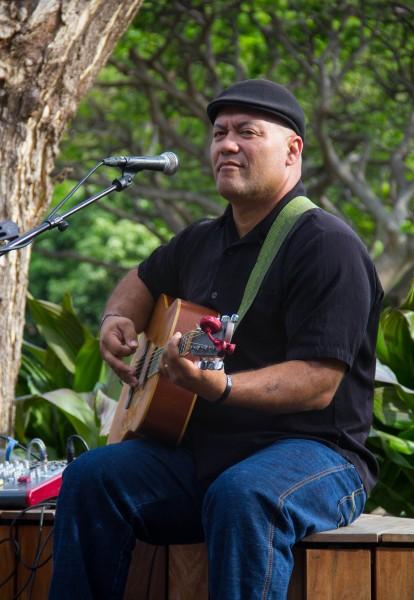 The boys were happy to chat away while I listened to the calming Hawaiian music being strummed along in the background.  It made it a little easier to forget that a swarm of flies was attacking our food at nearly every turn (the only downside to this spot).
After dinner, we walked back over to the resort so Mr. A's friend could spend some time in his favorite spot (the beach path).  Apparently, he even proposed to his now wife in that very place.
It was a great evening spending time hanging out with one of Mr. A's oldest friends.  Even though they live 1,000′s of miles apart, they've still managed to stay in touch.  But it was time for his friend to get back to his newborn son and we had a luau to attend.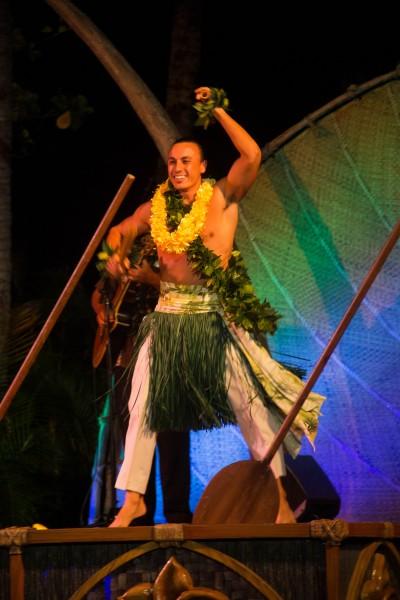 Several times a week, Aulani puts on a luau-like production called the Starlit Hui. Since none of us were that keen on spending a few hundred bucks a person to attend a "real" luau, we figured Aulani's show could be our stand in luau.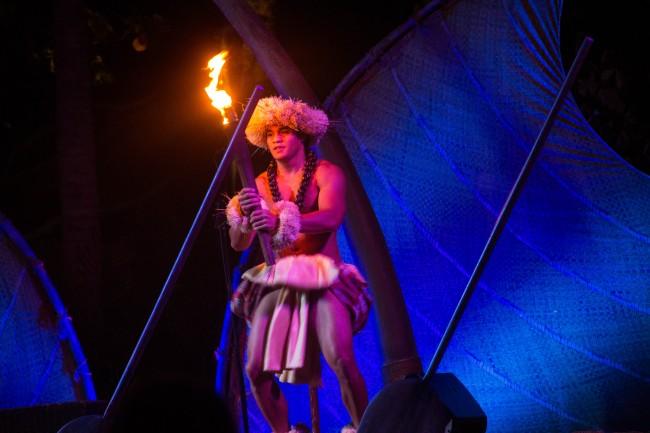 We parked ourselves on our straw mats and watched as local Hawaiians told us the story of their island through song and dance.  There were amazing singers, talented, high-energy ukulele players and, of course, hula dancers.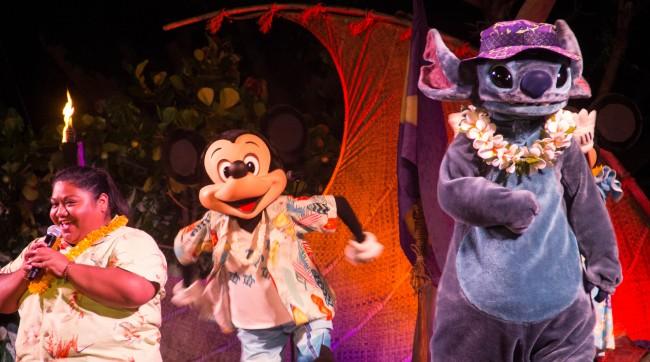 The show was short and sweet only about 25 minutes, while it certainly wasn't the production that other luau's are, I'm glad we went with this option.  I'll never drink or eat enough to get my money's worth out of a real luau and I think 25 minutes was just as much of traditional Hawaiian singing that I care to enjoy.  So if you want a luau experience but you don't care about the food and you have a short attention span, the Starlit Hui is the perfect option for you.
Besides, we had to call it an early night because the next day would be jammed pack with seeing Pearl Harbor and Waikiki Beach.