It's been a pretty hectic few weeks around here.  Mr. A's grandmother's funeral was this weekend, which meant that we had to drive down and back from South Carolina in two days, which is exhausting just to type much less actually do.  Not only were we there to celebrate her life but M. A also gave her eulogy.  He did an amazing job (I wouldn't expect any less) but the added pressure and stress definitely made the trip both emotionally and physically exhausting.
In an odd complimentary circle of life moment, my Mom's birthday was the day after the funeral.  It was great to end the weekend on a high note, instead of a somber one, but it meant that I spent my Sunday morning baking instead of recovering.  So needless to say, we are some pretty tired people these days.  I am hoping to sleep an entire day this weekend to balance it all out—the key word is hoping.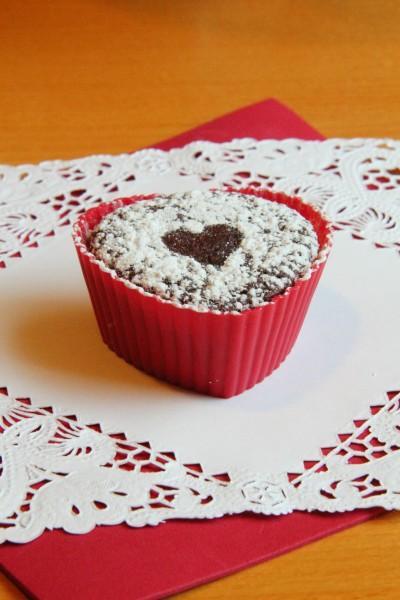 But anyway, back to the cupcakes, I wanted to make my Mom something special for her birthday.  Since I made a carrot cake last year, I thought I should move onto her next favorite thing, fruit, or more specifically berries.  With Valentine's Day right around the corner, red raspberries seemed the most apropos.  So if you are looking for a naturally red Valentine's treat, these cupcakes would be perfect.  I even went all out with the Valentine's theme by creating hearts on top of the cupcakes with powdered sugar—call me a sap.  But it was definitely nice to be lost in the cupcake world for a while, instead of the funeral world.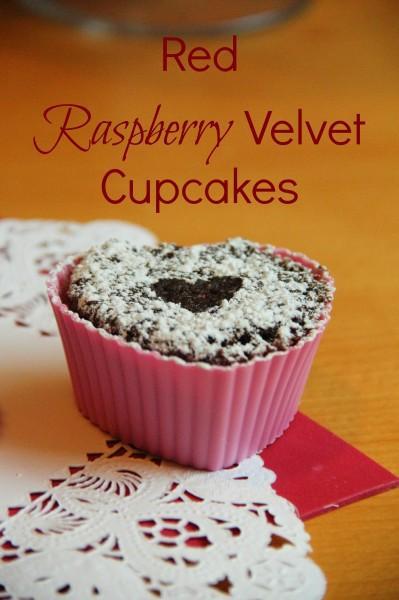 Yields 2 dozen cupcakes
Ingredients
2 1/2 cups whole wheat flour
1 1/2 cups applesauce
1/4 cup coconut oil, melted
2 teaspoons cocoa powder
1 1/2 cups unrefined sugar (I prefer to use sucanat)
12 ounces raspberries (frozen or fresh)
1 1/2 cups non-dairy milk
1 tablespoon vinegar
Juice of 1 lemon
1 teaspoon lemon zest
2 1/2 teaspoons baking soda
1/4 teaspoon salt
1/2 cup powdered sugar
Method
Preheat oven to 350 degrees.
Add raspberries, lemon zest, and lemon juice to a saucepan and bring to medium heat.  Cook raspberries until they have reduced into a smooth jam like consistency (approximately 10 minutes).
While the raspberries are cooking, you can get together the rest of your ingredients.
Add vinegar to non-dairy milk and allow to sit.
In a large bowl, whisk together sucanat, applesauce, and coconut oil.
In a medium bowl, add dry ingredients, cocoa powder, baking soda, flour and salt. Stir to combine.
At this point the raspberries should be done.  Whisk them into your wet ingredients.
Then alternate adding and mixing dry ingredients with your milk/vinegar mixture until they are both fully combined.
Prepare your muffin tins with cupcake liners and add mixture to a cupcake liner until it is filled 1/2 way.
Place in the oven to cook for 20-25 minutes (or whenever you can pull out a dry toothpick from the center of your cupcake).
Remove from the oven and allow to cool.
While the cupcakes are cooling, draw a small heart onto cardstock (you want it small enough that it will fit on top of your cupcake but large enough that it is decipherable) and cut it out.
Once cupcake is cool, place the heart on top of the cupcake in the middle, and using a sifter, sift powdered sugar on top of the cupcake until the top is completely covered in sugar. Then remove the heart carefully with tweezers.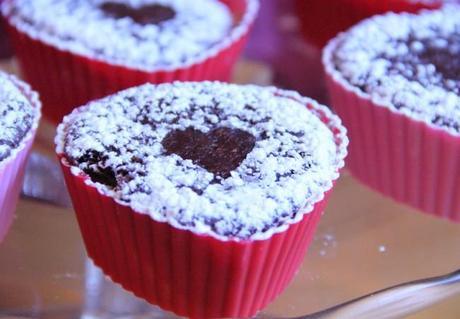 Now you can enjoy your adorable naturally red Valentine's cupcakes.
I love that these cupcakes are sweet enough on their own that they don't require frosting to make them delicious.  It cuts the calories in half and leaves you with tons of fun decorating options.
I was also pretty excited that I was able to make a red looking dessert without having to pull out the red dye.  It's not perfectly red of course, but it certainly looks more edible than those unnaturally magenta red treats we usually see.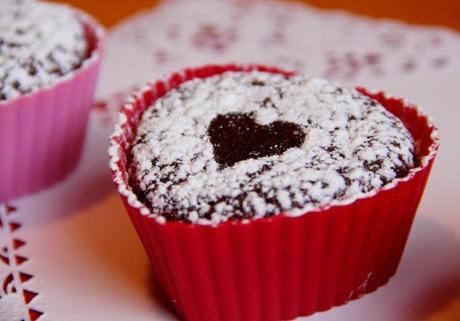 Besides, when you bake them in silicone heart cupcake liners, it's hard to deny their Valentine's cuteness.
Anybody else making cute Valentine's treats?