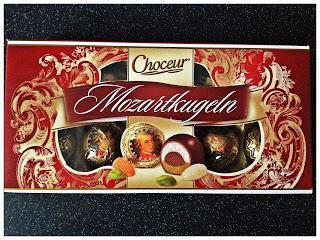 I picked up these Choceur Mozartkugeln on a recent trip to Aldi for £1.99.  I was attracted to the elaborate design on the packaging and the interesting name.  Mozartkugeln are Austrian sweets and unsurprisingly are named after Wolfgang Mozart.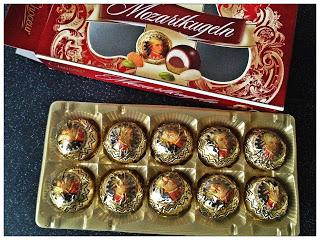 Mozartkugeln are pistachio marzipan, almond marzipan and praline, coated in layers of milk and dark chocolate.  There are 10 fairly large chocolates in the box and each one is wrapped in a gold foil and features a picture of Mozart himself.  An individual 20g chocolate contains 103 calories.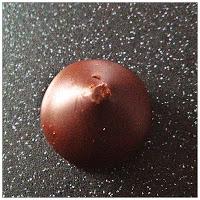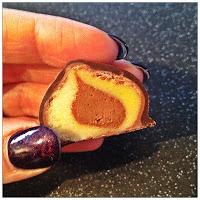 The praline is at the center of the chocolate and then each side is a different sort of marzipan.  I am familiar with almond marzipan but I had never tried a pistachio version.  This is all incased in a layer of milk chocolate and then the outside is dark chocolate and this makes for a really interesting looking chocolate when you cut it open.
Both marzipans tasted nice but the pistachio sort was delicious.  I think that I expected the sort of texture, that you would find on the outside of a Batternberg cake so I was pleasantly surprised at how creamy the filling was.  The dark chocolate was of a good quality but I couldn't really taste the milk chocolate as it was over powered by the strong nutty taste of marzipan and the praline.
Verdict I enjoyed these Mozartkugeln and thought that the £1.99 was a good price for some good quality chocolates.  They are very rich, almost to the point of being sickly so I think they are the sort that I would only eat one at a time rather than try and demolish half a box, which is not necessarily a bad thing.  I would love a version of these that were just the pistachio marzipan.