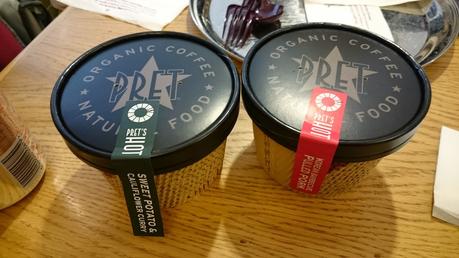 My friend and I meet up most Mondays for lunch or a walk, we have babies 2 weeks apart and I like to think these outings help keep us sane. Anyway when my friend mentioned the Quinoa Rice Pots at Pret A Manger, that was our next lunch meet sorted...hey I do like to eat nutritious food from time to time and I have a bit of a thing for quinoa.
I chose the Sweet Potato and Cauli pot which contains the obvious ingredients along with Asian spices, coconut milk, coriander, a quinoa rice mix and toasted almonds. My friend had the Korean BBQ Pulled Pork pot which you can also see in my photos.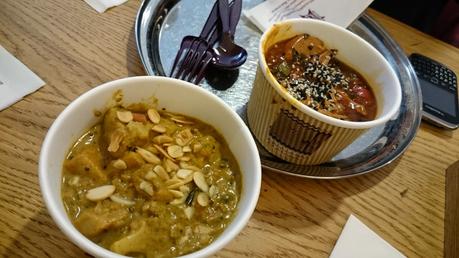 I can't recall the price of the pot but you get a pretty decent serving (around 320g) and it contains around 432 calories. The curry smelt absolutely amazing, it was so fragrant!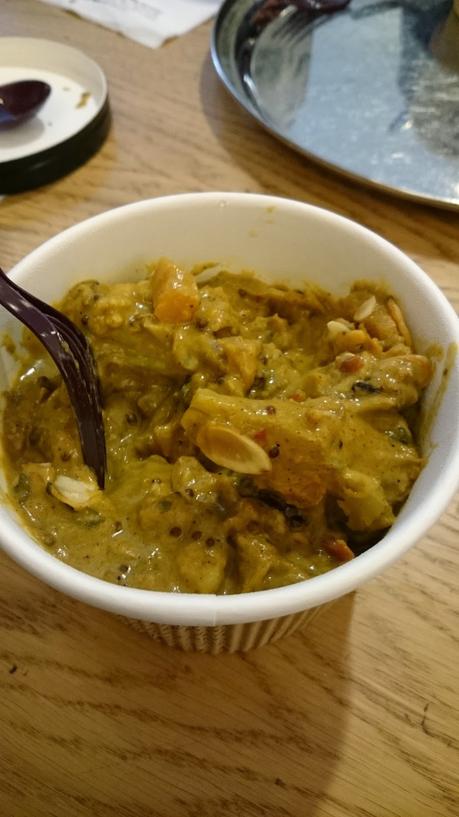 The top half of the bowl was the sweet potato and cauliflower which was topped with the almonds. Beneath this was a layer of quinoa and black and red rice.
The veggies were soft and the curry sauce as fragrant as it smelt. I could really taste the coconut milk and coriander. The toasted almonds added a slight crunch and the quinoa rice mix did a nice job of bulking it out. It was really filling and certainly kept me going until tea time. There wasn't much heat to it but I'm not a big fan of hot curries, certainly not for lunch, so for me this was ideal.
VerdictThis was my first visit to Pret and I was impressed by what I experienced (including the 99p coffees!), I think I will be visiting again soon as I really want to try their Kale and Cauli Macaroni Cheese!