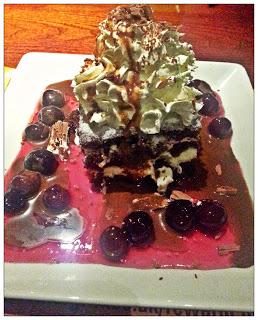 I appreciate that this is a pretty rubbish photo but sadly it was the best I could manage with my phone's camera in the poor light of the Downshire Arms Beefeater in Bracknell. Don't let my poor photography skills put you off though because this dessert is absolutely worth giving a go.
The Black Forest Gateau is £4.99 and is on the standard dessert menu. It's a fairly new dessert compared to the others on the menu and I think that it appeared just after Christmas following the Christmas Indulgence Tart which was another dessert involving black cherries.
I am sure most people know what a Black Forest Gateau is but in case you don't, it's a German dessert which is usually made from several layers of chocolate cake, cream and cherries. The Beefeater version is exactly that and it is topped with whipped cream, cherries in Kirsch, chocolate flake and chocolate flavor fudge sauce.
It is a massive dessert and even though I ALWAYS have room for pudding, I do always find it a struggle to eat a whole one to myself. I soldier on though...what a hero.
The chocolate sponge is rich, moist and extremely chocolatey, just the way a Black Forest Gateau should be. I absolutely love cherries in Kirsch and the sauce makes this dessert very, very sweet. As the texture is very soft, the little bits of flake (as in the kind you have in a 99 ice cream), make a lovely addition for a nice bit of contrast.
Verdict This is easily my favorite dessert at the Beefeater and I think it's a popular one as I have been a couple of times recently and it's been sold out. I really hope that the Black Forest Gateau is here to stay!