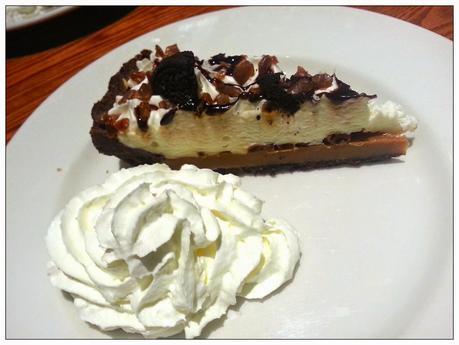 I met up with my brother the other night and he took me to our local Brewer's Fayre which is not somewhere I had been before but there were promises of epic desserts which is not something that I am ever going to argue with!
Brewers Fayre is a cheap and cheerful family restaurant and this Oreo Cookie Pie which instantly jumped out at me was just £3.99 which for dessert is very reasonable! The dessert menu is pretty vast and they even have a cabinet where you can go and have a look at the options...old skool!
The Oreo Cookie Pie is a chocolate pastry base filled with a layer of caramel and toffee flavor mousse. It is then topped with butterscotch pieces and Oreo cookies and served with a substantial amount of squirty cream.
It was a decent sized slice and the pastry was nice and chocolatey. The layer of caramel was lovely and thick and the mousse was very light. The butterscotch pieces were a bit like bits of Daim (or Dime) bar but a bit softer and the Oreo was a nice finish.
Verdict
Overall I really enjoyed this dessert. It was not too heavy and for the price you couldn't really go wrong. I will be going back to Brewers Fayre for a slice of their Ultimate Fudge cake as I saw it in the cabinet on the way out and it was massive!