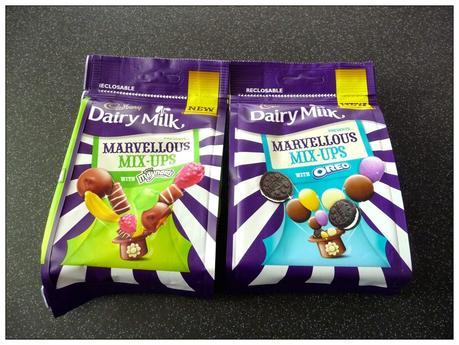 I have been mega excited about the new Cadbury Dairy Milk Marvellous Mix-Ups and Mr Review Addict found them in trusty old Londis today. 
Following on from the Marvellous Creations bars released in the UK last year (review of Jelly Popping Candy Shells and Cookie Nut Crunch here and review of my favorite Cola Pretzel Honeycomb here), Cadbury have decided to release assortment bags with some equally interesting combinations.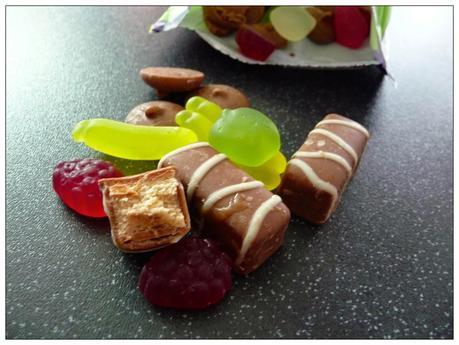 Marvellous Mix-Ups with Maynards contains Dairy Milk Caramel Nibbles, milk chocolate and white chocolate covered fudge and Maynards fruit jellies. 100g contains 430 calories.
I loved the combination of the chocolate with fruit jellies, the contrast in flavours was just up my street. I have loved Cadbury's fudge since I was a kid so I really enjoyed those pieces but I have to say that there just wasn't enough of them, there was only 4 bits in the whole bag. To be honest I was a bit disappointed with the amount of stuff in the bag full stop. I guess it's done on weight (124g) but when I opened it, it did look a bit sparse and at just over £2 for a bag it did seem a big tight.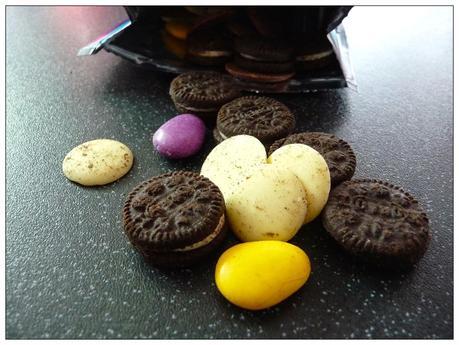 The other Mix-Up option is with Oreo and I have a feeling that this will be very popular. The assortment is made up from mini Oreo biscuits, Dairy Milk Pebbles, white buttons and Dairy Milk buttons. The bag contains 111g with 100g setting you back 505 calories. I have to say that this bag, despite weighing less appeared to be much fuller with goodies.
I loved all of the elements of this Mix-Up but I was especially pleased to see some white chocolate thrown in there, Cadbury really should produce more! And aren't the mini Oreos so cute?
Verdict
Neither of these Marvellous Creations Mix-Ups lasted long and we will definitely be purchasing both varieties again. My favorite was the Maynards version, purely for novelty value but I will be looking out for offers as I think the current price tag is a bit too high.