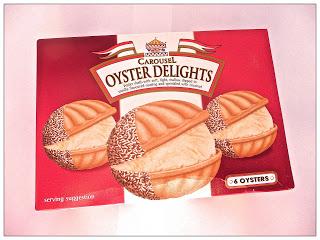 Today I am reviewing a retro snack, Carousel Oyster Delights!  These have been around for years but I have only recently re-discovered them.  I first tried these wafers back last year at round at my in-laws but haven't seen them since.  My father in law remembered how much I loved them and when he spotted them in Morrison's today he kindly picked me up a couple of boxes.
Carousel products are manufactuerd by Waverley Bakery who are based in Scotland.  Waverley has been around since 1908 and then merged with Carousel in 1995.  The business was then acquired by Lees Foods in 2003 but the range sold in most supermarkets still comes under the Carousel brand.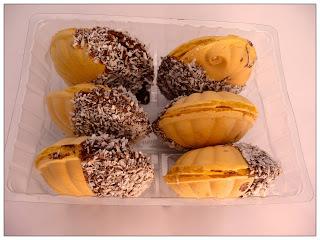 Oyster delights come in a box of 6 and are described as wafer shells with soft, light mallow, dipped in vanilla flavoured coating and sprinkled with coconut.  Each one contains just 77 calories which is 4 syns for people doing Slimming World.  I am not sure how much my father in law paid for these but apparently you can pick them up in Asda for £1.12 a box.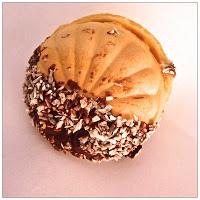 These Oysters are a pretty decent size, they are approximately 7.5 cm at the diameter and about 3 cm deep. I think that you are supposed to fill them with ice cream but I like to just eat them as a snack on their own.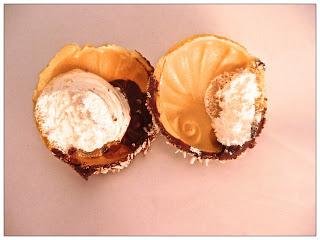 They are a bit messy to eat as the coconut has a tendency to fall off but that is half the fun. The wafter is light and crispy and the vanilla coating is quite thick and chocolatey.  The vanilla flavor is strong which goes well with the coconut and the marshmallow inside is very good; it is so light and yet quite creamy.
Verdict I will get round to trying Oyster Delights with ice cream I am sure, but as a snack in their own right they are one of my favourites.  I also love the fact that you can eat one of these and not feel guilty as there are so few calories.  If you buy these, just make sure you keep them in a tin so that the wafer doesn't go soft.