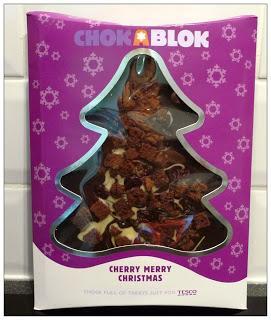 Merry Christmas and I hope that everyone is having a lovely day so far. I thought that I would review something festive and I am not sure how I have found room for anymore chocolate today, but it just seemed appropriate to review this ChokaBlok Cherry Merry Christmas Tree which my brother got for me.
ChokaBlok is exclusive to Tesco and you may remember that I reviewed some of the ChokaBlok Christmas Trees last year. Well this year there are some exciting new flavours; Cherry Merry, Santastic Cinnamon and Cracking Christmas Pud!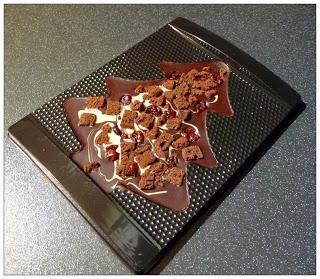 Cherry Merry is Black Forest gateau flavor dark chocolate with a white chocolate swirl which is topped with dried cherries and brownie pieces. It is a 150g bar with a 6th containing 130 calories.
As with all ChokaBlok products it looks absolutely fantastic. Black Forest gateau flavor chocolate is a new one on me so I couldn't wait to get stuck in. The bar actually smelt like Black Forest gateau and the chocolate tasted like it too. The dark chocolate (70% min cocoa solids) was rich and the cherry flavor really complimented it. The dried cherries added a burst of sweetness and then the brownie pieces which were more like cookie, added a bit of crunch.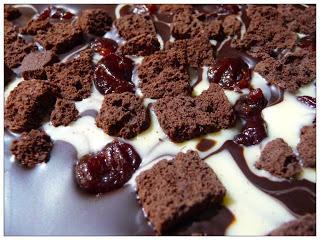 Verdict
I love that ChokaBlok have made their trees even more festive this year with some fabulous new Christmassy flavours. Cherry Merry was just delicious and I loved the Black Forest Gateau chocolate which made this such an exciting bar. I really hope that there are a few of these left in Tesco because I need to stock up!