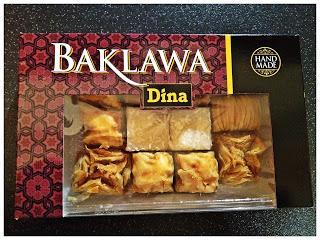 Dina is a family owned company based in North West London.  They specialise in producing Eastern Mediterranean foods and one of these is Baklawa.  Baklawa (or Baklava) is traditionally prepared on special occasions and is a sweet pastry made from lots of layers of filo pastry and chopped nuts.  I picked up this assorted box in Sainsbury's in the cake aisle.
I have tried standard Baklawa before but have never seen a chocolate version so was particularly keen to try this one and the Coconut Delight also appealed.  There are 9 varieties of sweet in this box, you can see the various options below.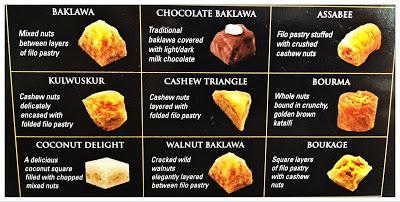 The Baklawa, Walnut Baklawa and Cashew Triangle, were all very similar in taste and texture.  They all had nice flakey pastry and were of course very nutty and sweet.  The chocolate Bakalawa which was covered in milk chocolate, was nice but I think that the chocolate disguised some of the nuttiness.  The coconut delight was a little disappointing, it wasn't horrible but I think that I was expecting something similar to coconut ice with nuts but it was quite dry and not as sweet as I had hoped.  The Boukage, Kulwuskur, Bourma and Assabee were more syrupy so far sweeter and of all of them I enjoyed the Assabee the most.
Verdict I think that these Baklawa from Dina were presented very well with all the varying shapes and sizes of the different sweets and would look great served as part of an afternoon tea.  I definitely prefer the more syrupy ones and surprisingly the two that I was most looking forward to were the two that I wouldn't bother trying again, however it was something a bit different for my sweet tooth!