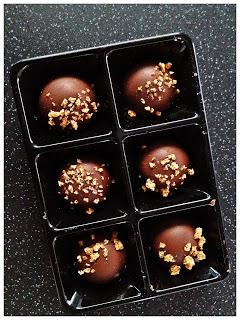 Hotel Chocolat is a British chocolatier and cocoa grower who are famous for their Chocolate Tasting Club and their chocolate stores throughout the UK.  It's been a while since I have been to one of their shops but I made a visit to the Reading store at the weekend and I honestly could have spent hours browsing through all of the different chocolates on offer.  In the end I settled for some Pistachio Pralines, some Chocolate Raisins (which were meant to be peanuts but I picked up the wrong packet) and these Amaretto Amour truffles.  I will be reviewing the other items soon.
I love that you can buy these small trays of chocolates so that you can pick the ones that really appeal to you rather than a big variety box where you may not like all of the flavours.  Amaretto Amour are part of the Boozy range and as Amaretto is one of my favorite liqueurs I thought that these truffles would be right up my street.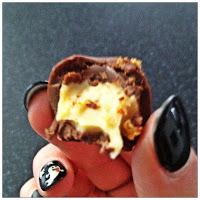 Amaretto Amour are creamy truffles with an Amaretto and white chocolate ganache.  The outside shell is made from milk chocolate and they are topped with amaretti biscuit crumbs.
The milk chocolate was quite thick and was rich and creamy and probably some of the nicest that I have tasted.  The white chocolate ganache was even creamier and mixed with the Amaretto, tasted heavenly!  They tasted quite boozy and I got that lovely warming sensation that you get with a decent boozy truffle.  The amaretti crumbs on the top added a nice bit of crunch but they were rather messy and I lost half of them when I bit into the truffle, but a nice addition regardless.
Verdict
These Hotel Chocolat Amaretto Amour truffes were very indulgent and I wouldn't hesitate to buy them again.