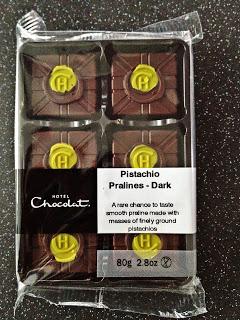 The other day I reviewed Hotel Chocolat Amaretto Amour and today I am reviewing Hotel Chocolat Pistachio Pralines.  I purchased these as I thought that the idea of pistachio praline is quite an unusual one.  These particular chocolates have a dark chocolate shell but there is also a milk chocolate version available.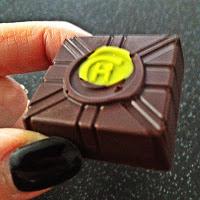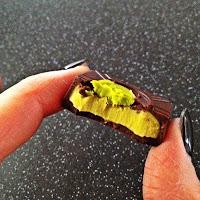 The square chocolates are embossed with a union flag style design and a little green H on the top.  The H is made from white chocolate that has been coloured naturally and it looks a bit like a wax stamp.
The dark chocolate is very nice but what is inside is even better.  The praline which is made from finely ground pistachio and almonds is a gorgeous bright green color and very smooth.  It tastes deliciously creamy and nutty and was really complimented by the dark chocolate.
Verdict
Hotel Chocolat Pistachio Pralines are a lovely unusual chocolate but if you like pistachios you will love them.  I think that the dark chocolate version would be my preference over milk chocolate as I imagine that the flavours would not work as well but I may have to purchase some just to make sure.