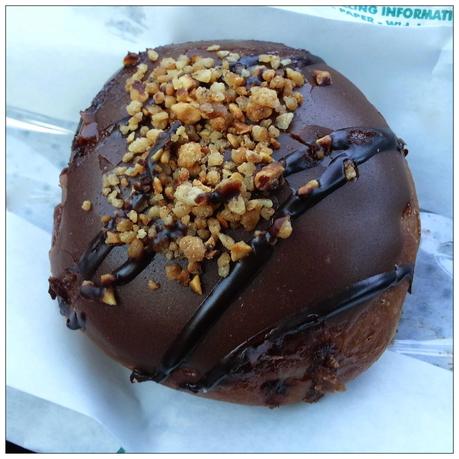 Mr Review Addict and I spotted the new Krispy Kreme Peanut Butter Kreme doughnut in a service station yesterday and we couldn't resist trying it. This is 1 of 3 new flavours, the other 2 are Chocolate Cookie Crunch and Raspberry Chocolate Truffle. 
It was always going to be the peanut butter doughnut for us. It's a chocolate doughnut which as the name suggests, is filled with peanut butter cream. The top has chocolate icing, a dark chocolate drizzle and chopped nuts.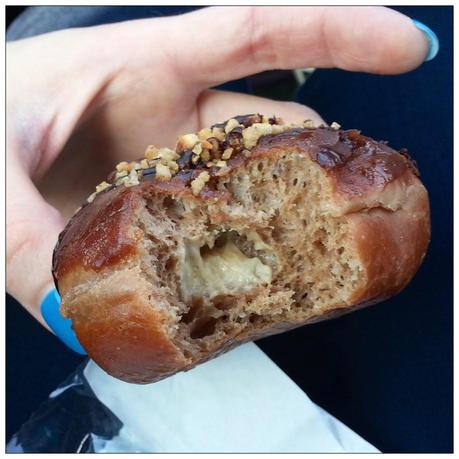 It cost us £1.65 for each doughnut which was probably because we were in a service station and Krispy Kreme is not exactly cheap anyway but I have to say that it was worth every penny. The dough was just right and the peanut butter cream was delicious. It was quite light and the peanut butter flavor was the right strength to be apparent but not over-power the chocolate. I was concerned that the nuts on top would get messy, especially as we were eating in the car (no one wants nuts all over the floor), but there was enough icing to ensure that they remained quite stuck to the top and they added a nice crunch.
VerdictThis has to be my favorite Krispy Kreme yet. I have no idea why they haven't done this flavor before (unless they have and I missed it?) but I hope it sticks around!