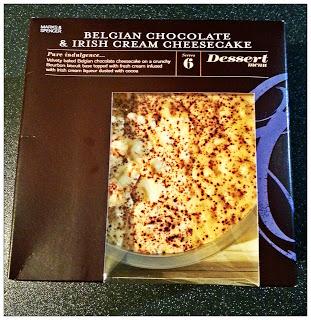 My brother brought us over a dessert the other night in the form of this Belgian Chocolate and Irish Cream Cheesecake from M&S.  Apparently it cost him £5.
This thing was a bit of a beast, it was really deep and it felt pretty heavy when he handed me the box which describes the dessert as "A velvety baked Belgian chocolate cheesecake on a crunchy Bourbon biscuit based topped with fresh cream infused with Irish cream liquor dusted with cocoa".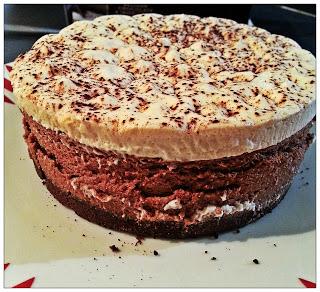 The cheesecake serves 6 (although I reckon you could easily serve 8) and a serving is 420 calories.  It comes in one of those plastic containers where you push up the base to pop it out, I thought that as it was so heavy I might have ended up with a cheesecake disaster but it came out pretty easily.
The Bourbon biscuit base was very crumbly and quite crunchy as well as very chocolatey.  The cheesecake part is rich, thick and creamy and again very chocolatey.  The Irish cream, cream was delicious, it was quite light compared to the cheesecake but quite sickly so it was a good that there was a relatively thin layer.
Verdict At first I thought £5 for a cheesecake sounded expensive but when it serves 6 people with very decent sized portions and as there is the fact that it's pretty darn tasty; on reflection I think it's a bit of a bargain!   I will definitely be buying this one again!